Inside the June 2017 issue
Here's what you'll find inside the June 2017 issue of Boys' Life magazine. Remember, many articles are only available to subscribers and are not available online.
Please visit Boyslife.org/subscribe to subscribe to the print or digital editions of Boys' Life magazine.
ON THE JUNE 2017 COVER
Catch Your Summer Fun on Video
Enter the Boys' Life Sierra Trading Post 2017 Summer Fun Video Contest and you could win a $500 gift card.
• Enter the Summer Fun video contest
• Videography tips and tricks
---
THIS MONTH'S OTHER FEATURES
The Century Trek
A 100-mile bike ride can leave you with sore muscles and fond memories.
• Quiz: Which bike is right for you
Gear Guy: No Service? No Problem
In the event of an emergency, these communication devices can be the difference between life and death.
• Emergency communication device buying guide
BL Workshop: Make This Monopod Hiking Staff
Keep your smartphone steady to take videos and photos on the trail — or anywhere else.
• How to make a monopod hiking staff
---
ONLY IN OUR BOY SCOUT EDITION
Scouting Around
Shooting Straight: What does it take to be a great marksman? Start off by figuring out which eye is dominant.
• Visit the Scouting Around blog
News Makers
Our Scout reporters visited CNN and The New York Times to get a first-person view of journalism in action.
The Scout Trail
It's a long and winding road from Scout to Eagle.
---
ONLY IN OUR CUB SCOUT EDITION
Let's Look at Bikes
Read it! Color it! Get it all in this special Cub Scout section.
---
AND MORE!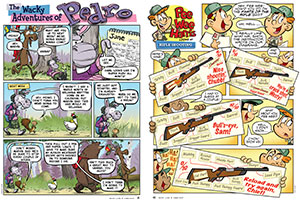 Look for the regular score of comics, jokes, games, Scouts in Action, Tradin' Post and more! Only in the June 2017 issue of Boys' Life!
• The Wacky Adventures of Pedro
• Pee Wee Harris
• Scouts in Action
• More S.I.A.
---
Inspire Leadership, Foster Values: Donate to Scouting
When you give to Scouting, you are making it possible for young people to have extraordinary opportunities that will allow them to embrace their true potential and become the remarkable individuals they are destined to be.
Donate Today