Inside the October 2013 issue
Here's what you'll find inside the October 2013 issue of Boys' Life magazine. Remember, many articles are exclusive to the printed magazine and are not available online.
To subscribe to Boys' Life magazine, please visit http://scoutlife.org/subscribe.
On the October 2013 cover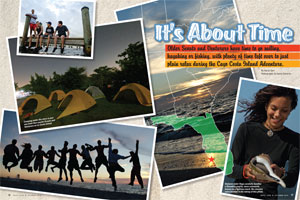 IT'S ABOUT TIME
Older Scouts and Venturers have time to go sailing, kayaking or fishing, with plenty of time left over to just plain relax during the Cayo Costa Island Adventure.
---
This month's other features
DRAGON MOUNTAIN
Fiction. Unexpectedly, Rick's field trip turns into quite an adventure. (What happens? That's where you come in.)
• Enter the You Be the Writer contest
THE LEPRECHAUN'S TALE
Fiction. The king of the Leprechauns has a warning for the younger generation.
• Enter the Nicholas Flamel giveaway
COOL CONCEPTS
Get a sneak peek at the cars of tomorrow.
BL WORKSHOP: CANDY DISPENSER
You can make this dispenser for jelly beans, gumballs or any other hard candy that will fit in it.
• How to make a candy dispenser
---
Only in our Boy Scout edition
SCOUTING AROUND
Weather-Wise and Energy-Efficient: Science is a method of learning about the world by observation, study and experimentation. One of the easiest — and most fun — things to study is the weather.
• Visit the Scouting Around blog
GET GEARED UP FOR NAVIGATION
The Gear Guy provides the lowdown on buying a compass or GPS receiver.
• Compass and GPS buying guide
READ A TOPO MAP
Topographic maps help you get where you want to go in three dimensions.
---
Only in our Cub Scout edition
LET'S LOOK AT SOCCER
Read it! Color it! Get it all in this special Cub Scout section.
---
Links
Click here to see all the links featured in the October 2013 issue of Boys' Life!
---
And more!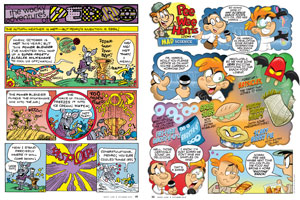 Look for the regular score of comics, jokes, games, Scouts in Action, Tradin' Post and more! Only in the October issue of Boys' Life!
• The Wacky Adventures of Pedro
• Pee Wee Harris Looks at Science
• Scouts in Action
• More S.I.A.
Inspire Leadership, Foster Values: Donate to Scouting
When you give to Scouting, you are making it possible for young people to have extraordinary opportunities that will allow them to embrace their true potential and become the remarkable individuals they are destined to be.
Donate Today