Inside the November 2013 issue
Here's what you'll find inside the November 2013 issue of Boys' Life magazine. Remember, many articles are exclusive to the printed magazine and are not available online.
To subscribe to Boys' Life magazine, please visit http://scoutlife.org/subscribe.
On the November 2013 cover
TOY STORY
Get the scoop on what's flying, racing, spinning and lighting up on the toy scene this season.
• 24 amazing toys, gadgets and games
---
This month's other features
GET GEARED UP FOR CAMP COOKING
Time for grub! Need some camp kitchen gear? The Gear Guy is here to help.
• Camp kitchen gear buying guide
• 17 tasty Dutch oven recipes
WET AND WILD
There's plenty of adventure to be found on a hike through Big Cypress. (Just don't wear your nice shoes.)
GO BIG. GET WILD.
Big fun. Wild numbers. Check out these fun facts and great pics from the 2013 jamboree.
• BL coverage of the 2013 National Scout Jamboree
BL WORKSHOP: BUILD A PINGPONG BALL LAUNCHER
Make this cool contraption for target-shooting fun.
• How to build a pingpong ball launcher
---
Only in our Boy Scout edition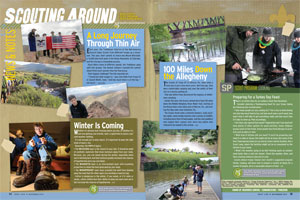 SCOUTING AROUND
Preparing for a Turkey Day Feast: There's no better time for an outdoors feast than November. Consider planning a Thanksgiving feast for your troop.
• Visit the Scouting Around blog
LIVING THE LOBSTERING LIFE
It's always seafood season off the coast of Cape Cod. Just watch out for those claws.
PREPARED FOR LIFE: MR. MANNERS
These tips on how to act in social situations can help you better navigate the adult world.
---
Only in our Cub Scout edition
LET'S LOOK AT FIREFIGHTERS
Read it! Color it! Get it all in this special Cub Scout section.
THE WORLD'S GAME
Learn one of the world's most popular sports with just a few simple tips.
---
Links
Click here to see all the links featured in the November 2013 issue of Boys' Life!
---
And more!
Look for the regular score of comics, jokes, games, Scouts in Action, Tradin' Post and more! Only in the November issue of Boys' Life!
• The Wacky Adventures of Pedro
• Pee Wee Harris Looks at Cooking
• Scouts in Action
• More S.I.A.
Inspire Leadership, Foster Values: Donate to Scouting
When you give to Scouting, you are making it possible for young people to have extraordinary opportunities that will allow them to embrace their true potential and become the remarkable individuals they are destined to be.
Donate Today