How to Start Hammock Camping Without Spending Too Much Cash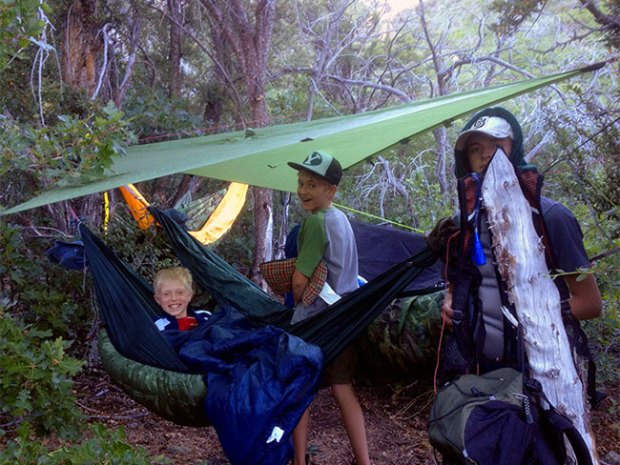 Hammocks: you have probably seen them at a recent Scout camp, or maybe you've tried one and you'd like to get started with one of your own.
Hammocks are simple, comfortable, easy to pack and a lot of fun. But to use a hammock for camping, you'll need more than just the hammock to stay dry, warm and bug-free, all while leaving no trace.
Putting together your first hammock kit — particularly for an overnight trip — can seem like an expensive ordeal, but it doesn't have to be. By using what you already have, knowing where to look (and what to look for) and maybe even making some of the gear yourself, you can jump into hammock camping without breaking the bank.
WHAT YOU'LL NEED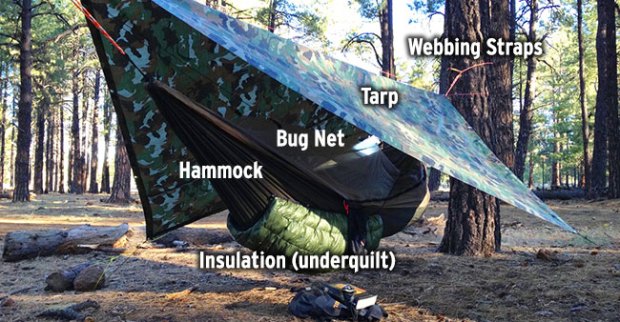 USE WHAT YOU ALREADY HAVE
If you camp regularly, you probably already have some of the gear you'll need.
Use your warm sleeping bag and sleeping pad in your hammock. A pad is essential for staying warm in a hammock.
A basic patrol tarp will provide ample storm coverage and will also have many pitching options. Your troop may have some patrol tarps available for check out, so check with your quartermaster. Don't discount those multipurpose utility tarps — you may even have one in your garage.
Use basic Scout knots (two half-hitches, taut-line hitch) to get everything set.
KNOW WHERE TO LOOK (AND WHAT TO LOOK FOR)
Some of the best deals on a new hammock can be found online, although not always from big retail stores or name brands. Thanks to the popularity of hammocks, there are dozens of options available that have the same quality fabric as popular brands. Smaller vendors often have the lowest prices. When looking for a hammock, be sure you're getting one that fits you and offers the best quality.
Check the dimensions. A common hammock size is 10 x 5 feet — this will fit most people up to 6 feet tall. Some brands use terms like "single" and "double," but always check the actual size to ensure a good fit. Remember that lying diagonally across a hammock ensures the flattest lay. A longer hammock will be more comfortable than a wider one. Check out the size chart below.
Check the weight rating. Hammocks can be made from a variety of fabrics, and some are stronger than others. Thinner fabrics will be lighter and pack smaller, but thicker fabrics will hold more weight and be more durable.
Don't forget those straps! Most hammocks don't come with a hanging kit, and some only come with rope, which isn't good for trees. No matter what hammock you buy, make sure you have a pair of hammock webbing straps. Daisy chain-style straps make set up fast and easy.
YOUR HEIGHT // OPTIMAL HAMMOCK LENGTH*
5 ft. // 108 inches
5.5 ft. // 110 inches
6 ft. //120 inches
6.5 ft.+ // 132 inches
*For younger guys, it's not a bad idea to get a bigger hammock since you'll likely grow into it. Plus, bigger hammocks are more comfortable.
DIY GEAR
Find detailed instructions on how to make a hammock using a nylon tablecloth.
INEXPENSIVE OPEN HAMMOCKS
$40 – Tribe Provisions Adventure Hammock
$40 – Dream Hammock 10' Freebird
$42 – Dutchware Gear Net-less PolyD Hammock
$45 – Arrowhead Equipment 11' Single Hammock
$48 – Hammock Bliss Ultralight
$49 – BIAS Camper Hammock
$50 – Byer of Maine Easy Traveller Hammock
$55 – Ticket to the Moon Single
INEXPENSIVE JUNGLE HAMMOCKS
$60 – Byer of Maine Moskito Kakoon Hammock
$70 – Yukon Outfitters Mosquito Hammock
$85 – Grand Trunk Goods Skeeter Beeter Pro
$90 – Hammock Bliss No-See-Um No More
Author Derek Hansen is an Arizona Scoutmaster and hammock-camping enthusiast who first used a hammock at age 14 at the BSA's Beaver High Adventure Base in Utah. He's the author of The Ultimate Hang: An Illustrated Guide To Hammock Camping (2011) and the website, The Ultimate Hang.
Inspire Leadership, Foster Values: Donate to Scouting
When you give to Scouting, you are making it possible for young people to have extraordinary opportunities that will allow them to embrace their true potential and become the remarkable individuals they are destined to be.
Donate Today