How to Dispose of Dirty Water in the Backcountry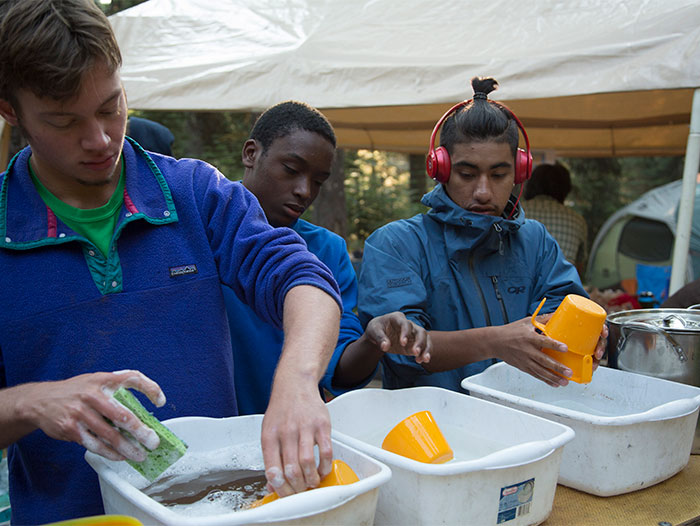 After you've washed your dishes, scrubbed your face and hands, and maybe even done some laundry, there's just one more task ahead of you: What do you do with the leftover soapy water?
USE BIODEGRADABLE SOAP
Use biodegradable soap for your cleaning in the outdoors. A substance is considered biodegradable if bacteria and other microorganisms in the soil can break it down into natural components. Even biodegradable soap can contain unnecessary ingredients such as scents, so it's best to choose a soap designed specifically for camping.
Remember, a little soap goes a long way outdoors. The less soap you use, the less rinsing you will have to do.
DON'T CONTAMINATE WATER SOURCES
Just because a soap is biodegradable doesn't mean you can use it in or near the water. Always set up camp at least 200 feet from any sources of water. This will make sure you don't contaminate any rivers, streams or lakes.
FILTER OUT THE FOOD PARTICLES
Before you dispose of your dirty water, filter out any food particles with a strainer or sieve. Put the particles in a plastic bag along with the rest of the leftover food. (Pack that bag out with you and dispose of it when you can.)
Water used for laundry or personal washing doesn't need to be strained before it's disposed of (unless you have made a real mess of yourself).
SPREAD DIRTY WATER OVER A WIDE AREA
Once you've removed as many of the food particles as possible, you're ready to dispose of the dirty water. Make sure you're at least 200 feet from lakes, streams and springs and "broadcast" the dirty water over as wide an area as possible.