Camping Blanket Instead of Sleeping Bag?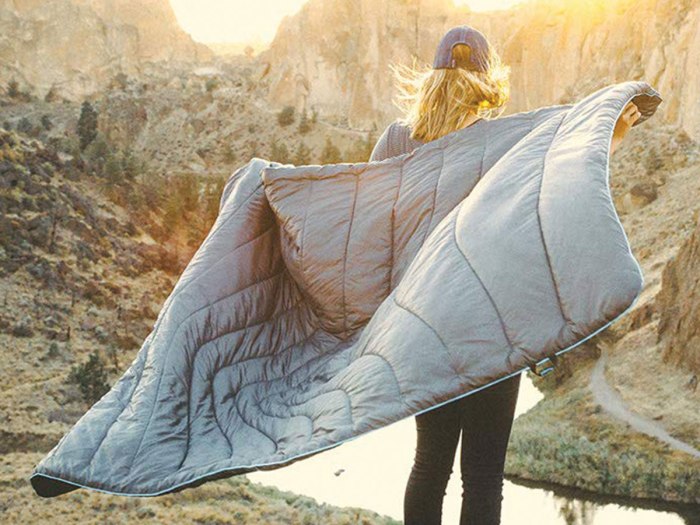 Q: What is the best camping blanket? Have you ever used a Rumpl? They look cool.
— Jimmy, Walla Walla, Washington
Why, yes, I have used Rumpl camping blankets, and they are pretty cool — or, rather, warm.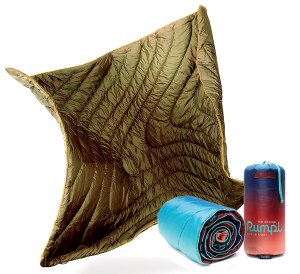 The Rumpl Original Puffy Blanket ($99, rumpl.com) and Rumpl NanoLoft Puffy Blanket ($149) feel like the outside of a sleeping bag or down jacket, so they effectively repel liquid, sand and dirt. They are made from recycled water bottles — a minimum of 50 per blanket! The NanoLoft is a synthetic down blanket. Rumpl also makes duck down-filled blankets as well as fleece blankets.
The "best" blanket really depends on what you find most comfortable. You might not like most Rumpl blankets' slippery feel; once I got used to the sensation, though, I felt comfy in them. A wool or fleece blanket, however, might feel cozier to you.
Camping blankets allow for more range of motion while you sleep. They're also handy for huddling up by a campfire. They probably won't be ideal for winter camping, but they're great for the rest of the year. Rumpl and others come with water-resistant stuff sacks, making packing them away easy.
Visit go.scoutlife.org/rumpl and get 10% off a Rumpl blanket with promo code BOYSLIFE. Valid through March 31, 2020.
---
Ask the Gear Guy
Not sure which gear to buy? Need tips for maintaining your equipment?
Click here to send in your questions for the Gear Guy
. Selected questions will be answered here and in the printed magazine.
---
Inspire Leadership, Foster Values: Donate to Scouting
When you give to Scouting, you are making it possible for young people to have extraordinary opportunities that will allow them to embrace their true potential and become the remarkable individuals they are destined to be.
Donate Today