Suggestions for a Good Sleeping Pad?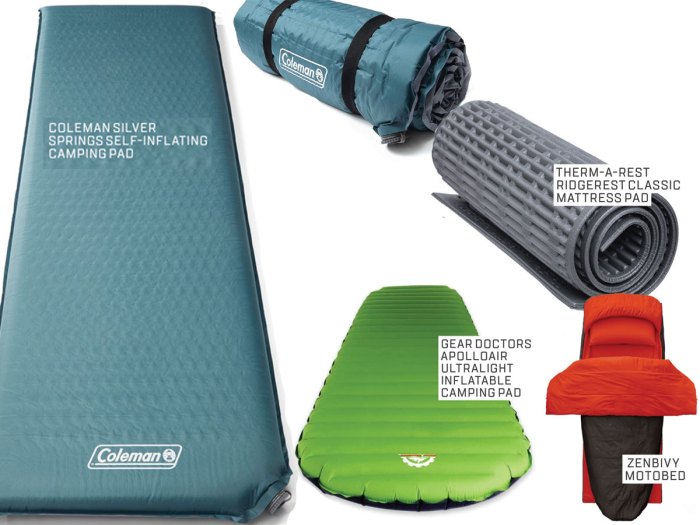 Q: I need a good sleeping pad. What do you suggest?
— Maxwell, Vestal, New York
A: You can get something simple, like the closed-cell Therm-A-Rest RidgeRest Classic Mattress Pad ($30, available at the Scout Shop), or go all out with sleeping bag-pad combo Zenbivy Motobed ($339, zenbivy.com), complete with a super-comfy 3-inch foam mattress.
There are plenty of choices for prices in between. Keep in mind that you want cushioning from the hard ground and insulation to help keep you warm. Look at the pad's thickness and R-value. The higher those numbers are, the more padding and insulation you get.
For car camping, the Coleman Silver Springs Self-Inflating Camping Pad ($60, coleman.com) is a nice choice. Roll it out, flip open the valve and leave it alone. It fully inflates itself, providing 3 inches of cushioning and an R-value of 5. Anything 5 or above should work for camping in freezing temperatures.
For backpacking, the Gear Doctors ApolloAir Ultralight Inflatable Camping Pad ($115, geardoctors.com) packs as small as a water bottle, weighs 17 ounces and gives you a 5.2 R-value. It comes with a pump sack, saving your breath as it inflates to a 3.2-inch thickness.
---
Ask the Gear Guy
Not sure which gear to buy? Need tips for maintaining your equipment?
Click here to send in your questions for the Gear Guy
. Selected questions will be answered here and in the printed magazine.
---