How to Buy the Perfect Bike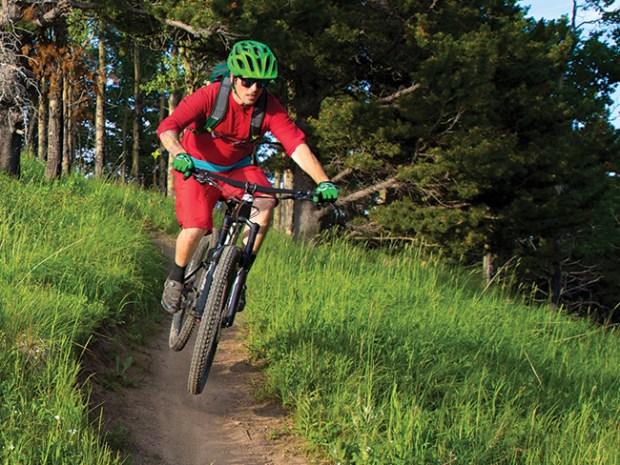 Blasting down the open road on two wheels or threading the needle on a tight mountain trail is about as close to flying as you'll ever get. That's the beauty of the bicycle, whether you're into road riding, mountain biking or BMX.
Buying a new bike can be tricky, but it doesn't have to be that way. Your Gear Guy is here to help with tips for buying your next bicycle.
THREE TYPES OF BIKES
There are three basic types of bicycles and riding that fit different personalities and environments:
Road Bike
If you have a need for speed, a road bike is for you. Road bikes are lightweight with skinny tires and usually have up to 30 gears for tackling hills and going fast.
Road bikes are great for riding long distances on paved roads and multiday bike touring — and, in many towns, there are local road races.
Road bikes are usually the most expensive type of bicycles, and you can expect to pay at least $550 for a good entry-level model.
Mountain Bike
If you're looking for an all-around, do-anything type of bicycle, consider a mountain bike. Mountain bikes have bigger, wider, knobby tires and lots of gears for tackling hills and rugged terrain. Some offer disc brakes for extra stopping power.
Most mountain bikes also have suspensions, or shock absorbers, on the front fork (called a "hardtail") and sometimes also on the rear (called a "full suspension") for a softer, easier ride on really rough trails. Hardtails are generally more durable and require less maintenance.
Mountain bikes are usually heavier than road bikes but are designed to handle riding on bumpy, rocky trails. They are great for riding around your neighborhood, too, and some people put slick tires on their mountain bikes for urban riding.
Prices for mountain bikes can vary depending on how many bells and whistles they have, but plan to spend at least $400 for a good-quality entry-level mountain bike.
BMX Bike
This stands for "bicycle motocross," but no one calls it that anymore. BMX bikes are built with smaller frames and are designed for everything from doing freestyle tricks on the street to riding in skate parks to racing and jumping on motocross-style courses.
These bikes are the most affordable option and are easiest to maintain since they don't have gears and shocks. There are specific BMX models for racing, jumping and freestyle tricks, but if you're looking for a simple bike just to cruise around the neighborhood, a BMX bike could be a good choice. Prices for a good BMX bike start around $225.
WHERE TO SHOP
You can shop at big department and warehouse-type stores, but those bikes tend to be heavier and less durable. You'll find higher-quality bikes at a local bicycle shop, where you can give them test rides to try before you buy. Plus, those smaller specialty shops will likely have more knowledgeable salespeople who can help fit you with the right bike. This is especially important if you're shopping for a mountain or road bike.
And remember, you don't have to buy a new bicycle. A well-maintained bike can last for decades, so check the Internet or local bike shops for deals on a used bicycle.
WHEEL SIZE
One of the biggest things to think about when shopping for a bike is wheel size. The outer diameter of the wheel is measured in inches or millimeters. If the wheel is too big for your height, the bike can be almost impossible to ride.
In general, a 20-inch wheel is usually best for 6- to 8-year-olds. If you're between 9 and 12, look for a 24-inch wheel. As you grow, look to eventually size up to a 26-inch wheel. Most adult road bikes have 700c (29-inch) wheels. BMX bikes have 18- to 20-inch wheels.
FRAME SIZE
Frame sizing is determined by proper fit, not your age. It is usually measured by centimeters or inches (and what part of the frame that measures varies widely among manufacturers), or more common today, they are sized simply from extra-small to extra-large.
PROPER FIT
If the bike doesn't fit you correctly, it'll be uncomfortable and difficult to ride and can even be dangerous. Proper fit varies depending on the style of bike, but here are some rules:
Standover Height
Straddle the bike and pick it up until it hits your crotch. Now have someone measure the distance from the bottom of the tires to the floor. For a road bike, you should have about 1 inch of clearance between the tires and the floor. If it's a mountain bike, you'll need at least 2 inches of clearance and more if you plan on aggressive riding. This extra clearance helps maneuverability and makes it easier for you to hop on and off. Keep in mind, if the mountain bike has a full suspension (shock absorbers on both front fork and tail), then you don't need a full 2 inches of clearance since the suspension will compress a bit under your weight while riding.
Top Tube Length
The horizontal metal tube that runs length-wise along the bike's frame from the seat to the handlebars is called the top tube. Sit on the saddle and reach for the handlebars. It's best to have a slight bend in your elbows as you grip the handlebars. If you're reaching too much, the bike is too long for you. If you feel cramped and your knees are close to hitting the handlebars, then it's too short.
Seat Height
While sitting on the saddle with your foot at the bottom of the pedal stroke, your knee should be bent slightly, NOT fully extended. Seat height is easily adjustable to fit how tall you are.
The BMX Exception
None of the preceding fit advice works for BMX bikes. Just look for a bike that feels comfortable.
QUALITY FRAMES AND COMPONENTS
A bike's frame is like its skeleton. It's what gives the bike structure and strength. Quality mountain bikes and road bikes usually have frames made of lightweight aluminum (more expensive models often have composite frames like carbon fiber). BMX bike frames are usually made of steel.
QUALITY COMPONENTS
The main difference in bicycle pricing comes down to quality and durability, and how lightweight the frame and components are.
A bike's frame is its skeleton, which gives it structure and strength. Quality mountain and road bikes usually have frames made of lightweight aluminum or carbon fiber, while BMX bike frames are usually made of steel. Though the frame is very important, it's the bike's components (gears, cranks and other moving parts) that keep it moving down the road. There are hundreds of different types of components, but look for bikes with components from well-known, trusted brands like Shimano, Suntour and SRAM, and suspensions like RockShox and Fox.
ALWAYS TEST DRIVE
Before you buy a bike, be sure to take it for a test ride.
But don't just cruise around the lot. To get a feel for a bike's performance, try doing tight turns and sprints. For mountain bikes and BMX bikes, consider riding up curbs and speed bumps. Pay special attention to how the bike handles while turning, and note if the gears shift smoothly. Finally, some specialty shops will have demo bikes you can take out on a longer ride — this is a great way to get a feel for a bicycle.
Inspire Leadership, Foster Values: Donate to Scouting
When you give to Scouting, you are making it possible for young people to have extraordinary opportunities that will allow them to embrace their true potential and become the remarkable individuals they are destined to be.
Donate Today