How to Buy a Great Headlamp or Flashlight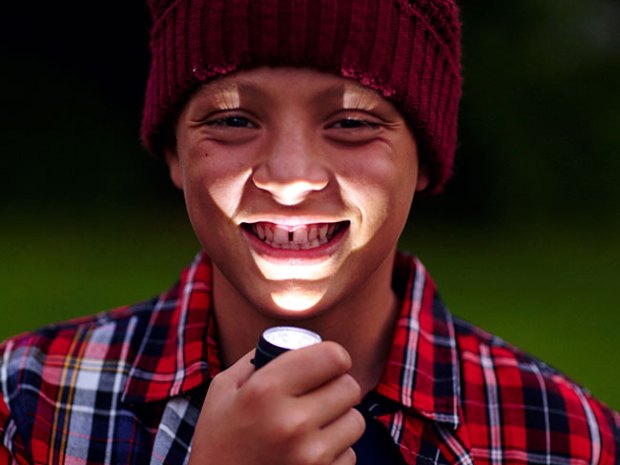 If people had the night vision of owls, we wouldn't need headlamps, flashlights or lanterns. Unfortunately, for finding our way around a campsite or adventuring after dark, we need artificial lights.
Lights come in a dizzying array of sizes and shapes, but Gear Guy has great advice to help you buy a headlamp, flashlight and lantern tough enough to illuminate your outdoor adventures.
THE BASICS
Lights come in many shapes and sizes. Handheld flashlights are the most common. They are versatile because you can easily direct the light and focus it closer to the ground when hiking.
Headlamps are like flashlights you wear on your head. Headlamps are the standard for any outdoorsmen who need to have their hands free for climbing and handling gear.
Battery-powered lanterns are used to light up larger areas for cooking and hanging around camp.
Finally, signal lights are flashlights that come with several different colored lights and special blinking options that can help you call for help when necessary.
PRICE
You get what you pay for. Cheap lights usually are not durable and won't last long. Expect to spend at least $10 to $15 to get a quality flashlight. Headlamps are more expensive — you can get an entry-level headlamp for about $20 to $25.
SIZE AND WEIGHT
If you mainly keep the light in your pack for emergencies or for getting around camp at night, get a smaller light. Some of the newer, more expensive small lights can pack as much power as the older big ones.
BATTERIES
Most flashlights use alkaline batteries, but if you can afford lithium batteries, they last longer. Rechargeable batteries are another choice to consider since they are better for the environment, but they don't hold their charge as long as other types.
As you're shopping, it's important to consider a light's runtime — the number of hours of continuous light provided from a fresh set of batteries. This information is often included on a light's packaging.
BRIGHTNESS
Think about what you'll be using your light for. If you just want a light to read by in camp, consider a small flashlight or tiny lantern with LED lights. If you need it for hiking or mountain biking, a bright headlamp with a halogen or Xenon bulb might be a better choice.
As you shop for a light, you may see the word "lumens" on the packaging. What's a lumen? A lumen is the total amount of light emitted from a flashlight or headlamp. In general, the more lumens, the brighter the light will be.
DURABILITY
When you're buying a light, ask yourself: Over a few camping trips will it be able to hold up to wear and tear?
If the light is made of aircraft-grade aluminum or super-strong plastic, the answer is yes.
It's also best to pick a model with a push-button switch because lights with sliding buttons can accidentally be turned on in your pack, killing the batteries or bulb — and leaving you with no light.
WATCH OUR FACEBOOK LIVE VIDEO
At the beginning of December, we demonstrated some of these great flashlights and gave them away to lucky readers.