America has 17 National Historic Trails and miles upon miles of other ancient wilderness routes. Hiking these trails is a great way to pay tribute to the pathfinders who dared to go where few had gone before.
Many historic trails retrace the steps of Native Americans. Others were originally hiked by soldiers who fought for independence and American unity.
They vary in length, terrain, difficulty and accessibility, and they crisscross the United States from coast to coast. If you're interested in American history and enjoy exercising in the great outdoors, go take a hike — a historic hike.
---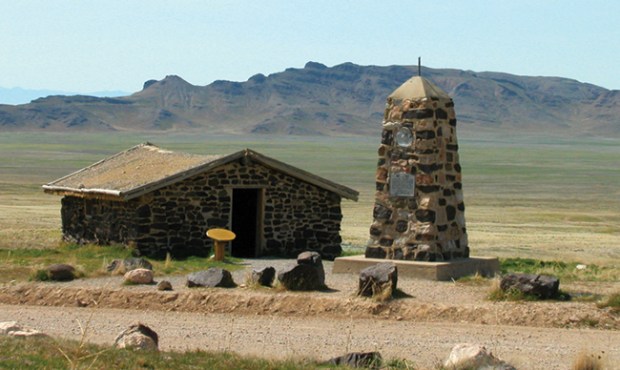 PONY EXPRESS NATIONAL HISTORIC TRAIL
Missouri to California: 1,855 miles
Then: Riders carried mail nonstop on horseback from St. Joseph, Mo., to Sacramento, Calif., in the early days before telegraph wires linked America's coasts.
Now: The National Pony Express Association stages yearly rider re-enactments along the route. Extremely difficult hiking trails along the route test even the most experienced hikers.
Foot Notes: The challenging Hawley Grade National Recreation Trail was part of the Pony Express Route over Echo Summit near the Upper Truckee River. The steep upper portion weaves through boulders and descends into lush vegetation near a small waterfall.
---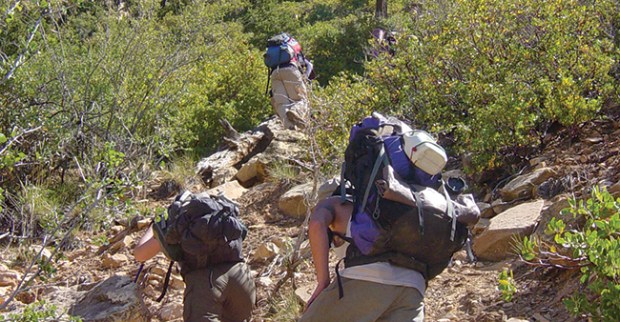 POWELL PLATEAU — GRAND CANYON NATIONAL PARK
Arizona: 15 miles plus
Then: Major John Wesley Powell explored the Colorado River and Grand Canyon in the late 1800's. On his second expedition into the canyon, Powell scouted the river from an eight-square-mile, 7,000-foot-high plateau named in his honor.
Now: Powell Plateau is a challenge. It is accessible only by following other trails into the remote backcountry of the canyon's north rim.
Foot Notes: The Grand Canyon's tough North Bass Trail leads to a rugged climb up to the plateau. Parts of the plateau, including a scenic overlook of the Colorado River, have no trails.
---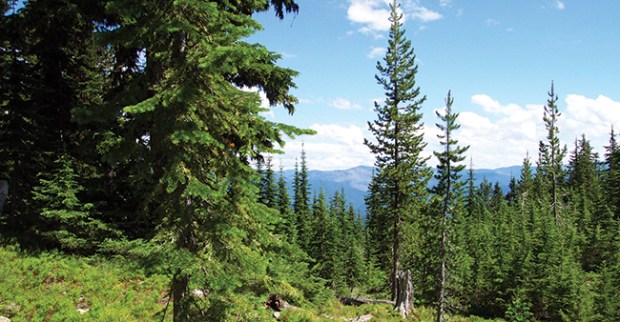 NEZ PERCE NATIONAL HISTORIC TRAIL
Idaho to Montana: 1,170 miles
Then: In 1877 Nez Perce Indians displaced from their homeland attempted to escape reservation confinement by fleeing from Idaho to Canada. Guided by Chief Joseph, the Nez Perce made a valiant trek overland to escape capture by U.S. military forces but were stopped short of the Canadian border.
Now: The trail — considered sacred land by the Nez Perce — bisects Yellowstone National Park. It has various trails and historic sites that hikers are urged to treat with respect and reverence.
Foot Notes: The Nee-Me-Poo Trail used by the Nez Perce is part of the Hell's Canyon National Recreation Area, which straddles the Snake River in Oregon and Idaho. It has steep rocky sections, some heavy brush, stream crossings and even desert and alpine environments. Rattlesnakes also reside in areas along the trail.
---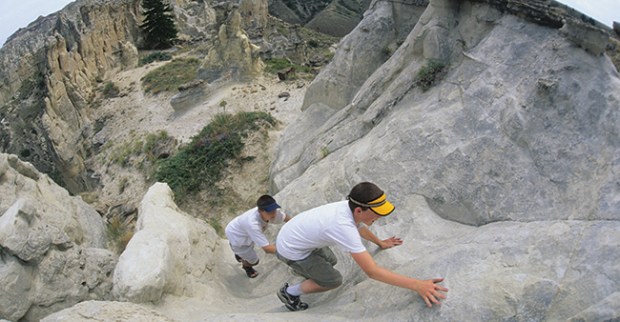 LEWIS & CLARK NATIONAL HISTORIC TRAIL
Illinois to the Pacific Ocean: 3,700 miles
Then: In 1804 President Thomas Jefferson commissioned Meriwether Lewis and William Clark to explore remote areas of North America after the Louisiana Purchase. Lewis and Clark led an expedition up the Missouri River from Illinois and blazed a trail to the Pacific Coast.
Now: There are 22 national refuges on or near the route taken by Lewis and Clark. Road markers and hiking trails retrace their historic journey.
Foot Notes: The Big Muddy National Fish and Wildlife Refuge lies near the beginning of the trail. Jameson Island in Big Muddy affords hikers a mile-long trail along an old levee and provides excellent wildlife viewing.
---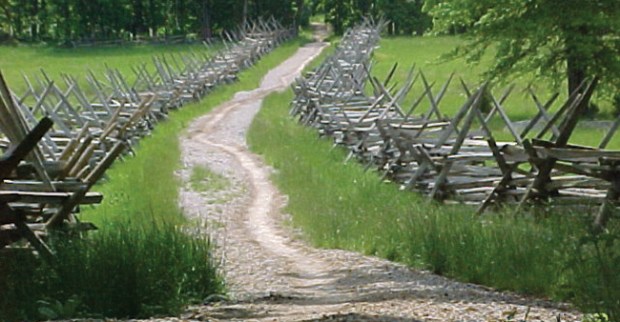 GETTYSBURG BATTLEFIELD HERITAGE TRAILS
Pennsylvania: 17+ miles
Then: The Battle of Gettysburg in 1863 was the turning point of the Civil War. Confederate General Robert E. Lee's attempted invasion of the North was repulsed by Union troops in one of the conflict's bloodiest engagements.
Now: Hiking trails traverse various historical sites and are split into three parts: the Johnny Reb Trail (3+ miles, named for the Confederacy); the Billy Yank Trail (9 miles, named for the Union); and the Gettysburg Trail (about 4 miles).
Foot Notes: Billy Yank is the most difficult. The loop trail begins at Cemetery Ridge and goes up Little Round Top. After several twists and turns, it follows Seminary Ridge. Some areas of the trails are paved.
---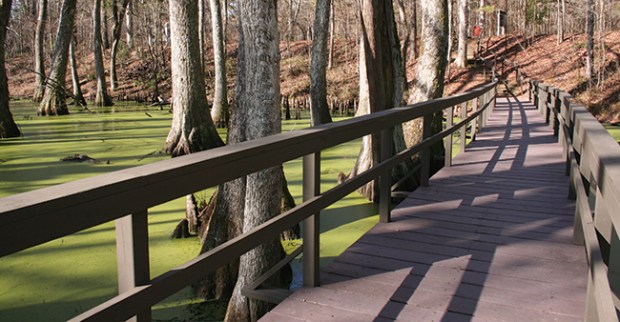 NATCHEZ TRACE NATIONAL SCENIC TRAIL
Mississippi: 65 miles
Then: The Natchez Trace began as a series of animal paths and Native American trails. Frontiersmen, explorers and military men used it as a route through the wilderness. General Andrew Jackson used it after his army's victory at the Battle of New Orleans.
Now: Numerous hiking trails and horseback trails now dot the route.
Foot Notes: The Cypress Swamp hike near Canton, Miss., is a half-mile loop suitable for a family hike. It is a well-maintained trail with unique views.
---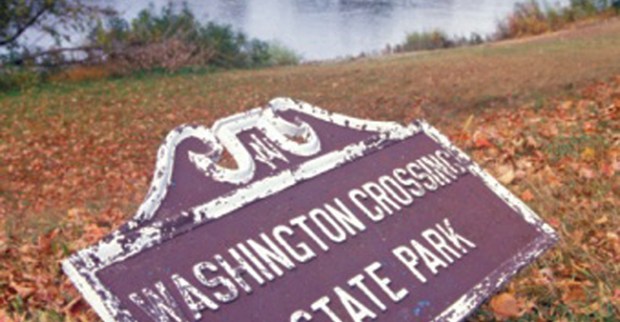 WASHINGTON CROSSING STATE PARK
New Jersey: 1,399 acres
Then: General George Washington's Continental Army landed here after its famous Christmas night 1776 crossing of the Delaware River during the Revolutionary War.
Now: The park has 15 miles of hiking trails, including a historic 2.5-mile trail starting where the troops landed. It follows the path taken by Washington and his officers to a 1740 building where they planned an attack on British troops.
Foot Notes: The historic trail is rated easy to moderate, and the surrounding area supports a variety of wildlife. In winter, trails can be used for cross-country skiing.
---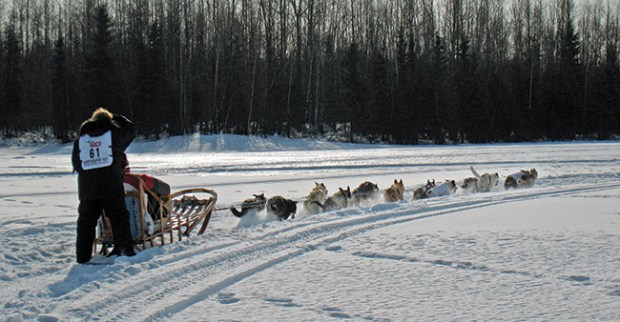 IDITAROD NATIONAL HISTORIC TRAIL
Alaska: 2,450 miles
Then: The Iditarod is a system of remote wilderness trails used by miners, merchants, mail carriers and their sled dogs during the Alaskan Gold Rush. In 1925, 20 of Alaska's best mushers and their sled dogs used 675 miles of the trail to carry serum to save the residents of Nome from an outbreak of diphtheria. Balto, one of the lead sled dogs, became a national hero and folklore legend.
Now: The trail is the home course of the world famous 1,150-mile Iditarod Sled Dog Race. It is also used by skiers, snowmobilers and mountain bikers. Segments through the mountains near Anchorage are popular summer hiking trails.
Foot Notes: Unlike some historic trails, the Iditarod route is far from populated areas and can be a very dangerous hike. It crosses rugged terrain and is best traveled during winter when rivers and tundra are frozen. Thick tundra vegetation makes hiking during summer months difficult.
---
FIND MORE TRAILS
To view a list of the National Park Service's scenic and historic trails, click on http://www.nps.gov/nts/nts_trails.html
Inspire Leadership, Foster Values: Donate to Scouting
When you give to Scouting, you are making it possible for young people to have extraordinary opportunities that will allow them to embrace their true potential and become the remarkable individuals they are destined to be.
Donate Today