Backpacking Along California's Point Reyes National Seashore
Point Reyes National Seashore features some exceptional hiking trails.
The good news is that the environment and the terrain are always changing. At some points, you're walking through the woods. At others, you're walking along the ocean.
The bad news is that the environment and the terrain are always changing. At some points, you're walking on a nice flat trail, and then you're suddenly ascending a steep hill. At other points, you're enjoying nice warm temperatures, and then the breeze shifts and it gets chilly really quickly.
For Troop 606 from Irvine, California, it was all part of the adventure.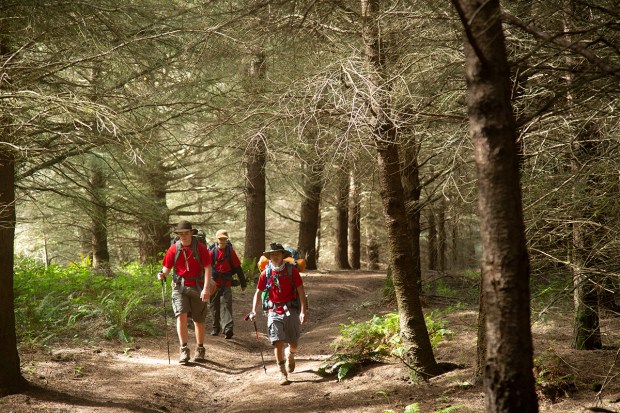 It began with a seven-hour drive up the coast — past Los Angeles, past San Francisco — to a state park near Point Reyes that provided a convenient camping spot. It ended four days later with the Scouts exploring San Francisco's famous Golden Gate Bridge before driving back home.
In between, the Scouts splashed in the ocean, hiked through the trees and backpacked about 20 miles, while spending two nights in the wild and one at a youth hostel.
"I saw things I'd never seen before," 12-year-old Erik Fukushima says. "It was a fun experience for all the boys."
BEACH CAMPING
The official rules at Point Reyes National Seashore require campers to set up only at specific sites. It's not like the guys could just stop whenever they were tired and set up shop.
If it was 6 miles to the next campsite, the troop had to walk 6 miles. No shortcuts allowed.
"It was more difficult in some parts," says Nate Riebe, 15, "but other parts were easy."
Day One was a six-hour hike from the Point Reyes visitor center to the shores of the Pacific Ocean and their first campsite. After walking through the woods for so long, the ocean was a welcome sight, even though the temperature noticeably dropped along the way.
"We could see the beach from our campsite," Nate says. "It was beautiful. We saw the sun going down."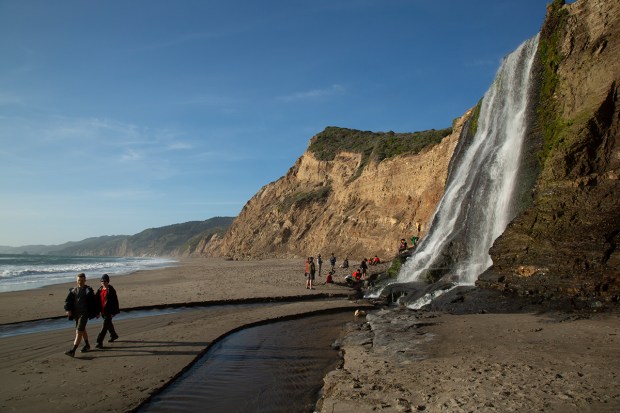 The guys spotted a waterfall in the distance, so they, of course, had to hike down and explore it. Most of the Scouts were happy to get their feet wet in the chilly water.
The Scouts could play in the sand as much as they wanted, since the tide would come in shortly and do all of their Leave No Trace-ing for them.
CRITTER INVASION
On Day Two, the terrain changed to the tune of an 800-foot elevation gain in about a mile and a half. The climb was worth the effort: Their reward was a majestic view of the shoreline the rest of the day.
Well, most of the day, at least. On this trip, nothing stayed the same for too long.
"For 30 minutes, we'd be walking through a forest of trees," 14-year-old Michael Yuen says, "then after another 30 minutes, we'd reach an opening where we could see an entire piece of the coastline."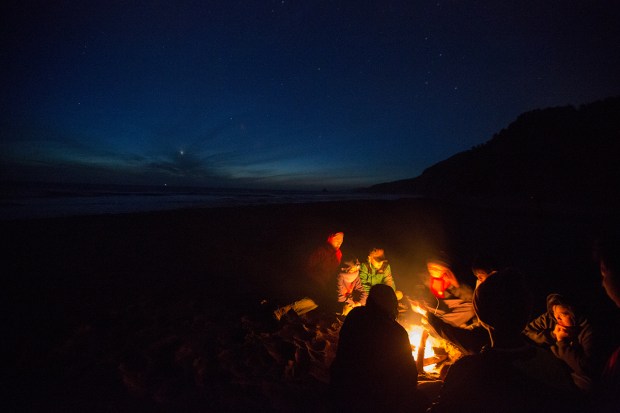 The group stopped for lunch along the trail and took plenty of breaks to admire the scenery. In the woods, they'd see signs of coyotes and raccoons. In the ocean, they'd catch glimpses of sea otters and whales.
"I had never seen whales before," Erik says. "I got to see a whale breach (jump out of the water)."
At night, some of the Scouts learned an important lesson about keeping food near their tents. Just call it the Great Raccoon Invasion of 2018.
"They came into our campsite because some boys didn't lock up their food," Michael says. "One got under our rain fly. I got up and shooed it away. Then three more came around, and a couple of guys came out and chased them into their holes."
A BEAUTIFUL FINISH
At one point along the trail — just when everything seemed to be going smoothly — the group was met by an overgrown section of stinging nettle. The poisonous plant is known for its tiny hairs that inject chemicals into passing hikers. With the forest closed in all around them, there was nowhere to go but straight ahead.
"It pricks you and leaves bumps on you," Michael says. "And we walked through a field of it."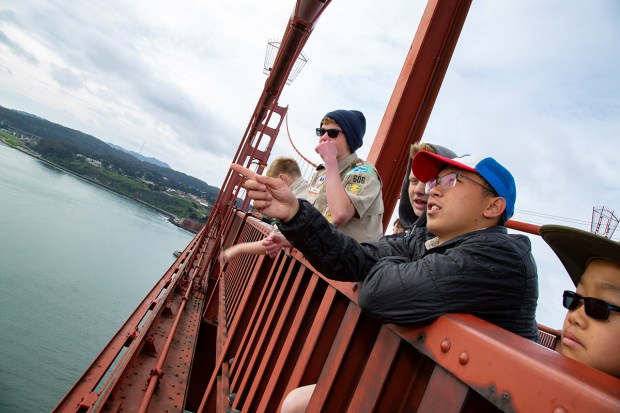 The last day included a big descent back down to sea level. Most everyone had tired legs and tired feet, but their reward was a catered buffet of Indian food that tasted extra delicious after two days of freeze-dried food.
They spent that night in a youth hostel, and the next morning stopped to check out the Golden Gate Bridge. The bridge is an engineering marvel. When it opened in 1937, it was the longest and tallest suspension bridge in the world.
"We've gone on backpacking trips, but this was different because it was near the ocean with beach camping," Nate says. "It was really beautiful."
KNOW BEFORE YOU GO
What: Point Reyes National Seashore
Where: Point Reyes Peninsula, northwest of San Francisco, California
Why: Point Reyes National Seashore is a 71,000-acre park that includes beaches, estuaries (the points where rivers meet the ocean) and hills. It also features hiking trails, backcountry campsites and a historic lighthouse.
PHOTO GALLERY OF TROOP 606'S ADVENTURE
Inspire Leadership, Foster Values: Donate to Scouting
When you give to Scouting, you are making it possible for young people to have extraordinary opportunities that will allow them to embrace their true potential and become the remarkable individuals they are destined to be.
Donate Today