9 Clever Food Ideas for Cub Scouts for Blue and Gold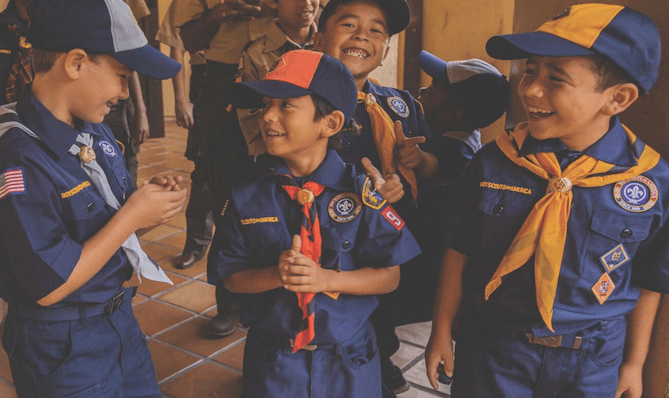 It can be a daunting task to attempt to feed a whole group of kids with varying degrees of growing tastes and palates. To that end, the banquet part of Blue and Gold can cause a little heartburn for the leaders and parents even before the feast begins. But it doesn't have to! Apart from saving time and effort, not to mention stress headaches, these ideas for great grub and victuals that are sure to be a crowd pleaser for your Blue and Gold Banquet. Read on for our suggestions of food ideas for Cub Scouts that won't disappoint!
Just Cater It
Going for broke and catering your Blue and Gold might take away some of the fun of making food that matches your theme (if that's what you enjoy) but it's a great idea for something like a BBQ feast or submarine sandwiches. Catering doesn't have to be super pricey, either, especially when it's worked into the budget from the get-go.
Solicit Food Donations From Local Grocers
This would be a unique approach to Blue and Gold while collecting food for a local food bank. Have a canned food feast like chili and corn, or canned spaghetti shapes and green beans—something simple and familiar, utilizing the most common types of food collected in a Scouting for Food drive or similar service activity. The Blue and Gold feast can double as a community service project, enlisting the help of Scout parents, local community organizations and other people who might attend.
Potluck Pizazz!
You really can't go wrong with every Cub Scout having their parents help them bring their favorite dish. Potluck is a great way to get everyone involved with the banquet. If you have dinner covered, a potluck dessert is a great way to encourage participation. Well, that and the obvious attraction for dessert: Scout Cakes!
Pizza Party
Yup. Pizza. Need we say more? Kids love it. End of story. 🙂 But really, this is the most headache-free feast plus it's just also a lot of fun. Maybe for the sake of nutrition, mix it up with a Caesar salad on the side. We've spoken to some packs who have a giant pizza party tradition for their Blue and Gold and it's always a fun event they all look forward to every year. Even if you're not having a full blown pizza party, these little pizza bites might be a hit with a potluck Blue and Gold as well.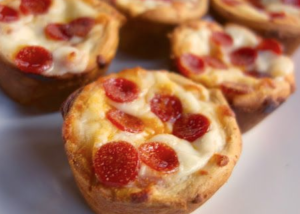 Taco Bar
This is a fun, interactive way to make sure everyone's dinner is as tasty as they like it. With varied toppings and fillings, Cub Scouts, parents and leaders alike can customize their feastjust how they like it for extra meaty, super crunchy, soft and chewy, or vegetarian hearty tacos. However they prefer their food, the assembly of the feast is almost as fun as the eating. This concept would also be great for classic chicken-and-rice haystacks or baked potato bar.
Roasted Marshmallow Bar + Trail Mix
Obviously this isn't a meal, but it can be a really fun feature of your Blue and Gold. A table where Cub Scouts can roast their mallows on little skewers would require careful adult supervision, and an indoor flame may or may not be allowed, but if the conditions are right, a s'mores bar could be a real hit. Add trail mix party bags and your camping theme is all but complete!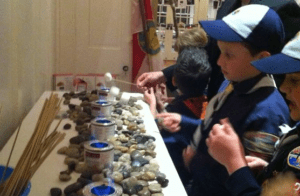 Breakfast Banquet
Who doesn't love pancakes? Or waffles? Add bacon or sausage, scrambled eggs, or biscuits and gravy. The classic American breakfast can be a real hit and a crowd-pleasing twist for a Blue and Gold banquet. Just imagine GOLDen waffles with BLUEberries, to fit the theme of the occasion. How clever!
Mac & Cheese Fest
Ditch that Kraft box (or not) and check out some ooey gooey recipes for different takes on the kid-favorite classic macaroni and cheese. Make it into a casserole, or try it out with different cheeses. This could be a great unified theme for a potluck, and besides, mac & cheese provides a whole heap of golden goodness to match the Blue and Gold decor. Maybe hold off on the blueberries with this one, however.
Mini Burgers / Sliders
Hamburgers are delicious. Baby hamburgers are delicious AND adorable, rendering them completely irresistible. Sliders are a fun, hands-on culinary adventure Cub Scouts are sure to enjoy. Mix it up with turkey or veggie burgers for more adult-friendly, health-conscious, and vegetarian options and your banquet will be a real hit.
Inspire Leadership, Foster Values: Donate to Scouting
When you give to Scouting, you are making it possible for young people to have extraordinary opportunities that will allow them to embrace their true potential and become the remarkable individuals they are destined to be.
Donate Today