5 Recipes For a Very Dutch Oven Campsgiving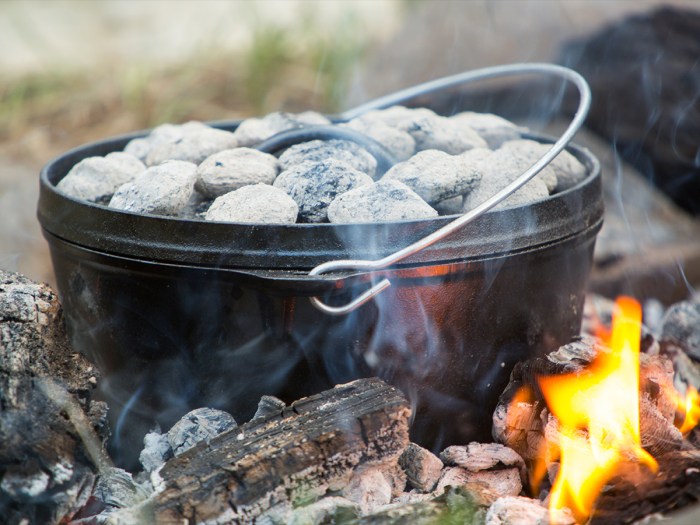 If you're looking for a way to change up the ol' kitchen mess this year for Thanksgiving … take it outside for Campsgiving! The opportunities for creative Dutch Oven cooking are endless, and these five classic and festive dishes will be right at home on your holiday feast table, inside or in the great outdoors.
1. Thanksgiving Pie in the Sky
With apples, cranberries, spice and nuts, this pie is very essence of Thanksgiving flavors and colors. And it's delicious, too. This is sure to be a crowd-pleaser when you take that lid off the Dutch Oven and see the beautiful and festive pie just ready for your fork. As a matter of fact, it might be a good idea to make a few of these. Check out the tutorial video below.
2. Stuffing to Get Stuffed On
It's the classic dish that has it all. The sage, the sweet, the savory, the giblets (!) and most of all, it goes great with everything. Get stuffed with this clever Dutch Oven Thanksgiving twist on this classic holiday mainstay dish.
3. Turkey Legs Gone Dutch
That's right, even the king of the feast is no match for a skilled Dutch Oven chef. The secret here is the way they line the Dutch Oven (and the bird!) with herbs and aromatic vegetables to really get those Thanksgiving flavors in every bite of a perfectly moist and tender Turkey. Not to mention, if you pull this off, you'll really knock off their Scout Socks! 🙂 See the Recipe Here.
4. Cinn-fully Delicious Baked Apples
OK, maybe not so sinfully, as these sweet apples baked in a Dutch Oven are actually a healthy treat. But they are spiced with "cinn"amon. Baked fruit is a classic cast iron standby, but with the rest of the Thanksgiving feast, these apples really shine. Give it a go and maybe bake some cast iron chef cooking requirements for your Cub Scout right into the fun. See the Recipe and Video Here.
5. Irresistible Dutch Oven Corn Bread
In one of the most iconic uses of the grand ol' Dutch Oven, a pot full of crispy on top, moist in the middle cornbread will bring new meaning to the phrase 'golden delicious'. Be sure to watch these clever videos that come with these recipes as they are all fun and unique. Not to mention, extremely helpful! Perfect for a Dutch Oven Thanksgiving, or even as part of your stuffing, or a southern style Dutch Oven Thanksgiving.
So whether you brave the elements or brave your backyard to celebrate Campsgiving with friends and family, if you're going Dutch this Thanksgiving, you're winning! Enjoy the hearth and home this holiday, and enjoy your Dutch Oven Campsgiving.
Inspire Leadership, Foster Values: Donate to Scouting
When you give to Scouting, you are making it possible for young people to have extraordinary opportunities that will allow them to embrace their true potential and become the remarkable individuals they are destined to be.
Donate Today