Cub Scout receives Honor Medal for saving parents' lives in fire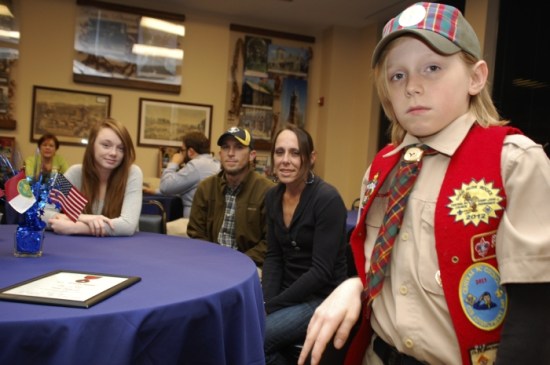 Salisbury, N.C. – On August 31, 2013 8-year-old Cub Scout Zane Pollard woke up at 5:00 a.m. to thick smoke and a burning smell. It didn't take him long to realize it wasn't just his mother cooking breakfast.
He went to the kitchen to investigate and found that cabinet doors were on fire and the refrigerator was melting.
Recognizing the urgency of the situation, he ran into his parents' bedroom and started yelling "the house is on fire, the house is on fire!" while pushing on his mothers' feet and legs.
Neither parent responded due to carbon monoxide-induced sleep.
With persistence, Zane was finally able to awaken his mother LeAnne and father Travis.
LeAnne told Zane to wake family friend Bradley Griffin who was asleep in the living room, then meet outside at the mailbox. Zane had helped establish the mailbox as the family's emergency meeting place after learning about fire safety as a Cub Scout.
The family lost dogs Pumpkin and Bessie to smoke inhalation, in addition to most of their possessions.
Fortunately, the Pollards and Griffin survived and the family knows they have much to be thankful for.
On November 18, 2014 Zane was recognized with the BSA Honor Medal for his actions. He is also being considered for a future issue of Scouts in Action.
Inspire Leadership, Foster Values: Donate to Scouting
When you give to Scouting, you are making it possible for young people to have extraordinary opportunities that will allow them to embrace their true potential and become the remarkable individuals they are destined to be.
Donate Today