Wilderness survival: Get out there and do it
When it comes to surviving in the wild, there's only so much you can learn from books and the classroom.
Sometimes, you just have to get out there.
That was the idea behind Nebraska Troop 114's wilderness survival weekend, which included a 4-mile hike into the wild and the challenge of spending the night in a homemade shelter with temperatures below freezing.
"The boys come in with rope and some tarps, otherwise you find some sticks out there, and you basically make various types of shelters," said assistant senior patrol leader John Campbell in an interview with a local paper. "It is a really great experience."
Click here to read more about Troop 114's survival weekend.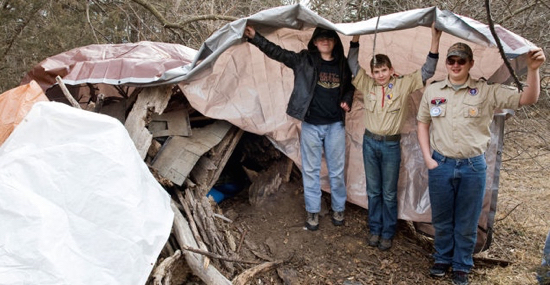 Inspire Leadership, Foster Values: Donate to Scouting
When you give to Scouting, you are making it possible for young people to have extraordinary opportunities that will allow them to embrace their true potential and become the remarkable individuals they are destined to be.
Donate Today