Up For The Navy SEALS Challenge
It's not easy to become a Navy SEAL. The special operations force of the U.S. Navy (it stands for sea, air and land) requires applicants to pass a strenuous test of physical fitness, mental discipline and teamwork.
When Scouts from Troop 7 in Modesto, California, participate in the Navy SEAL Challenge, they get a taste of what that test is like.
Events include a 3.5-mile run while carrying a 35-pound bag of sand, a race in which the whole team carries a log weighing more than 300 pounds, and an obstacle course in which the team members must do 300 pullups, situps and pushups between them.
In the process, the Scouts learn to communicate, set goals, and work together in a stressful and physically demanding situation.
Click here to learn more about the SEAL Challenge.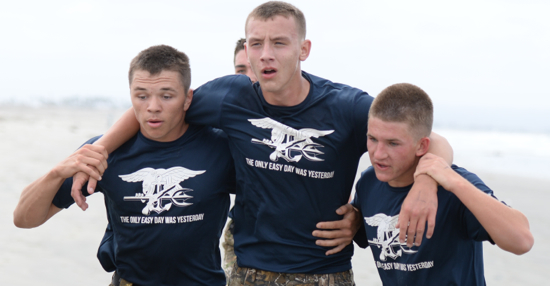 Inspire Leadership, Foster Values: Donate to Scouting
When you give to Scouting, you are making it possible for young people to have extraordinary opportunities that will allow them to embrace their true potential and become the remarkable individuals they are destined to be.
Donate Today