Scouts Chase Adventure and Elusive Trout in Rocky Mountain National Park
The greenback cutthroat trout is a rare prize for fishermen in Colorado's Rocky Mountain National Park.
Way back in the 1930s, the fish was thought to be extinct.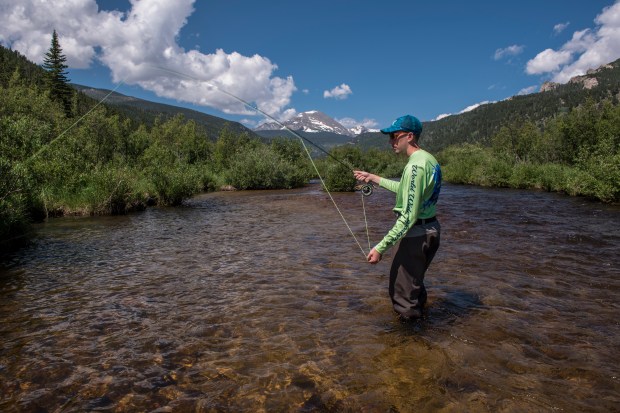 Then, in 1957, a group of them was discovered in the park's Big Thompson River, just hanging out like it was no big deal.
The park has been trying to restore the greenback population ever since. Over the decades, the number of greenbacks has slowly grown. They've gone from "extinct" to "endangered"and are now considered "threatened,"as determined by the Endangered Species Act.
As the fish continues its comeback, it has also become increasingly popular among fishermen. In 1994, it was named the official state fish of Colorado.
If you go to Rocky Mountain National Park, you have to go fishing for greenbacks.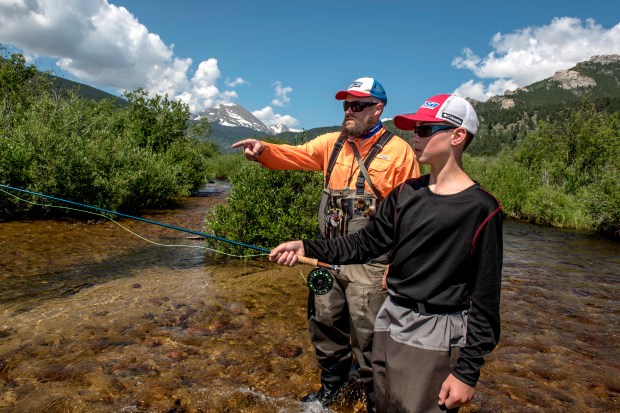 When Troop 208 in Export, Pennsylvania, traveled across the country to Rocky Mountain National Park, the Scouts made time for hiking, horseback riding, whitewater rafting and camping.
And, of course, they made time for fishing.
Fly Time
During their two-week stay at the park, the Scouts chartered two different fishing trips to two different locations. In between, they took what they learned from those trips and applied that to more fishing stops during their regular hikes.
The first challenge was a strenuous mile-long hike across swampy terrain just to get to the right spot. The guys wore waders — basically waterproof pants —  to keep dry. They carried fly rods with them, making for a challenging slog.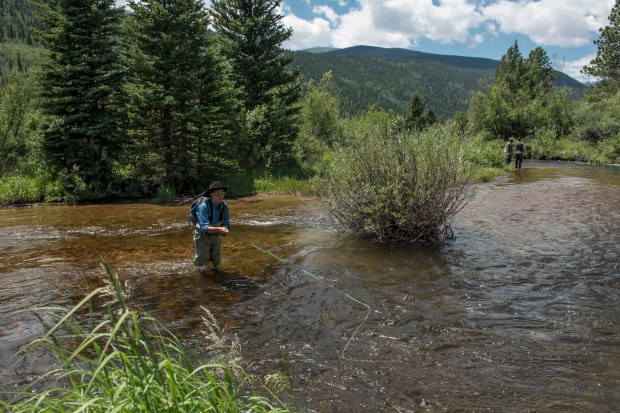 "It was knee-deep or higher water the whole time," 16-year-old Matt Wareham says. "It was pretty difficult."
All to get at those greenbacks. The Scouts used what's called a dry dropper rig. It works because it has two lures: one that attracts fish rising as they look for food and another tied to a line a few inches below the surface for the shy fish that aren't rising.
"The dry fly on the top imitates the emerging flies going off after they hatch," Matt says. "The nymph imitates the fly rising to the surface after they hatch from their shell at the bottom of the river."
Rocky Mountain Fun
There's lots to do at Rocky Mountain National Park.
The Scouts hiked almost every day, from an easy-peasy flat hike to an area called The Pool to a very strenuous hike to Sky Pond.
It's called Sky Pond because, at 10,900 feet, it feels like you're in the sky.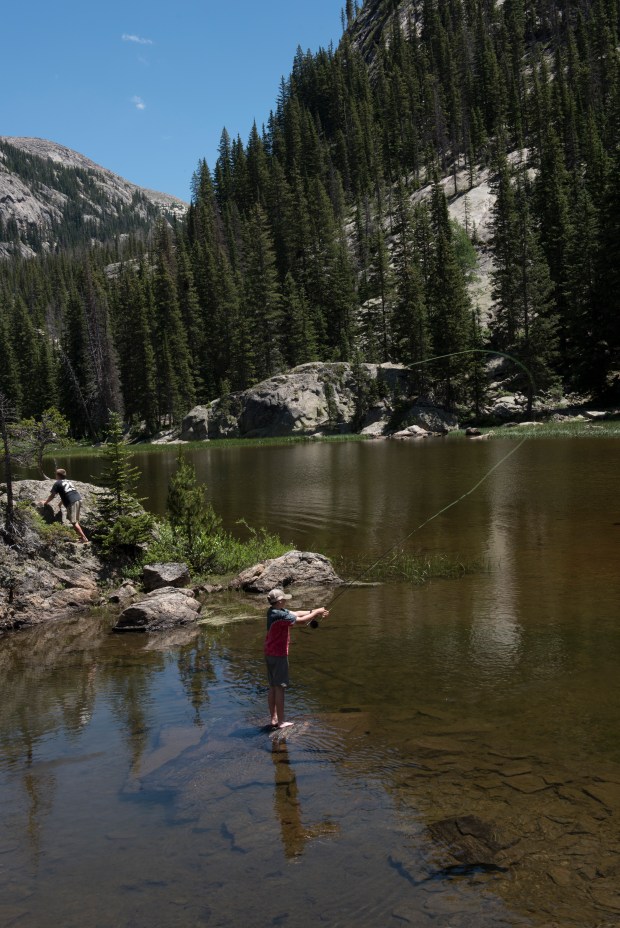 "There's a section in it that's absolutely amazing," says Jacob Aceves, 17. "You end up hitting a glacial field, and right above it there's a waterfall — and you have to climb pretty much straight up.
"You think you're off the trail, but eventually you hit a landing and there's a sign that says 'Sky Pond' with an arrow pointing straight up. It's an absolutely gorgeous place."
A horseback ride during their second week took the guys to places that would be difficult to reach on foot.
"There was a lot of great scenery," 14-year-old T.J. Schreck says. "Then we had to do a river crossing, which was one of the most exciting parts, because the horses sit down in the river and you probably get wet — so you have to push through that."
Another day, they experienced the Class III rapids of the Cache la Poudre River.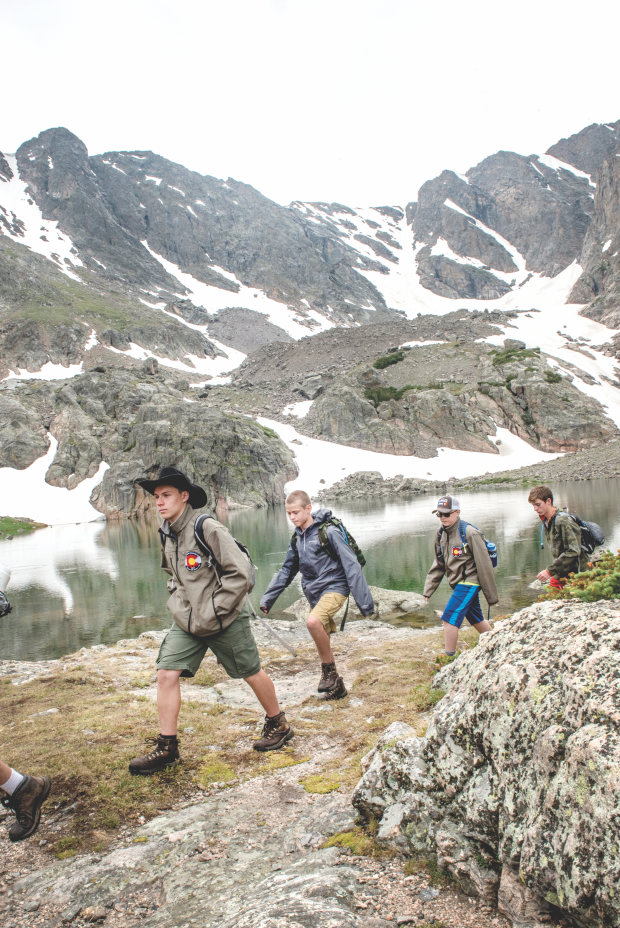 "The whitewater rafting was really cool," says Thomas Hieber, 13. "We only had a couple of Scouts fall in. So that was pretty good."
Hard Work, All Worth It
The Scouts camped near Big Thompson River, one of the areas in the park confirmed to still have greenback cutthroat trout. The Scouts were able to take what they learned from their chartered fishing trips and apply it there.
"We just walked over there every night and got on some good fishing," Matt says.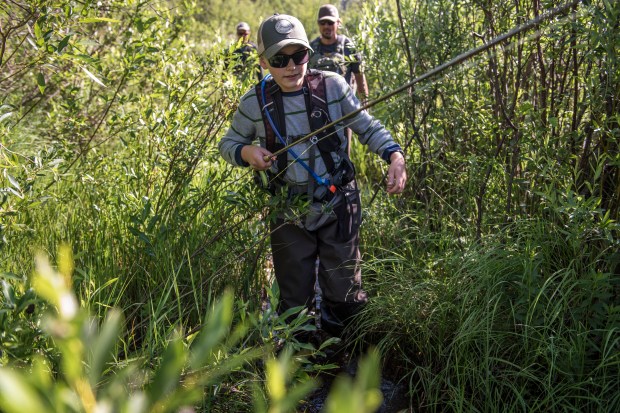 The guys estimated they caught around 100 total fish during the trip, none of which were greenbacks.
Told you those guys were rare.
Since the species is still considered threatened, all fishing was catch-and-release. Though the Scouts couldn't have freshly caught trout for dinner, they still appreciated the unique opportunity of fishing in such a pristine environment.
It was especially satisfying since they spent months planning the trip themselves. They took practice hikes, planned all the meals and coordinated all the travel.
Some of them slipped in their waders and got waterlogged. Others fell off their raft and got swept downstream. (That's why you wear life jackets, everybody.)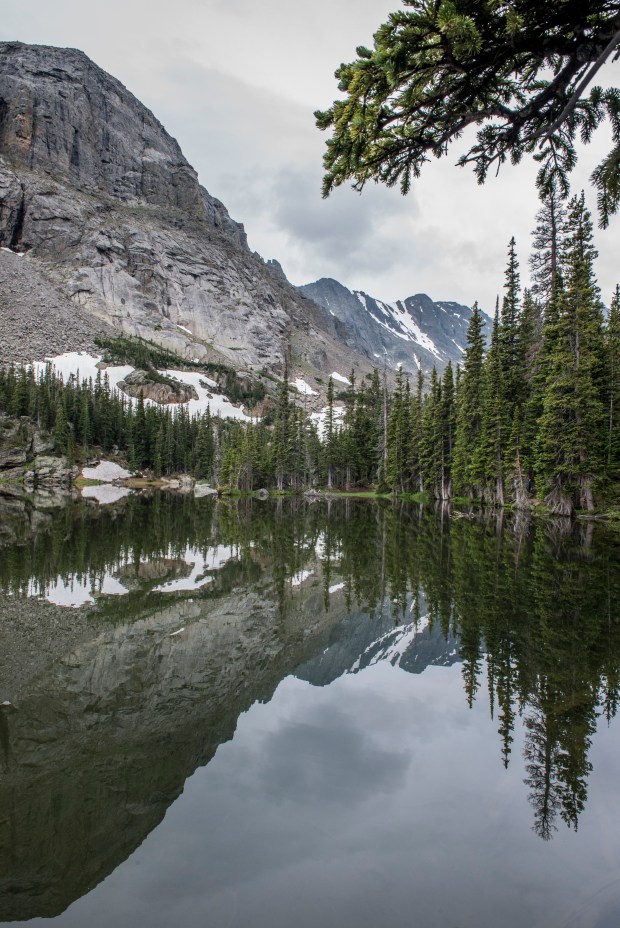 On the way home, they got stuck in the Denver airport for 36 hours.
But mostly, they just had fun.
"We had good spirits," 17-year-old Josh Hill says, "because we were just goofing off."
Check out all the Rocky Mountain National Park adventures of Troop 208 in the photos below!
Inspire Leadership, Foster Values: Donate to Scouting
When you give to Scouting, you are making it possible for young people to have extraordinary opportunities that will allow them to embrace their true potential and become the remarkable individuals they are destined to be.
Donate Today