5 Good Turns You Can Do From Home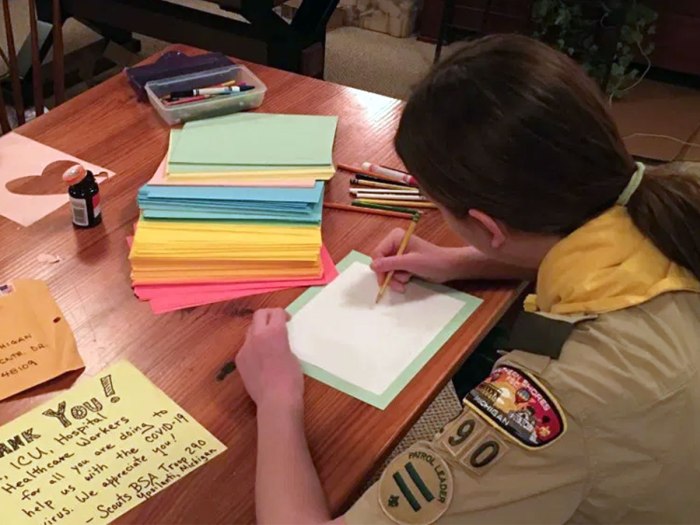 With schools closed and many Scouting events on pause, how do you continue to "Do a Good Turn Daily"? By remembering that acts of Scouting service don't have to stop just because you're at home.
Here are some ideas for following the Scout Slogan while still staying safe:
1. SEND A 'THINKING OF YOU' VIDEO OR EMAIL TO A LOCAL NURSING HOME — OR GIVE THEM A CALL
Take this time away from school to send electronic notes, images or video greetings to nursing homes and assisted-living facilities in their community. Many of those folks can no longer receive visitors.
The first step would be to contact the facility to figure out the logistics of sending these messages. You could make a handmade card and take a photo of it, then grab a trusted adult and share a video greeting, or simply pick up the phone and give them a call.
2. HELP WITH GROCERY PICK-UP/DELIVERY
As long as it's safe to do so, you and a trusted adult could offer to pick up and deliver groceries for those who are unable to leave their homes. Remember to remain 6 feet away from others — and thoroughly wash your hands before and after.
3. SEND A THANK-YOU MESSAGE TO A LOCAL HOSPITAL
ER doctors, nurses and other critical care professionals can't work remotely. You can send electronic messages to these hard-working heroes. Again, be sure to find a nonemergency contact at the hospital before sending a message. We don't want to overwhelm these facilities with calls.
While officials say the coronavirus doesn't survive long on objects, it's better to be stick to electronic messages at this time.
4. CONTACT YOUR LOCAL FOOD BANK
With schools closed, many families that relied on schools to provide food for their children are left missing out. Find your local food bank and see what help they might need. If you can assist in a way that's safe, please do.
5. CALL YOUR LOVED ONES
Call, FaceTime or Skype your loved ones — especially those who are older and may not be leaving their houses. Ask about their childhood, their first car, where they grew up.
---
GOT A GREAT IDEA? TELL US!
What are you doing to help during this national crisis? Let us know in the comments and we might add it to this list!
GOOD TURN NO. 1: DONATING MEDICAL GEAR TO HOSPITALS
Medical officials are calling on Americans to collect new or unused face masks, eye protection, gowns, gloves and other potentially lifesaving equipment for workers on the front lines of fighting the coronavirus.
Scouts can help in this effort.
When trying to determine the need in your community, contact local hospitals and whoever runs the local EMS. For a lot of areas, that would be the local fire department.
Needs will vary by community, but many facilities are asking for the following:
New or unused:
Disposable face masks
N95 masks, sometimes called respirators
Eye protection including face shields and safety goggles
Disposable gowns
Disposable gloves, especially non-latex
Disposable surgical caps
Disposable foot covers
Wipes: bleach or antimicrobial
Hand sanitizer
Hospitals in some areas are accepting home-sewn reusable masks and 3-D printed ventilator parts. In other places, these supplies aren't needed. This could change and will vary by location.
Before you call your local hospital, which may be overwhelmed with calls right now, please check their website, Facebook page or Twitter account to see if they've already shared information on donating.
You can also check your local media outlets to check if they've covered this story.
---
GOOD TURN NO. 2: MAKING HOMEMADE MASKS
Jun Hong was all set to start work on his Eagle Scout service project. Then, the world changed. Instead of making clothing for the non-profit Little Dresses for Africa, he started making masks to help prevent the spread of coronavirus.
Jun, from Troop 871 in La Habra, California, was inspired to shift gears by his mom, who works in a hospice care facility. She and her coworkers were going through around 200 masks per day, and they were low on the priority list to receive more.
So, when his mom started making more masks herself, Jun — with almost all of the material he needed anyway — decided to do the same.
Using the materials originally reserved for his Eagle Scout project, he's in the process of making about 100 masks all by himself.
---
GOOD TURN NO. 3: TRIBUTE TO VETERANS WHO DIED FROM COVID-19
Sometimes music can say more than words.
When a 13-year-old Scout in New Jersey learned that 37 people had died from the coronavirus at a veterans home near his house, he wanted to offer his own kind of tribute.
Alex Saldana, a Life Scout from Troop 36 of Oradell, N.J., (Northern New Jersey Council) stood outside the New Jersey Veterans Home in Paramus and played "Taps" on his trumpet. The song, often played at bedtime during Scout campouts, is commonly part of military funerals as well.
Alex got as close to the veterans home entrance as the National Guard troops stationed there would allow. Then he began playing.
"I know it's very hard for them right now, and they made the ultimate sacrifice for this country," Alex told NorthJersey.com. "I wanted to show respect and give them a sign of hope throughout this outbreak and sad time."
Alex doesn't intend this to be a one-time tribute. He plans to continue playing "Taps" and the Marine Corps hymn every night for as many nights as he can.
"I'm hoping it will start to give them hope that things will get better," Alex told NBC News. "That they're not forgotten."
---
GOOD TURN NO. 4: EAGLE SCOUT PROJECT ADDRESSES PPE SHORTAGE
During a pandemic such as the coronavirus, citizens and medical professionals alike run the risk of running out of personal protective equipment — PPE for short. When people don't have items like face coverings to keep them safe, they have a greater chance of getting or further spreading the infection.
Jacob Finch, from Troop 1 in Twin Rivers, N.Y., knew there was a large supply of unused Scout neckerchiefs just sitting at a nearby distribution center.
"I'm aware of all the shortages that are going on," Jacob told WRGB News in Albany. "I wanted to use Scouting to its fullest potential."
Jacob's father is the head of COVID-19 efforts at Ellis Hospital in Schenectady, N.Y. So Jacob had some inside knowledge of the dangers of the situation.
His project resulted in the donation of more than 35,000 neckerchiefs. Read more about Jacob's good turn at CBS 6 Albany.
Learn how to turn your neckerchief into a facemask at scoutlife.org.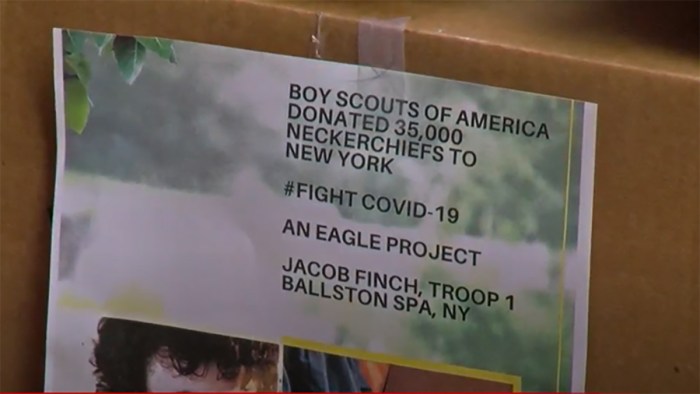 ---
GOOD TURN NO. 5: ASSEMBLING PLEXIGLASS FACE SHIELDS
A doctor in College Station, Texas, needed personal protective equipment to treat patients at his office. Thankfully, his neighbor is an adult leader from Troop 1861.
Immediately, the Scouts got to work constructing and assembling 200 plexiglass face shields that they eventually turned over to the doctor, who in turn delivered to some very grateful colleagues.
The face shields were made of plexiglass, brass paper fasteners, rubber window sealant, elastic and clear sheet protectors. It took about five days to make them all. Check out this video that shows how they did it:
---
What are you doing to help during this national crisis? Let us know in the comments and we might add it to this list!
Inspire Leadership, Foster Values: Donate to Scouting
When you give to Scouting, you are making it possible for young people to have extraordinary opportunities that will allow them to embrace their true potential and become the remarkable individuals they are destined to be.
Donate Today