What's More Fun Than Winter Camping? Camping with Pups!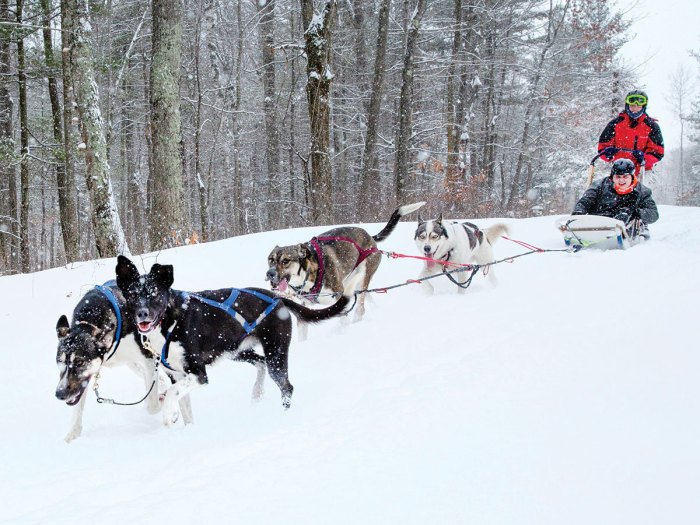 Madison Findley was worried when it came time to untie the Siberian and Alaskan huskies pulling her dogsled.
"They wanted to chase the dog team in front of them," says Madison, 14, a Life Scout with girls Troop 216 of La Grange Highlands, Illinois. "You could tell they were ready to go really fast. I felt like I was going to fall off."
Instead, she deftly unhooked the anchor rope, put it in her passenger's lap and hopped on the back to help guide the sled through the Wisconsin woods. She did it exactly the way the instructors at Tomahawk Scout Reservation's Snow Base taught her.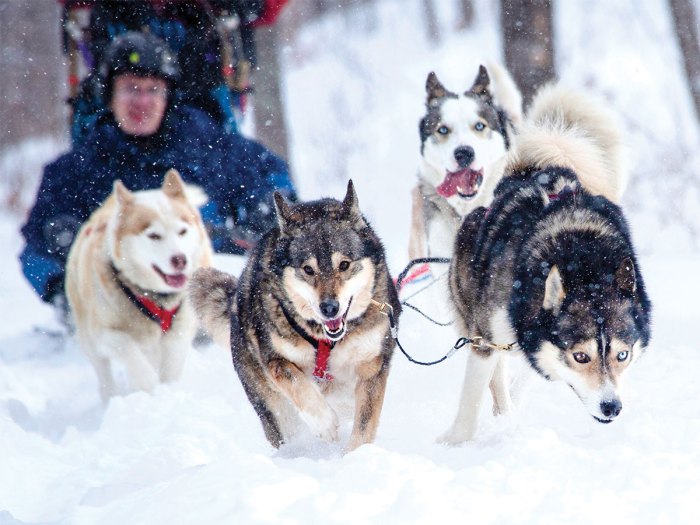 Sam Perez also was a little nervous when he first drove a dogsled during his troop's January adventure.
"But then I calmed down," says Sam, 13, a Life Scout. "It was clear to me the dogs knew what they were doing."
DOG DAYS OF WINTER
Dog sledding is just one of more than a dozen fun activities offered at Snow Base in Birchwood, Wis. Several troops meet at the camp every weekend during the winter, choosing a few activities to try. Those who go dog sledding start by focusing on the well-being of the animals.
"The No. 1 rule: Take care of the dogs first," says Robert Brusak, a 16-year-old Eagle Scout of boys Troop 216.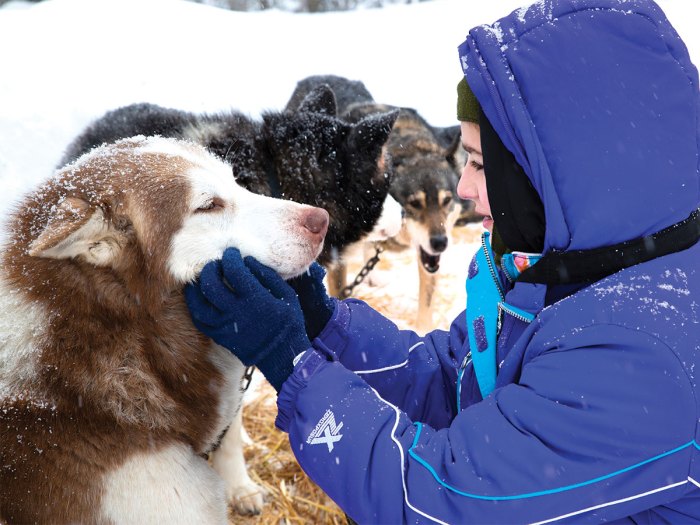 That means feeding, watering and picking up after the dogs before Scouts eat their own meals, as well as making sure the dogs have fresh straw in their beds at night.
Once they had dog care down, they learned to harness the huskies to the sleds.
"I feel that was the most challenging thing, because the dogs are a lot stronger than me," 14-year-old Life Scout Kristina Findley says.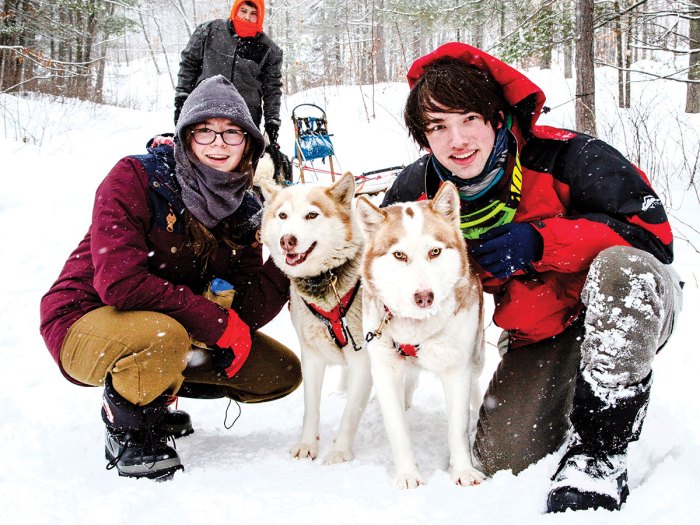 When it was time to ride, a guide and a Scout took the lead dogsled. Two Scouts — one driving and one riding — followed in a second dogsled. They trekked along a snow-packed trail that made a giant loop. At the halfway point, the driver and the passenger switched places. Being the driver wasn't always easy.
"Sometimes you had to help by pushing the sled up the hills," Kristina says.
After a full day of dog sledding, everybody relaxed with a taco meal and a moonlight hike to a frozen lake where they studied the constellations. Some Scouts howled to see if their sled dogs would howl back — they did.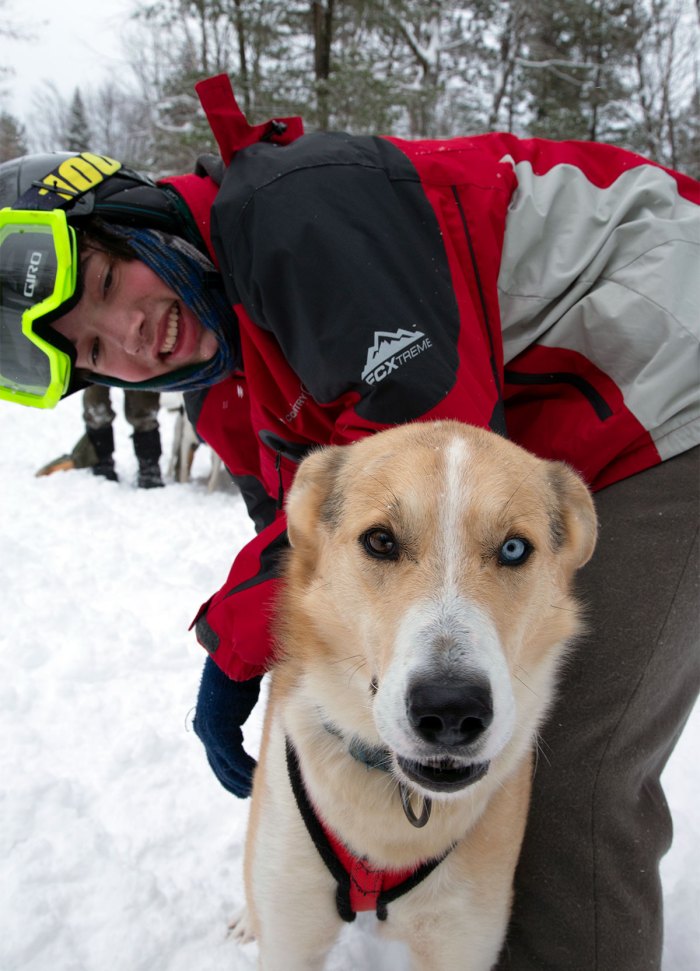 SLEEPING IN THE SNOW
Meanwhile, Scouts from Troop 516 in Woodridge, Ill., pulled sleds loaded with camping gear to a different frozen lake. There they learned how to build snow shelters called "quinzees." They made a big pile of snow, says Ricky Zawodniak, a 17-year-old Eagle Scout. Then the snow pile needed a few hours to settle and solidify.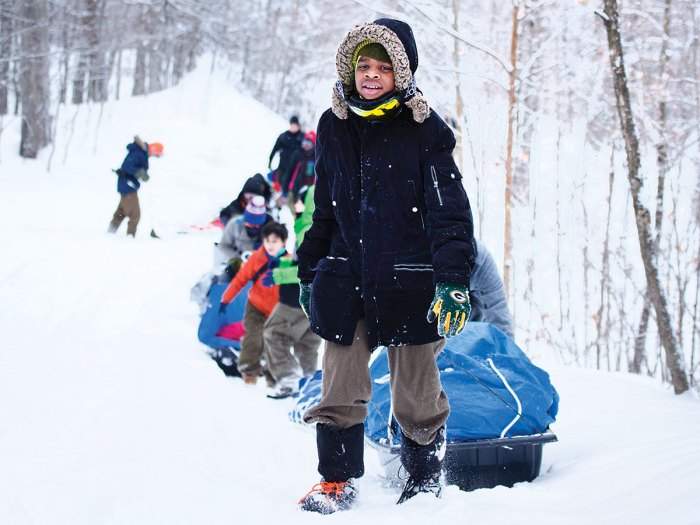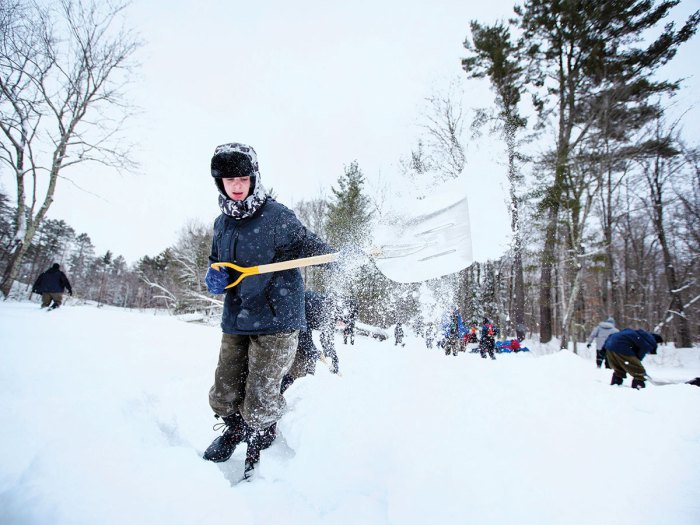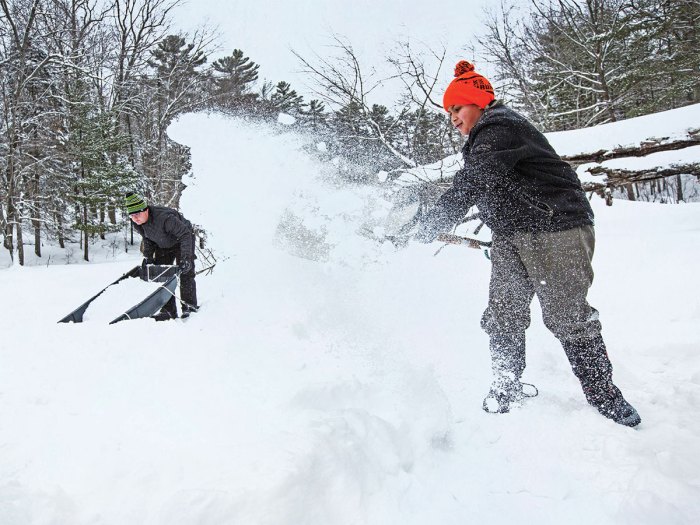 "The sun warms it up, it melts a little bit and then it refreezes," Ricky says.
That gave them time to try cross-country skiing.
First Class Scout Becca Zawodniak, 14, of girls Troop 516, was trying the activity for the first time.
"I really enjoyed skiing," Becca says. "I didn't want to stop."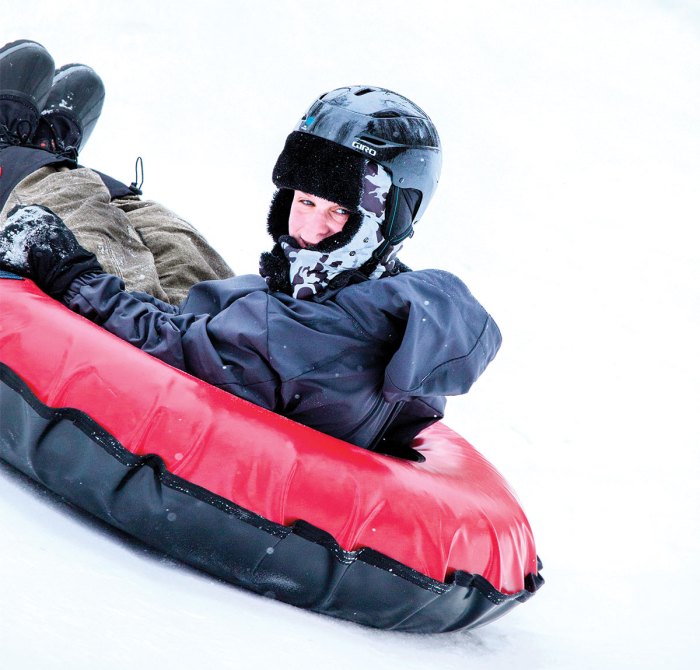 The Scouts also went tubing before returning to their snow piles to turn them into sleeping quarters. That meant digging out a door.
"We used our hands or feet — and sometimes a shovel," 14-year-old Star Scout Ben Larsen says. "Digging out the inside of the quinzee was a lot harder than building the snow pile, because we were at a weird angle — trying to hit snow off the roof."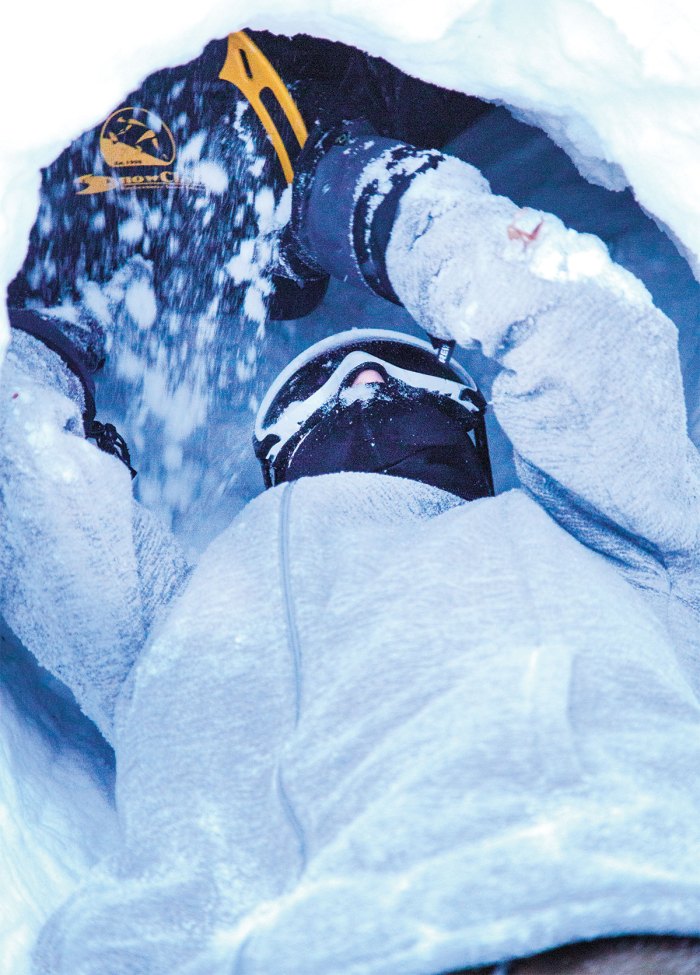 Ben and his fellow Scouts put tarps on the floor of their completed quinzee, along with two sleeping pads per person, and then special sleeping bags provided by Snow Base. Sleeping in the quinzee was the best part of the weekend.
"Because it had been hectic all day, it was nice to be relaxed and warm," Ben says.
He liked quinzee-building so much that he and his friends made another one when they got home.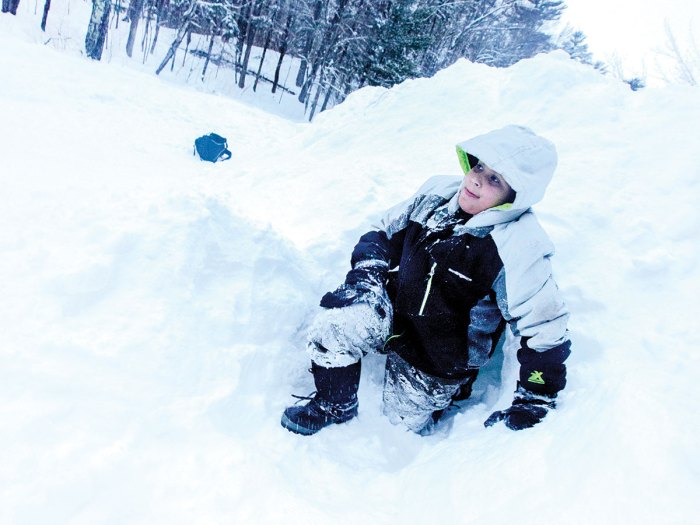 MORE FUN AT SNOW BASE
Tubing down Snow Base's designated hill was the highlight for many members of Chicago, Ill., Troop 599 during the Snow Base weekend.
"The way the path was made, you were twisting and turning going down the hill," Life Scout Jahlil Brown, 13, says. "I just found a lot of joy in it."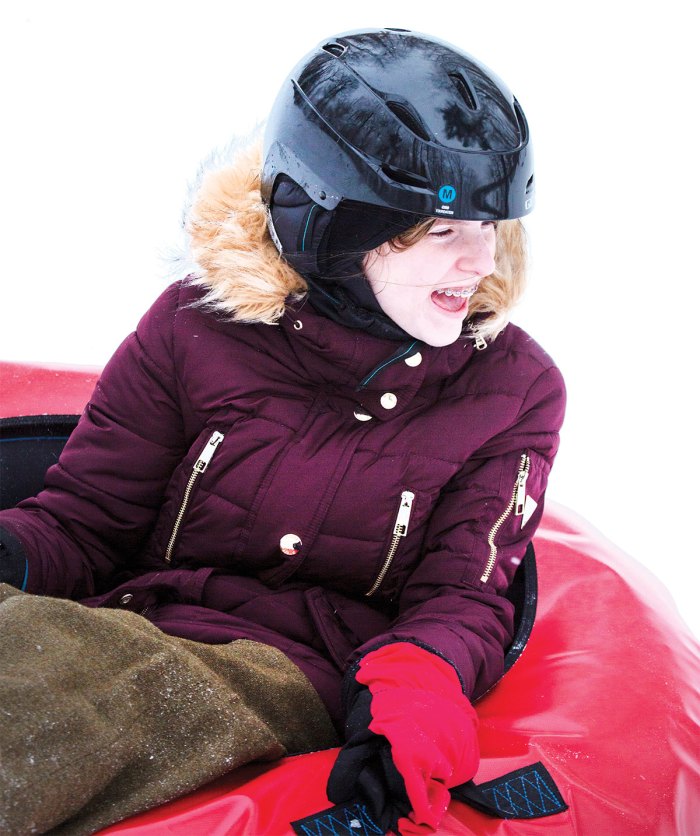 Troop 599 also played broomball on a frozen lake; it's like ice hockey, except you're wearing boots instead of skates. Scouts learned to build different snow shelters. One involved making a tepee using a parachute. For another, they stacked bricks out of patted snow.
Turkey-and-rice soup was the perfect supper after a day of fun and hard work.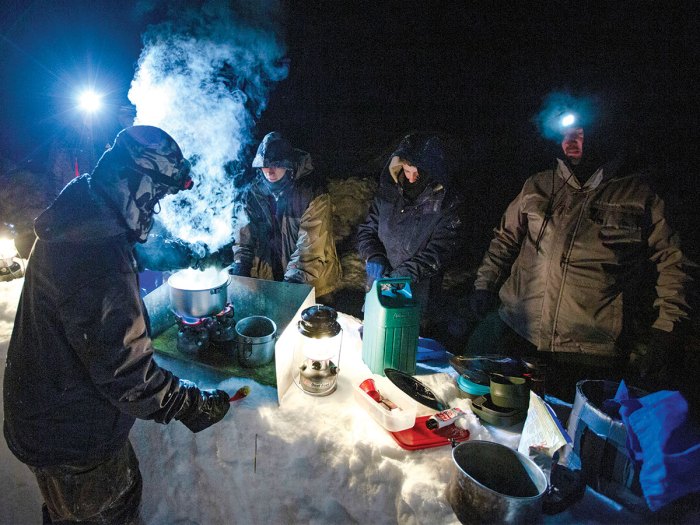 "At that point, we would have eaten about anything," says Life Scout Erik Erling, 15. "But having hot soup really lifted our spirits."
Like many Scouts, he's ready to go back.
"I want to keep pushing myself to do more," Erik says. "Next time, I want to spend two nights outdoors."
---
Born to Run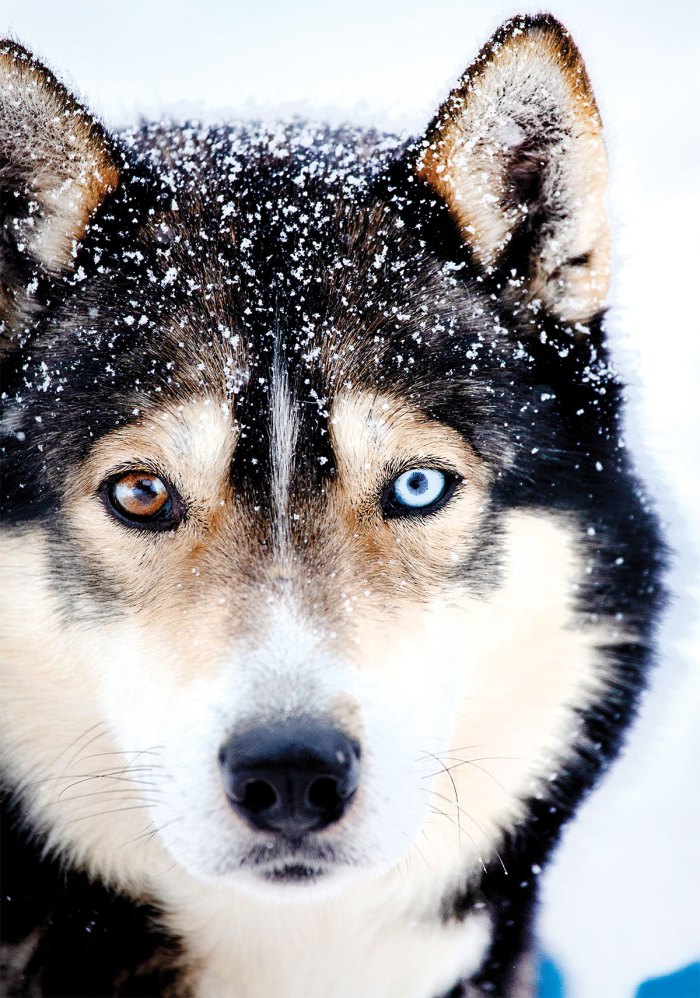 For thousands of years, people have used dogs to travel across frozen, forbidding terrain. Breeds like the Siberian husky and Alaskan malamute were developed to work in such conditions; Alaskan huskies are a mix of several different breeds, including greyhounds.
These sled dogs have thick double-layered coats to keep them warm in subzero temperatures.
They have incredible endurance, capable of running up to 1,000 miles in about a week. Their bodies regulate their metabolism, so while they burn calories, they don't burn fat reserves.
---
Take Care in the Cold
Staying warm, dry and well-hydrated are key for winter camping. This includes:
• Wearing layers of non-cotton clothing loose enough to allow good circulation.
• Taking off layers if you become too warm. Sweaty clothes can make you cold.
• Carrying spare dry clothing to change into if the clothes you are wearing become damp.
• Changing into dry clothes before going to bed.
• Storing sweaty clothing in a daypack or gear bag, not in your sleeping bag.
• Regularly brushing the snow off your clothes to help stay dry.
• Always wearing a hat.
• Drinking water regularly. It's easy to get dehydrated, but don't eat snow. It can make you colder. Melt it instead.
• Keeping your water bottle inside your jacket to keep it from freezing.
• Eating snacks, such as trail mix, to help you stay warm.
Inspire Leadership, Foster Values: Donate to Scouting
When you give to Scouting, you are making it possible for young people to have extraordinary opportunities that will allow them to embrace their true potential and become the remarkable individuals they are destined to be.
Donate Today