Scouts Race Down a Tennessee River on Homemade Rafts
As they prepared for the 42nd annual Great Hiwassee River Raft Race, the Scouts from Troop 10 in Cleveland, Tennessee, had a plan: Finish with the fastest time.
The Scouts from Troop 1010, also from Cleveland, had their own plan: Embrace the event's theme by dressing up in cool costumes and showing tons of enthusiasm, and if they finish with a decent time, so be it.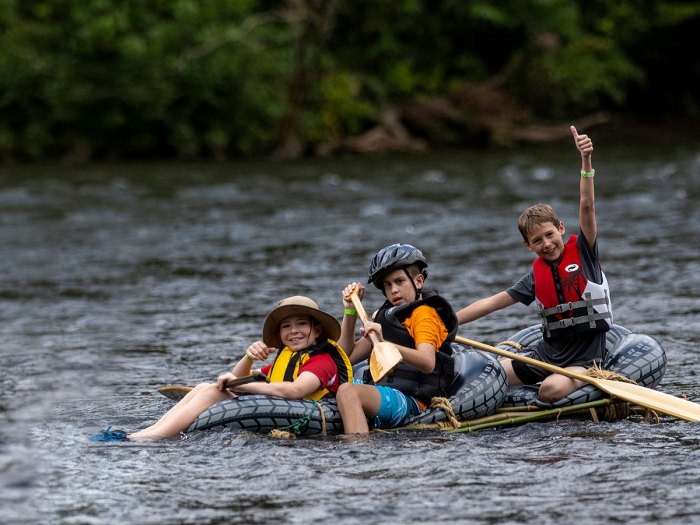 Then there were the Scouts in Troop 116 from Signal Mountain, Tenn., who had a different kind of plan: Have fun, do the best they can and enjoy their float down the river.
That's the great thing about the annual Great Hiwassee River Raft Race, sponsored by the Ocoee District of the Cherokee Area Council: There's room for all of the above.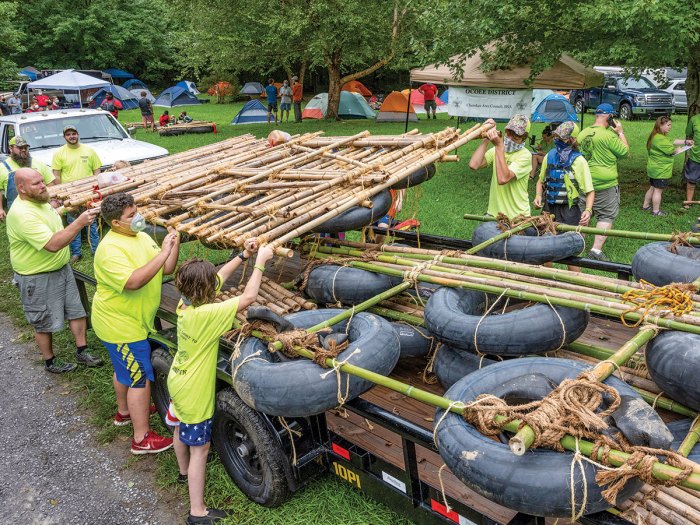 Participants get to build their own rafts (following specific safety guidelines) and work as a team to paddle down a very calm section of the Hiwassee.
"It's just really fun," says 14-year-old Audrey Webb from Troop 1010. "A lot of different troops get together and make rafts, and there's different themes every year that you can follow, and you can make costumes … and then you just race down the river."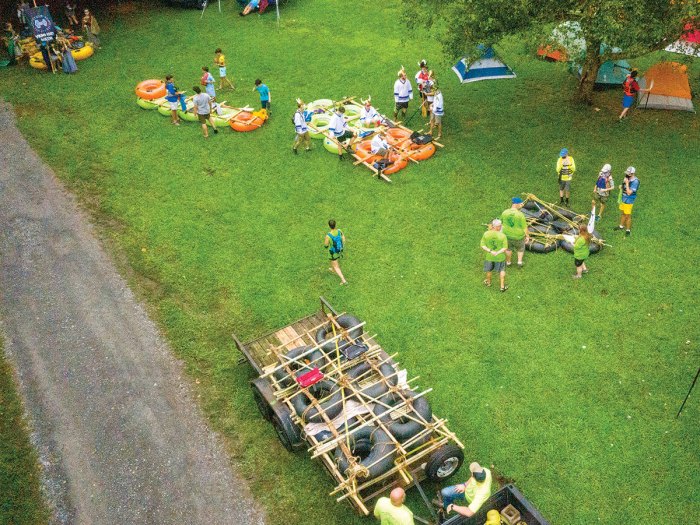 FIRST THINGS FIRST
For most troops, the process of building a raft that can support five to eight Scouts while also staying afloat begins weeks before the actual race. Troops that have participated in the event multiple times might be able to get it done the night before.
Teams start with basic flotation inner tubes. The number of tubes depends on the number of Scouts that will be on that raft. Teams need one tube per Scout — plus one extra, just in case.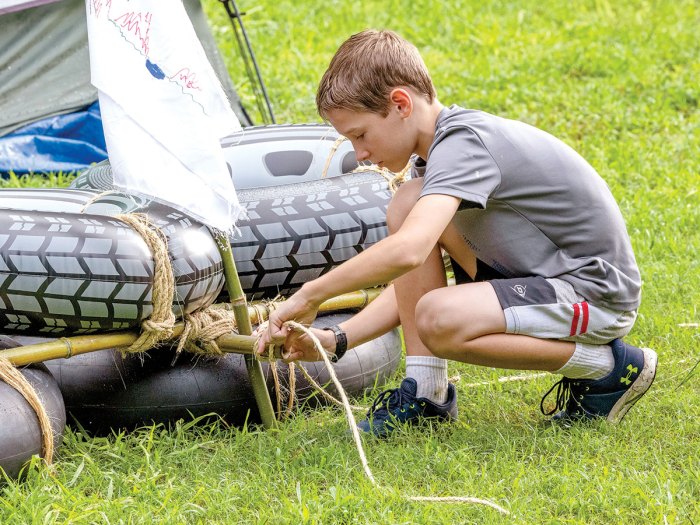 Scouts use biodegradable twine to tie the rafts together. (That way, if some of the twine ends up in the river, no harm done.) Then, they use naturally occurring wood — most teams choose bamboo — to provide a structure to sit on. The whole thing is tied together with the knots and lashings they've learned over the years in Scouting.
The final required item is a safety rope, to be used to pull someone to safety. (Hopefully you won't need that.)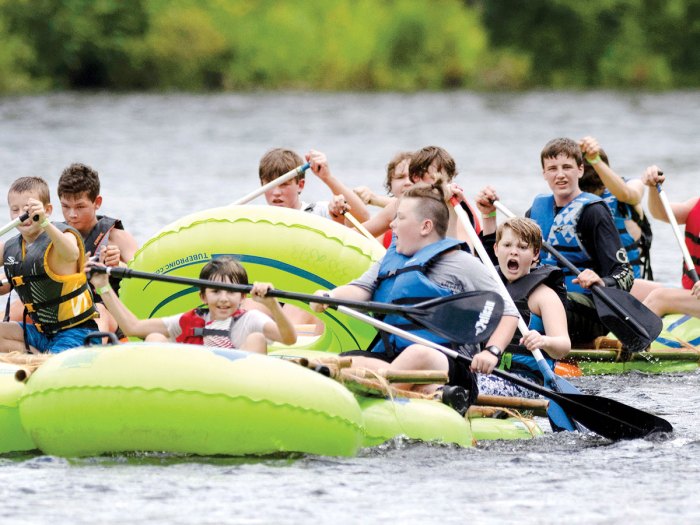 Some teams build really fancy rafts, with such luxuries as footrests and seat backs. Others keep it simple and just build an easy flat platform to sit on.
"We had the older Scouts show the younger Scouts how to do proper lashings," says Ethan Bullock from Troop 116. "Then we went back and checked all the lashings to make sure the raft wouldn't fall apart."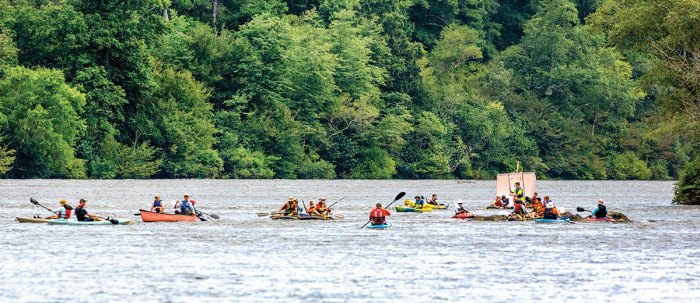 DRESSING UP
Before any raft goes in the water, it's inspected for safety by race officials. Lashings are tightened — or completely redone, if necessary.
The theme of the most recent Hiwassee race was Vikings.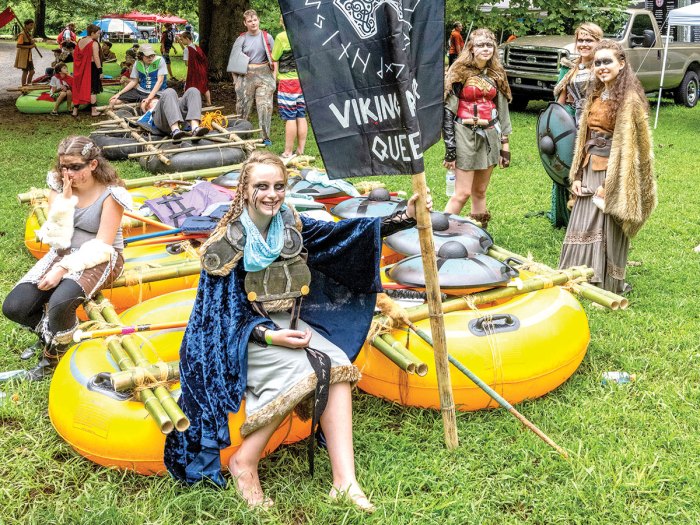 Let's just say Troop 1010 took this seriously. Very seriously.
They called their team the Viking River Queens. They dressed up as Vikings, complete with shields.
"We go all out," Audrey says. "It's just like something fun for us to do. We enjoy it every year. We had the shields on our raft for inspection and we had our flag. …It's just another fun thing to add to the race."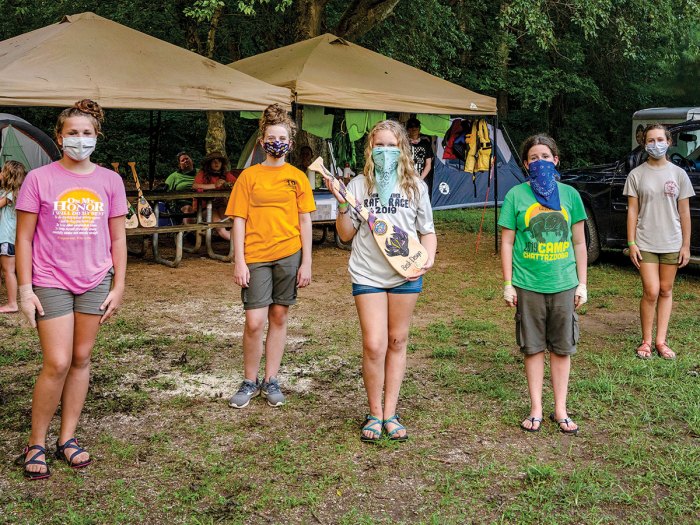 For their efforts, they earned first place for best design.
They also earned first place for best overall, because it turned out their boat was pretty fast, too.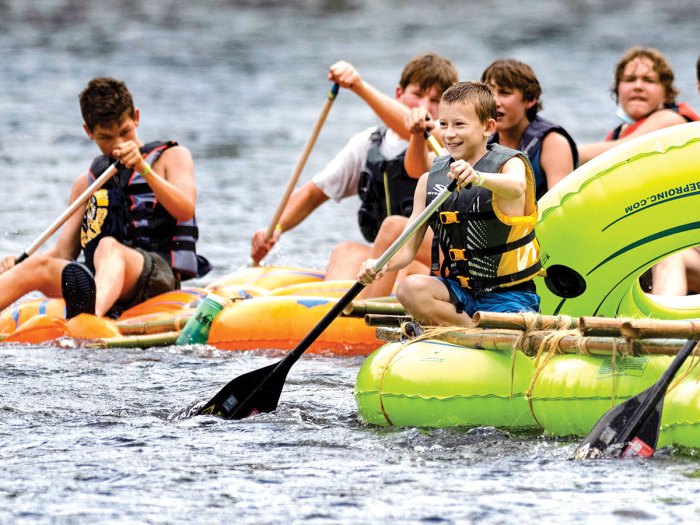 THE RACE IS ON
With so many rafts participating, it would be impossible for all of them to start the race at the same time. Each boat is timed, and the fastest time earns the prize for that category.
Let's just say that Troop 10 took this seriously. Very seriously.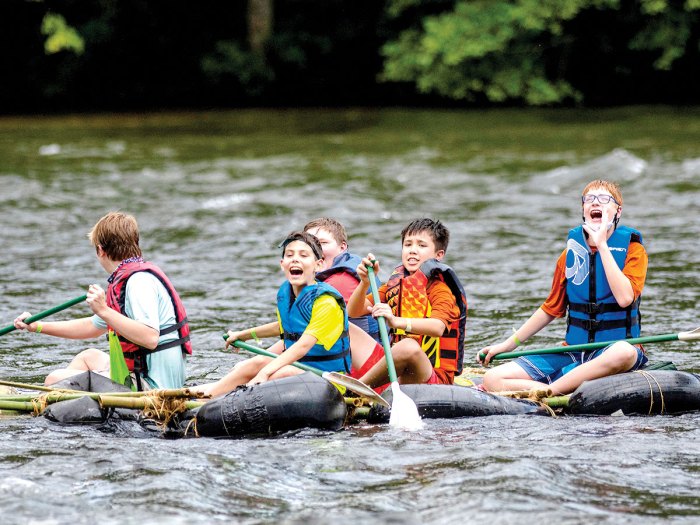 "There's a lot of encouragement on our raft," says Troop 10's Jacob Blackwell, 14, who was part of the Troop 10 raft they called Blackhawk. "The raft captain calls out when to paddle, so we're all like, 'One! Two! One! Two!'
"You have to constantly be thinking that someone could beat us. You've got to keep going."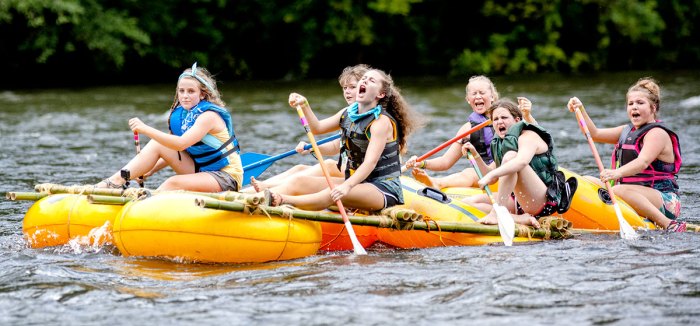 For their efforts, the Blackhawk won for fastest time.
As for Troop 116, the Scouts spent too much time getting stuck on a rock to compete for the fastest time award. So they just took it easy.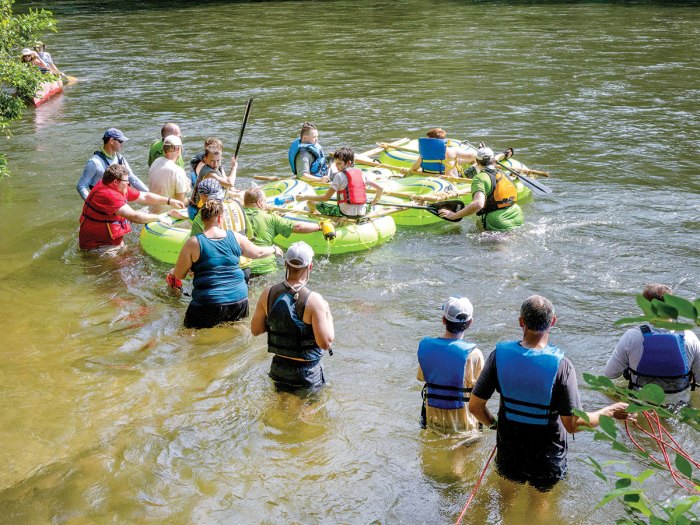 "We were just going out there trying to have fun with it," says 12-year-old Aidan Castellanet.
"You don't see a lot of civilization [on the river]. You're just floating down and admiring nature's beauty."
After all, it was part of their plan.
For more information on the Great Hiwassee River Raft Race, visit cherokeeareabsa.com.
---
MORE PHOTOS FROM THE RACE
---
TUBING SAFELY
Tubing can be loads of fun, but there are many hazards to consider.
Inner tubes are difficult to steer, and they offer almost no protection in a collision. When tied together, tubes become a significant entrapment hazard. This is why you should go tubing only on slow-moving water.
You must wear shoes and your life jacket. And make sure you follow the BSA Safety Afloat guidelines. Learn more at go.scoutlife.org/safetyafloat.
Inspire Leadership, Foster Values: Donate to Scouting
When you give to Scouting, you are making it possible for young people to have extraordinary opportunities that will allow them to embrace their true potential and become the remarkable individuals they are destined to be.
Donate Today