Scouts Train Like an Astronaut at Cosmosphere Camp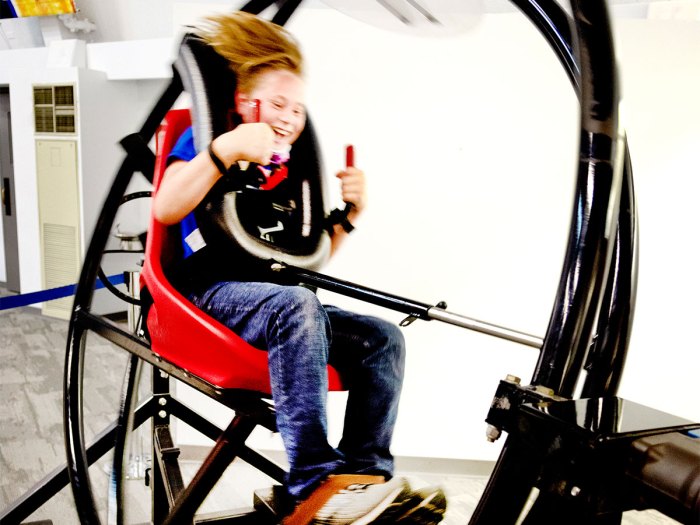 You slip onto a seat inside an enclosed machine. It slowly starts spinning, picking up speed like a Tilt-A-Whirl ride gone haywire. The faster it accelerates, the greater the gravitational force you feel — up to four times greater than normal. That's a G-force of 4, and it slams your body into the seat.
It's what campers can experience at the Cosmosphere, a space museum in Hutchinson, Kansas.
"They spin you pretty fast. It's neat feeling more gravity," says Thomas McLendon, 13, a Star Scout with Troop 232 in Towanda, Kan.
During four days at the Cosmosphere's Merits of Space Summer Camp, Scouts work on merit badges like Aviation, Astronomy and Energy, and they also ride machines similar to what astronauts train on. They try flight simulators, conduct simulated missions to the moon and Mars, check out star shows in the museum's planetarium, program robots and build handheld gliders.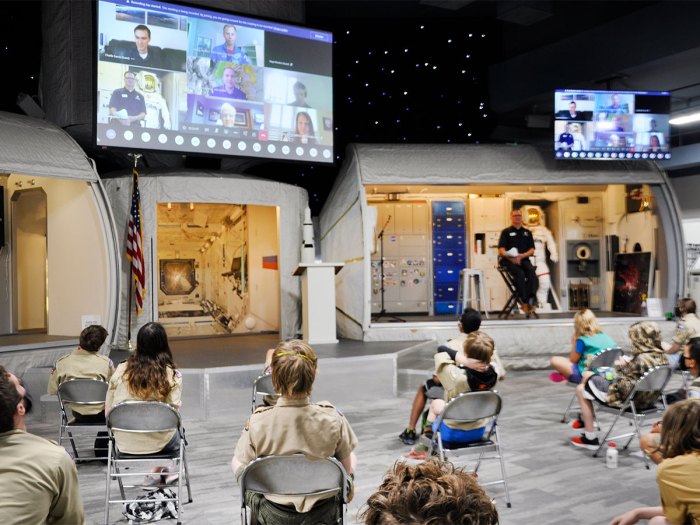 "There's something new every camp," says Talon Callahan Lane, 13.
This past summer marked the third time the Second Class Scout from Troop 171 of Spokane, Washington, has attended a Cosmosphere camp. One of his favorite activities is participating in a mission.
"You've got to really know how to communicate — like in a real Scout patrol — on a space mission," Talon says.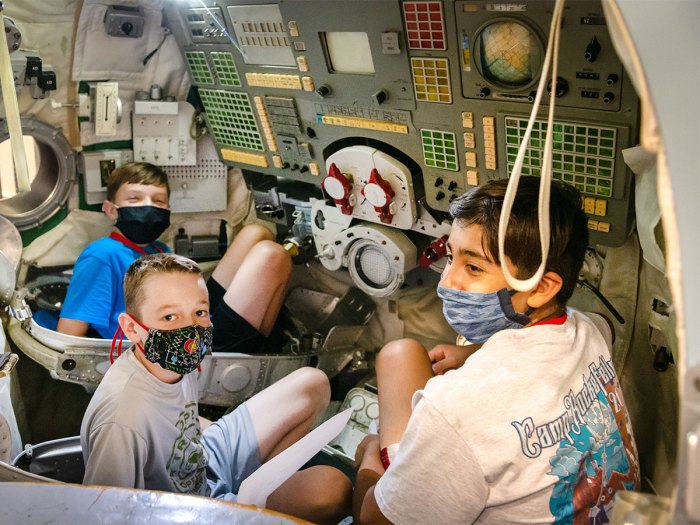 WORK AS A TEAM
For the missions, Scouts are split up into two teams: the control room team and the lunar module team. One loads up into a five-person space capsule, while the other sits behind actual mission control panels used in NASA's Gemini and Apollo missions. The teams talk to each other, working together to complete assigned tasks.
"There were a whole bunch of switches and a monitor for each person," says Thomas, describing the lunar module. "You have a checklist to make sure no one blows up the craft."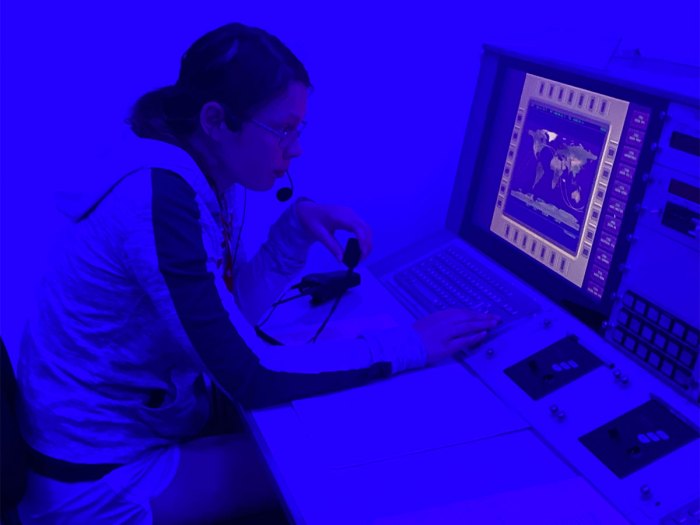 Knowing your role and doing your best helps the entire mission. It doesn't matter if you recently met all your teammates at camp — every Scout
has a job to do.
"It doesn't just teach you about space; you get to be a leader and work as a team," says Lorenzo Perez, 12, a First Class Scout from Troop 249 of Topeka, Kan.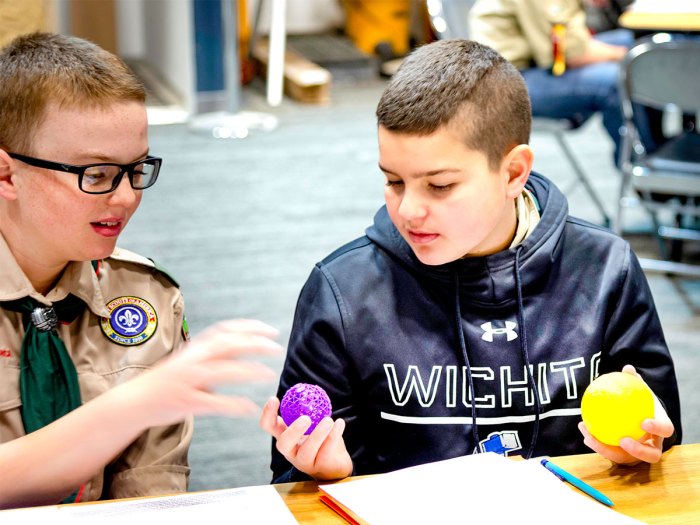 THE PLACE TO LEARN
The Cosmosphere houses more than 15,000 American and Russian space artifacts, including a moon rock collected during the Apollo 11 mission, Russian spacesuits, the Apollo 13 command module and the Mercury Liberty Bell 7 capsule.
Scouts examined some of these items during their merit badge classes. For the Geology merit badge, they used Geiger counters, which detect radiation, to study meteorites.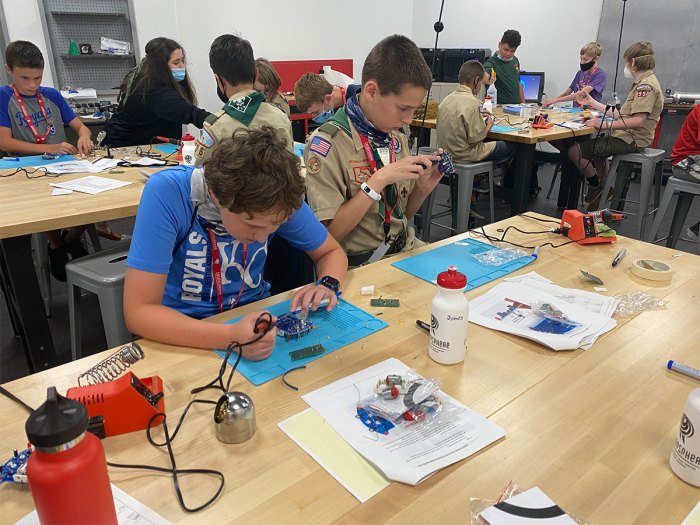 Scouts also tested the Cosmosphere's flight simulators, one of which featured a replica F-16 fighter jet cockpit rigged with monitors, while another involved a virtual-reality headset. With these programmable simulators, Scouts could pilot practically any aircraft, from a fighter jet to the Wright brothers' 1903 flyer.
Camp "gave me an opportunity to learn more about planes, space, tech, and just everything I love and enjoy," Talon says.
---
Scouts in Space
Of the 12 men who walked on the moon during NASA's Apollo missions in the 1960s and 1970s, 11 were Scouts. Neil Armstrong (Apollo 11) and Charles Duke (Apollo 16) were Eagle Scouts. Since NASA started selecting astronauts in 1959, more than half had been involved in Scouting.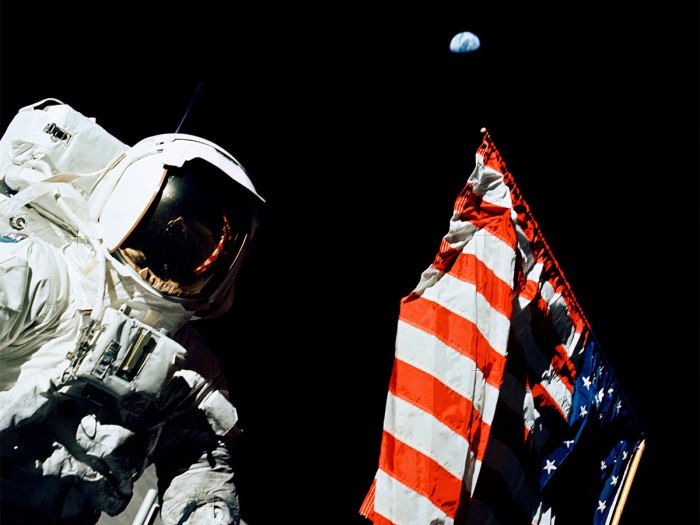 Keep Learning
Harrison Schmitt, 86, is one of 12 people in human history to set foot on the moon. Before he was an Apollo 17 astronaut, he was a Cub Scout and Second Class Scout with units in Silver City, New Mexico. Scouting taught him about teamwork and the value of a diverse education.
Don't rely only on school — if you're interested in something, seek more resources, like museums or programs within Scouting, to enrich your knowledge.
"Take on as many different experiences; read as many different books as you possibly can; study as many different subjects as you can — get as broad an education as possible," Schmitt says. "You may never use it, but the point is that unless you have that background, there are many careers that aren't open to you. Many of these careers build on themselves. One career can build the foundation for another that's even more exciting."
The more education and experience you acquire, the more confident you can be about trying something new, he says.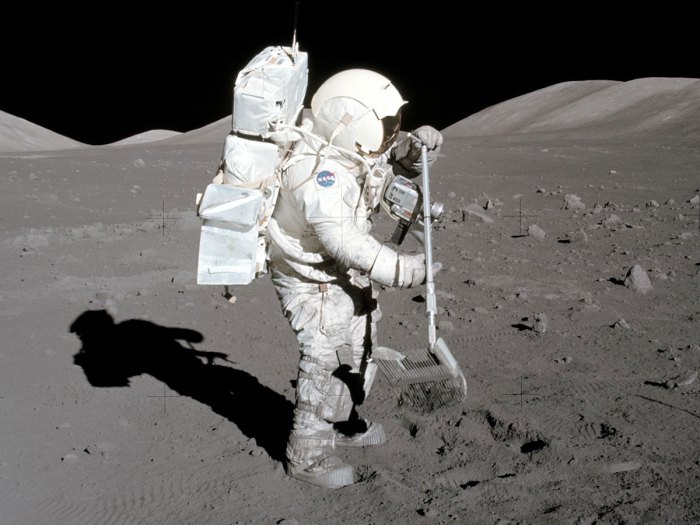 Inspire Leadership, Foster Values: Donate to Scouting
When you give to Scouting, you are making it possible for young people to have extraordinary opportunities that will allow them to embrace their true potential and become the remarkable individuals they are destined to be.
Donate Today