Scouts Learn To Go With the Flow During a 60-Mile Packrafting Trek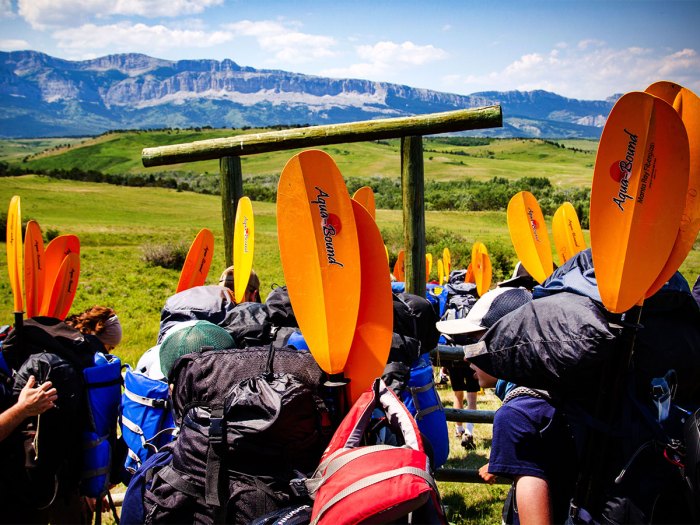 Floating through a rushing river requires concentration and quick decision-making. It also helps to know a little geometry.
Scouts with Troop 411 of Minot, North Dakota, learned that approaching rocks at a 45-degree angle in their inflatable rafts would lessen the chances of capsizing in the frigid water.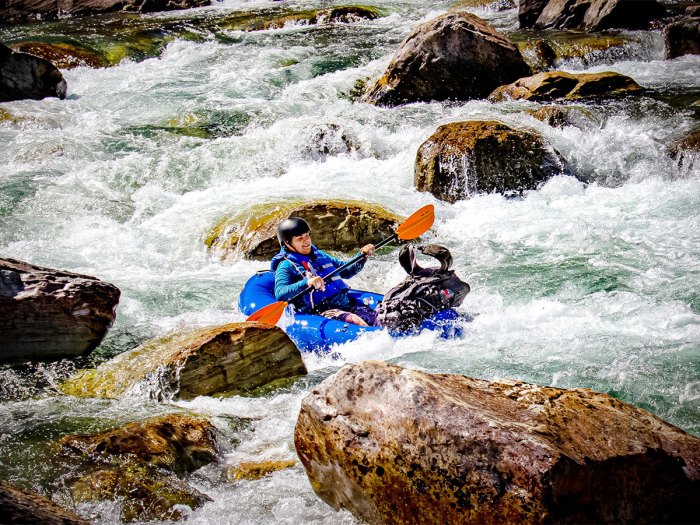 "You have to paddle to dodge the rocks," Life Scout Nate Lewis, 16, says. "It wouldn't be fun if you flip."
For the most part, the Scouts stayed upright as they trekked and paddled 60 miles along Montana's Flathead River during a weeklong packrafting trek last summer.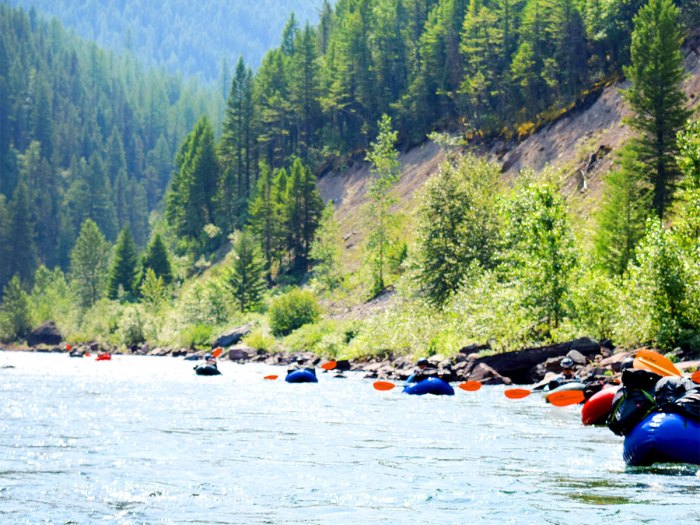 YOU'LL BE BACK
Two years before, Troop 411 backpacked at the Montana Council's Montana Outdoor High Adventure Base, "MOHAB" for short. The Scouts had so much fun
that they planned another trip — this time, trying another activity: packrafting.
Each Scout would load his gear into his own raft, and the group would paddle downstream, encountering rapids of varying difficulties.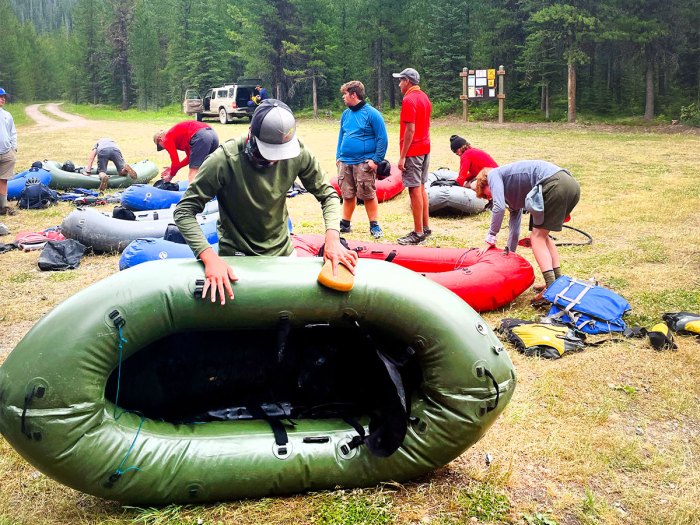 "It was the size of a small kayak, and we'd inflate it with an inflation bag," Eagle Scout Hudsen Lemar, 16, says. "They were very durable."
But before the Scouts launched their rafts, they had to prepare. Even if some had previously canoed at Northern Tier in Minnesota or Swamp Base in Louisiana, they needed to be physically ready for this aquatic adventure. They followed a workout regimen so they would all be in shape. They also reviewed what they packed.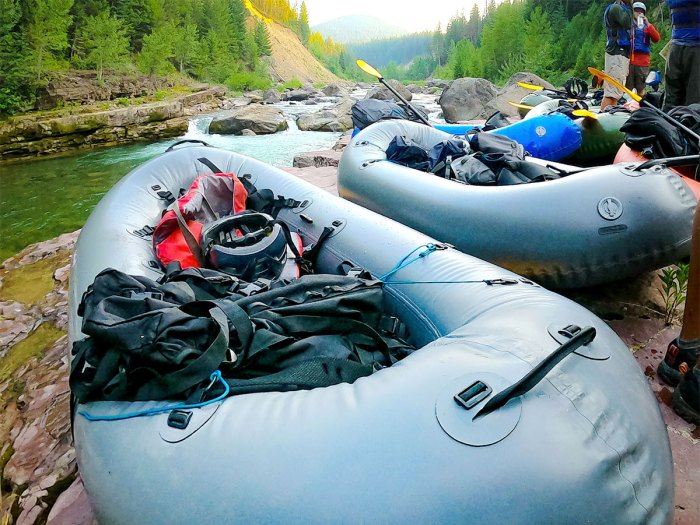 "We weighed the gear and tried to split it up evenly," Nate says.
Each pack came in around 40 pounds. To stay light, the menu featured granola and powdered milk, dried fruit, noodles and instant mashed potatoes.
After arriving at the high-adventure base, the troop planned the five-day trek with a staff advisor, learned how to use bear spray, and reviewed safety rules and on-water communication signals. They were ready for a week in the wilderness.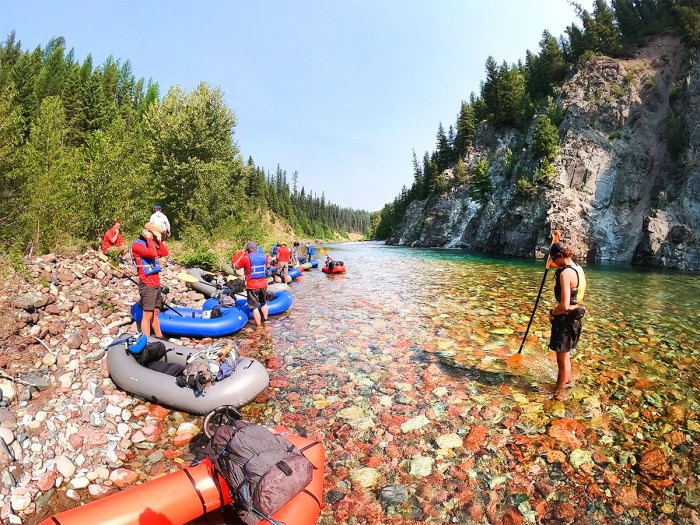 READY FOR THE RAPIDS
Each day on the water involved navigating some class of rapids. Rapids form when moving water is forced through narrow channels and over obstacles, creating waves and choppy conditions. The more powerful the rapids, the higher class they're rated (see below).
Cub Scouts are not permitted to go on float trips with moving water. Older Scouts who are classified as swimmers and have taken the proper training may go on a self-guided unit trip up to Class III rapids. Scouts can tackle Class IV whitewater only in a raft with a professionally trained guide. Anything more powerful than that is off-limits in Scouting.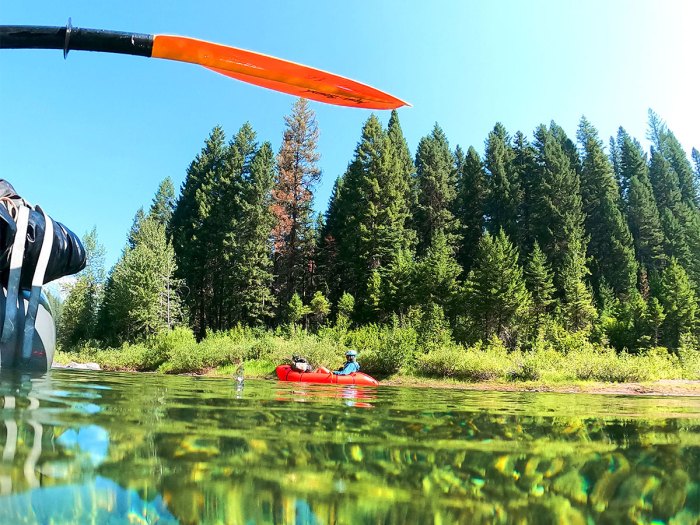 Most days paddling the Flathead River, Troop 411 saw Class I and Class II rapids. Relatively calm waters meant they could admire the surrounding evergreen forests and towering mountains. They also had the chance to explore them on dayhikes. On the trek's second day, the Scouts climbed 3,000 feet up a mountain. On the third day, they trekked to an alpine lake.
"There was something about swimming around in a natural remote lake that was exhilarating and surreal at the same time," Life Scout Ethan Sipos, 16, says.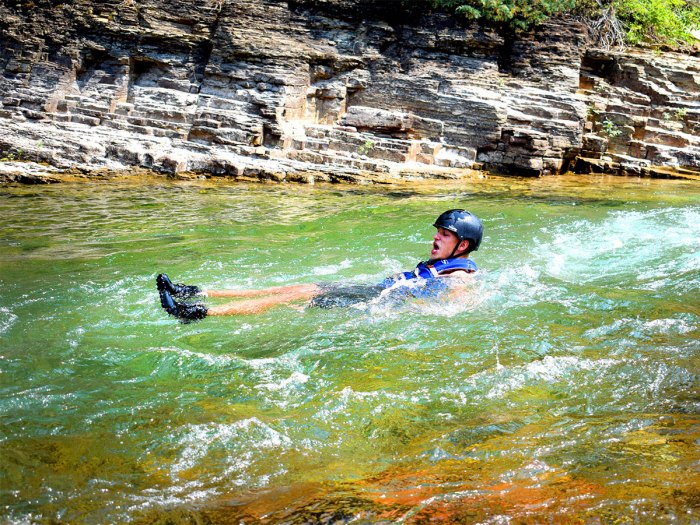 The fourth day introduced the group to Class III rapids. First, everyone got out to assess the area and determine the best route to go. They studied the flow of the river and the possible hazards before they paddled through the rapids.
"We all made it without flipping," Hudsen says. "Class III had high water and big rocks. It was really tricky sliding over the rocks."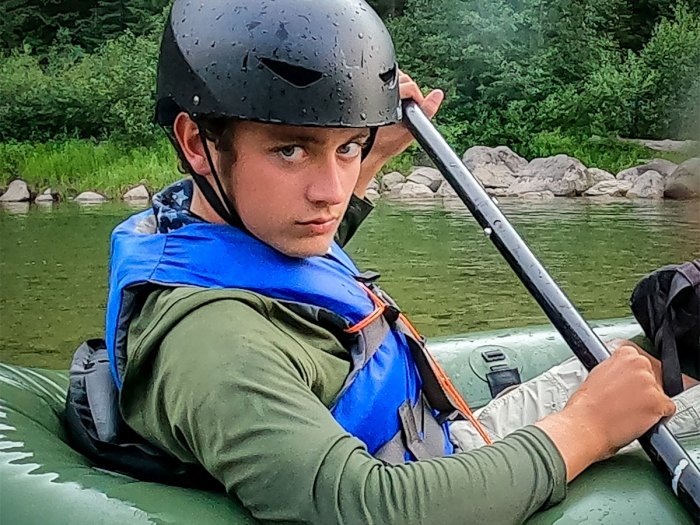 A ROSE IS A ROSE
Conquering the Class III rapids proved a highlight for many in the group. At the end of each day, the troop came together for a discussion, recapping how everything went. They called the sessions "Thorns, Roses and Buds." A "thorn" was a challenge, a "rose" counted as a success and a "bud" stood for something positive — maybe what they were looking forward to the next day.
Sharing their ups and downs helped the Scouts not only take time to talk about how they were feeling, but also appreciate the journey.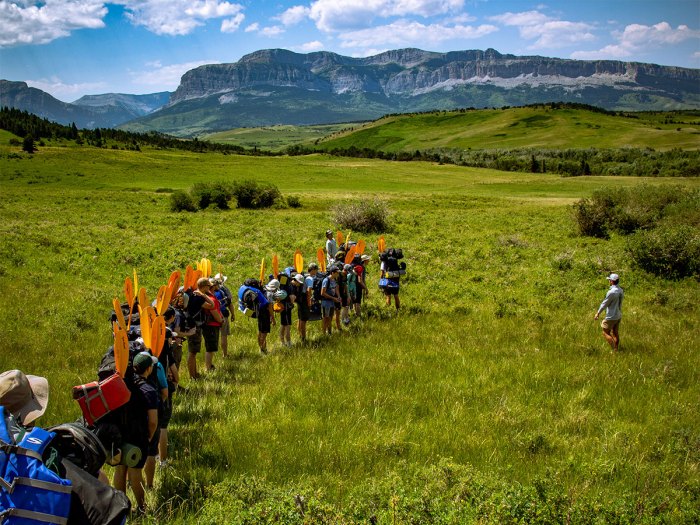 "High adventure is not something everyone gets to do," Nate says. "You only have five days to make the most of it. On the first day, I wished I could go home. On the last day, you get the feeling of accomplishment. You can't just do this in your backyard."
The sessions also helped Scouts understand how others were doing.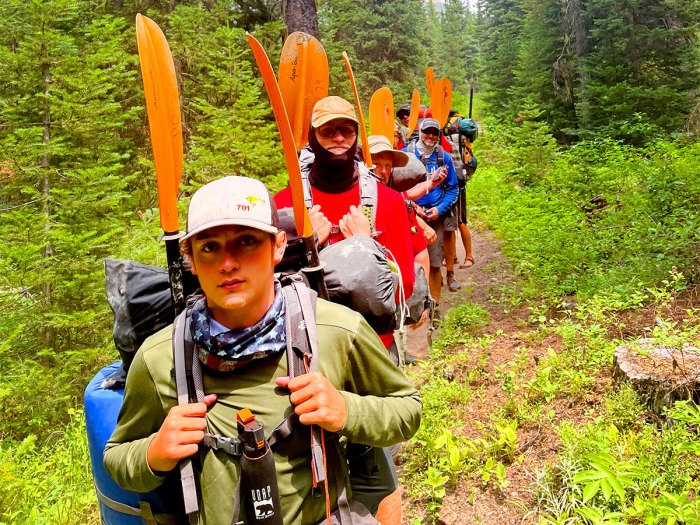 "We had to depend on one another, because someone may have been suffering a little more than the other, and it was up to all of us to look out for each other," Ethan says.
While the "thorns" often came from battling insects, the sting wasn't enough to ruin the sweet smell of the daily rose.
"It was the best high adventure we've done. It was awesome," Life Scout Ryan Hubbard, 16, says.
The importance of putting points of the Scout Law into practice became clear on the trek, like having a cheerful outlook. The right attitude helps you focus on the roses instead of the thorns.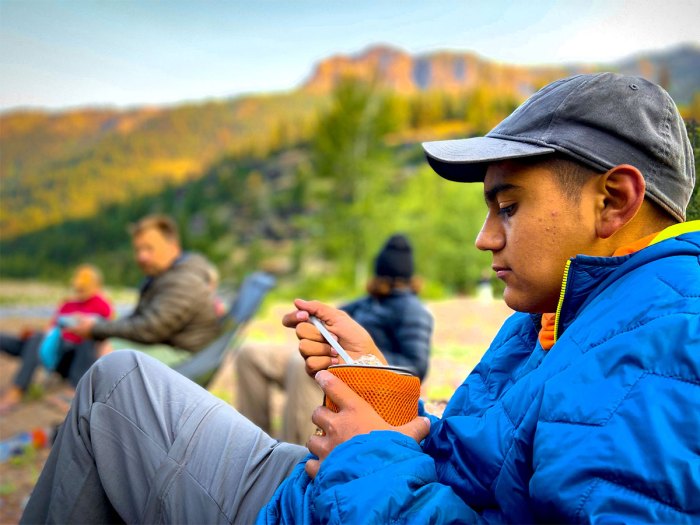 "There are two types of fun: Type one is in the moment and type two is looking back," Nate says. "This one had a lot more of type one."
---
Know the Flow
Whitewater rapids are classified to help paddlers understand what to expect from a river section.
Class I: Easy. Fairly smooth water with light waves.
Class II: Novice. Quicker water with medium waves.
Class III: Intermediate. Many high and irregular waves with obstacles.
Class IV: Advanced. Powerful rapids with strong waves, whirlpools and dangerous obstacles.
Class V: Expert. Long, violent rapids with big drops, constant obstacles and some waterfalls.
Class VI: Extreme. Paddlers face a constant threat of death.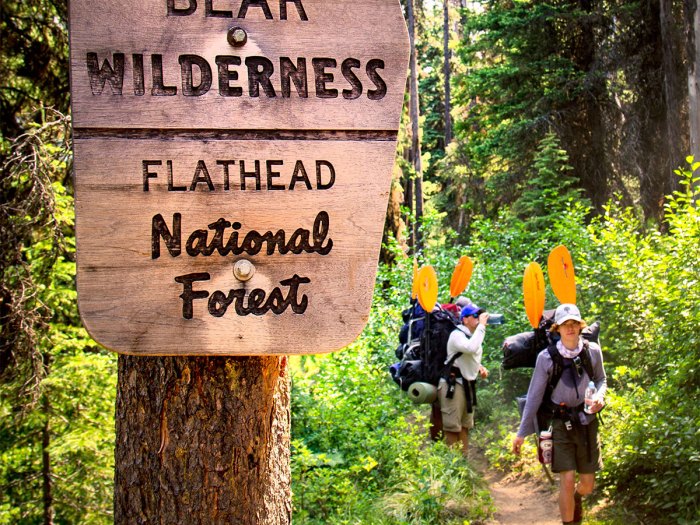 Inspire Leadership, Foster Values: Donate to Scouting
When you give to Scouting, you are making it possible for young people to have extraordinary opportunities that will allow them to embrace their true potential and become the remarkable individuals they are destined to be.
Donate Today