Indiana Venturers Get an Epic California Outdoor Experience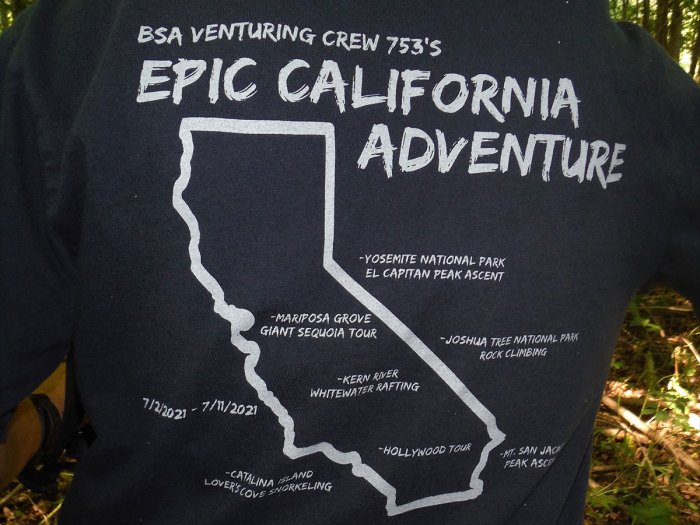 California has towering sequoia groves, rocky deserts, beautiful ocean views, rushing rivers and iconic scenic spots.
Venturing Crew 753 of Thorntown, Indiana, wanted to see it all during a 10-day trip to the Golden State last summer. In that time, the Venturers got to snorkel, rock climb, backpack, whitewater raft, sightsee — and experience an earthquake.
"We didn't plan for an earthquake!" says Duncan Curtis, 18.
The 5.9-magnitude tremor added extra excitement to an already action-packed adventure.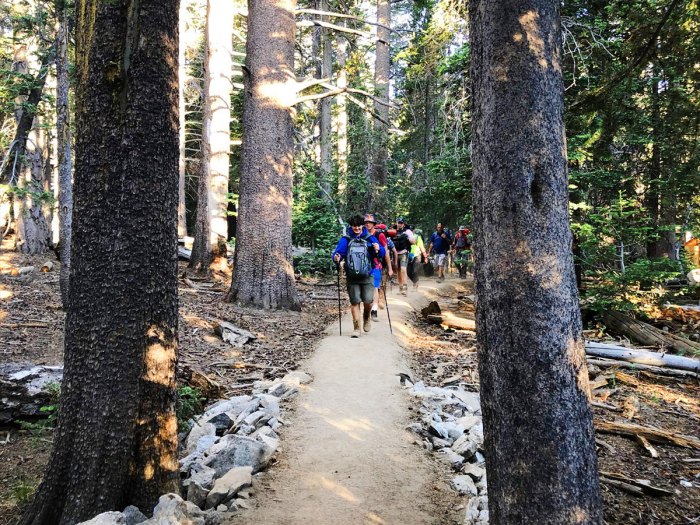 GO BIG
Most of the Venturers had never been to the West Coast, so they asked their crew Advisor to help put together an itinerary of things to do and places to visit. They came up with snorkeling off Catalina Island, summiting San Jacinto Peak, rock climbing in Joshua Tree National Park, backpacking in Yosemite National Park, whitewater rafting on the Kern River, touring the giant sequoia trees in the Mariposa Grove and visiting Hollywood.
It was going to be a big trip.
To prepare for all the activities, the Venturers had some work to do. First, they went on a weekend backpacking trek in Morgan-Monroe State Forest south of Indianapolis. To get ready to climb, they practiced on a climbing tower. For snorkeling, they completed a BSA Snorkeling Safety class.
Training might not sound exciting, but it's essential. Before any activity, you must assess whether you're physically and mentally ready. Practice hikes, BSA training and updating your medical records all help you stay safe and have fun.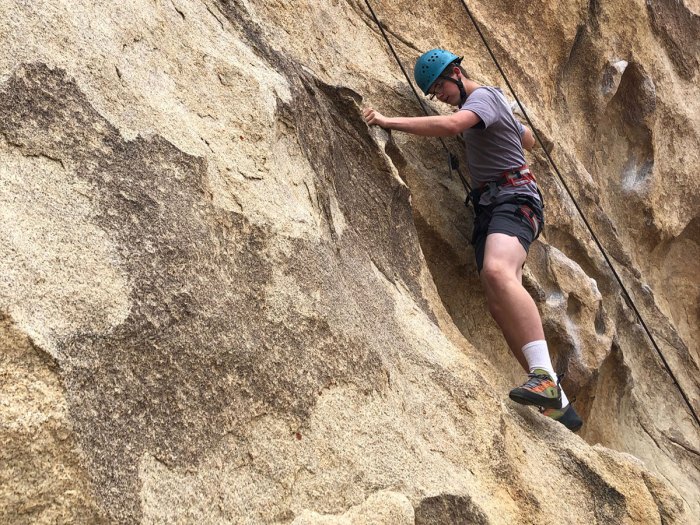 DREAMS BECOME REALITY
After flying into Southern California, the first stop was Joshua Tree. The national park gets its name from the 40-foot-tall plants with spiky green leaves that grow around the nearly 800,000-acre park. The area also features large boulders and rock faces for climbers to conquer.
The Venturers spent the day top-rope climbing before scrambling through the "Chasm of Doom," a passage under a massive pile of boulders. It required strength, time and flexibility to maneuver through the passage, but there was a huge sense of accomplishment once everyone made it through.
That was a common theme the Venturers discovered at each stop: challenges followed by reward.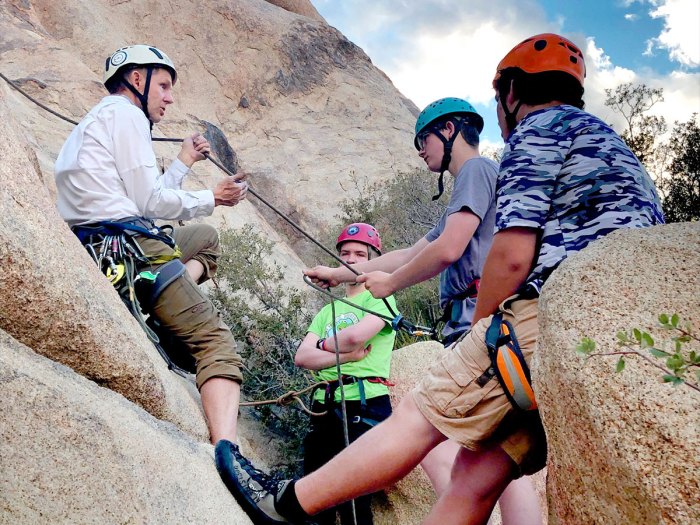 At Catalina Island, they set up camp and hurried back down to the harbor to go snorkeling at two different spots.
"I had never been snorkeling," says Owen Kiplinger, 17. "You could see a lot of fish."
The trip offered many new experiences — some of which the Venturers liked, others not so much. It was important for everyone to encourage each other, especially as they began to tire later in the week.
"The trip tested that camaraderie, but it made it stronger," says Ethan Bowman, 18.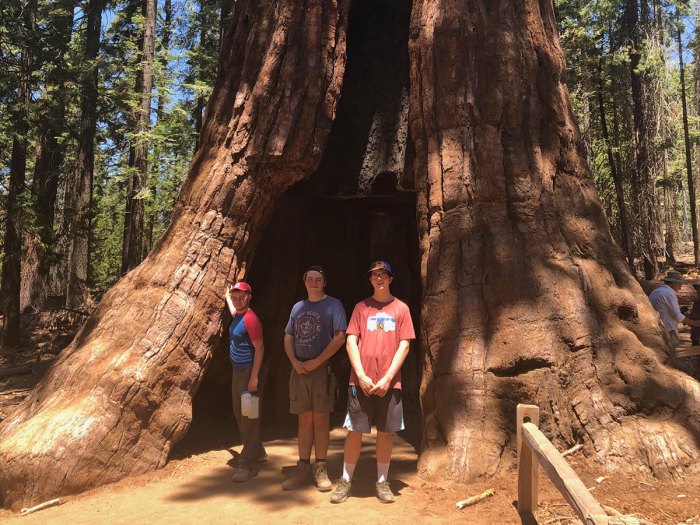 'WALTZING' CARS
When the crew arrived at Yosemite, they marveled at the national park's giant sequoia trees. Some of these behemoths are thousands of years old and hundreds of feet tall. In the late 1800s and early 1900s, a few of these trees had tunnels cut through them, some big enough to drive a car through. Carving these majestic trees for the sake of tourism damaged the trees' health and strength, and two have since fallen.
Still, walking through one of these trees reminded the crew how awe-inspiring nature is. And if that wasn't a big enough reminder, they felt another after finishing a brief backpacking trek.
As some crew members went into a store, tremors from an earthquake more than 100 miles away shook the area.
"Everything on the shelves started rattling," Owen says.
Other Venturers were in the parking lot when the earthquake struck.
"The cars were waltzing around," Ethan says.
Everyone was OK after the earthquake. The impact was lessened since they were so far away from the quake's epicenter, so what they felt was the equivalent of a 3.8 on the Richter scale.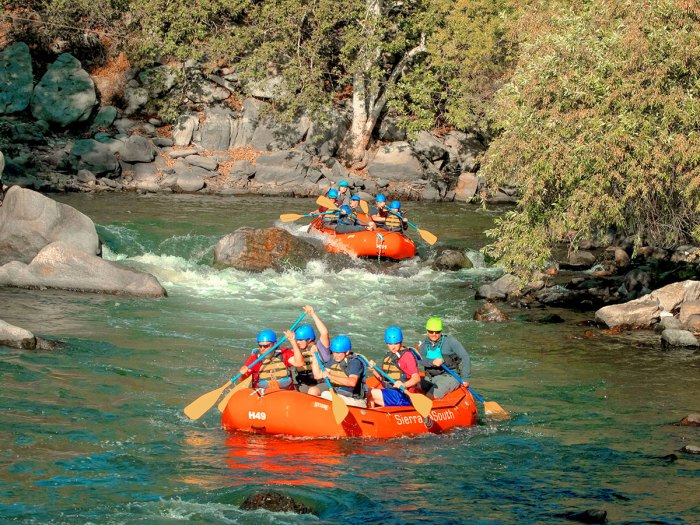 MORE HIGHLIGHTS
In order to get to everything on their itinerary, there wasn't much time to rest.
"I felt like we were going 90 miles per hour down the highway all the time," Duncan says, referring to the trip's pace.
On the Kern River, the crew met with a professional raft trip outfitter and paddled a few miles, crossing through Class II and III rapids. Rapids are rated based on intensity, ranging from an easy Class I to a dangerous Class VI. The rapids the Venturers traveled through were manageable yet exciting for whitewater beginners.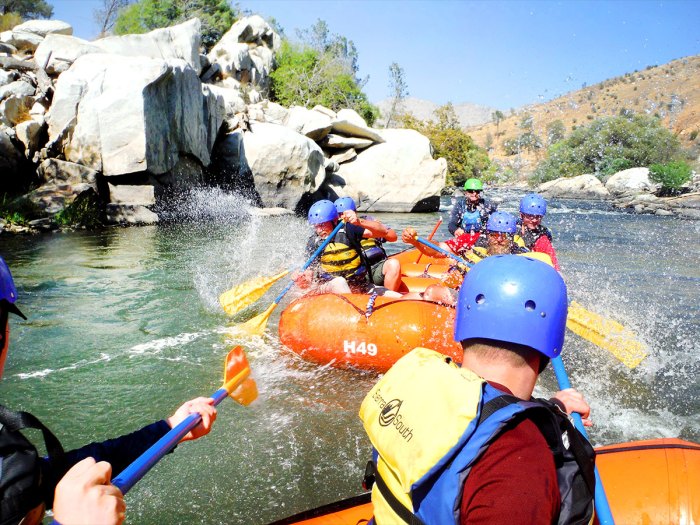 The crew finished up in Hollywood, where they checked out celebrities' handprints and footprints in the concrete outside famous Grauman's Chinese Theatre. They made sure to compare their hands to their favorite celebrities, like Robin Williams and the actors from Marvel's Avengers movies.
"It's the best trip I've done in Scouts," says Andrew Petro, 16. "I felt like I took advantage of everything. It was the epitome of Scouts."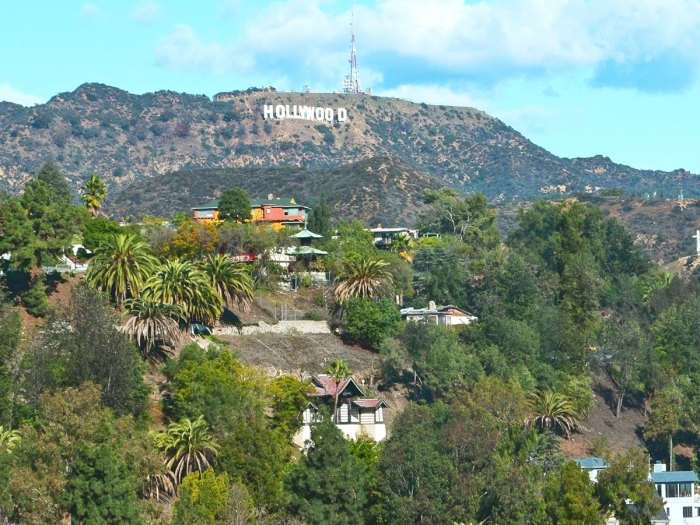 ---
FREE AS A BIRD
A cross-country trip can get expensive. Each Venturer paid about $1,000 for this trip, which included airfare, food and fees. The crew sold programs at the Indianapolis 500 to help raise the funds.
When an opportunity for a free meal on the trip arose, the Venturers tried to take advantage. At the beginning of the trip, an adult leader, who is an avid birdwatcher, offered to pay for a percentage of the crew's final meal at a restaurant. He agreed to take care of 1% of the total meal cost for every bird species the Venturers saw. So if they saw 50 different species, he'd pay half the price of everyone's meals.
The crew aimed to find 100 bird species. A free meal was an incentive, but the challenge helped the Venturers to be more mindful of nature.
At the end of the trip, they had spotted 90 different birds. Close enough. The adult generously paid the entire bill.
---
FINDING YOUR NEXT ADVENTURE
Adventures await everywhere; you just need to look. You can plan an "epic" trip thousands of miles away, a fun weekend in a neighboring state or a day outing in your hometown.
Ask adult leaders, like Crew 753 did, if they know of cool activities your unit can do. You can also ask your parents and friends to get ideas.
Inspire Leadership, Foster Values: Donate to Scouting
When you give to Scouting, you are making it possible for young people to have extraordinary opportunities that will allow them to embrace their true potential and become the remarkable individuals they are destined to be.
Donate Today