Washington Scouts Try Ice Fishing on a Frozen Lake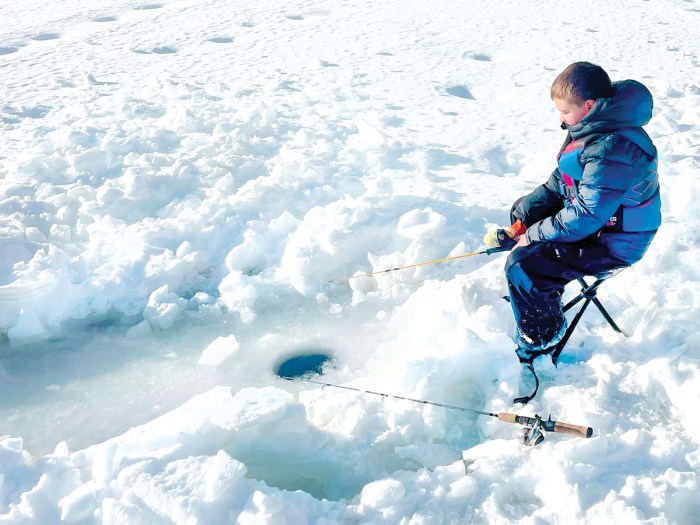 Across a frozen expanse, Scouts huddle around small holes carved into the ice. Below their feet, fish swim sluggishly, occasionally nibbling at the bait dangling in the chilly water.
"You have to sit there and wait," says Sky Riggs, 12, a Tenderfoot Scout with boys Troop 218. "It feels like every bite is a massive accomplishment."
That's the nature of fishing. It often requires patience, determination and a positive attitude. And when you're fishing on a frozen lake, you need to call upon all those qualities — plus try to stay warm.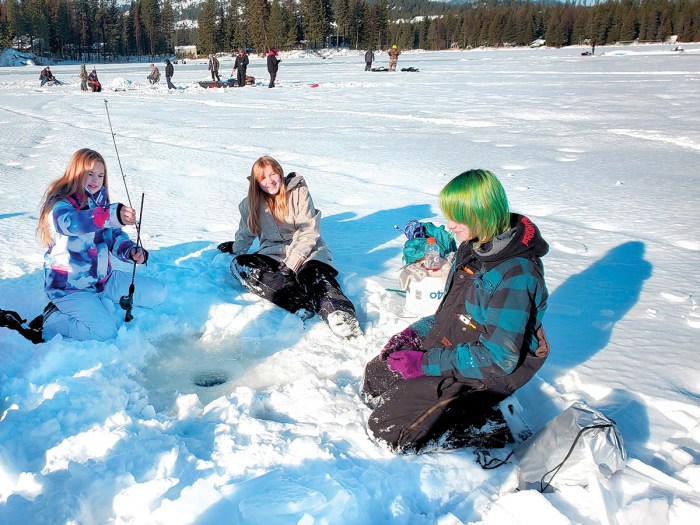 ONTO THE ICE
Boys and girls troops 218 of Spokane, Washington, went ice fishing for a day on Sacheen Lake last January. The 310-acre lake is filled with trout, catfish, bass and perch. But most species would be tough to catch.
"During the winter, the fish don't move as fast," says Star Scout Kennedy Beeson, 13.
Ice fishing demands a different strategy. You can't plop any lure down a hole and expect fish to gobble it up. Try brightly colored lures or a shiny spoon since it might be dark under the ice. If it's a bright day, cover the hole as much as you can with ice shavings to block suspicious-looking sunlight.
Twist or pull your line to give your bait some action. You want it to mimic real prey. You can also use live bait like minnows, maggots or waxworms (moth larvae).
"If you feel a bite, you want to do sharp motions with your fishing rod in order to hook the fish," says Tenderfoot Scout Titus Leone, 12.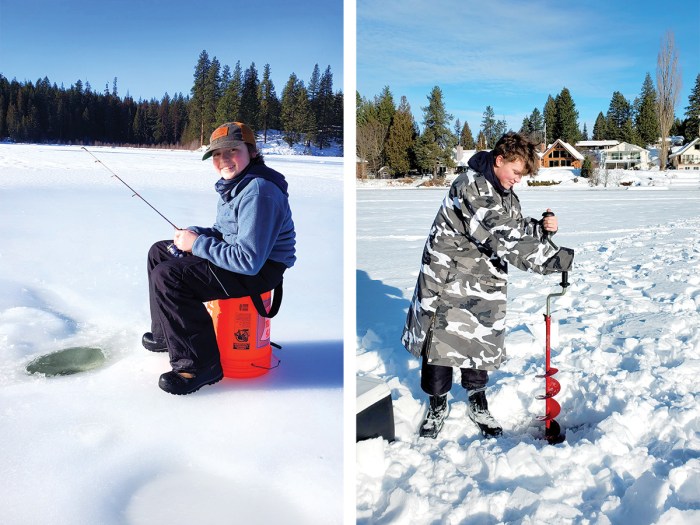 KEEP AT IT
The Scouts tried different spots and techniques, but none of them had much luck.
That's OK. The camaraderie and work on their ice-fishing skills made the daytrip worth it.
"It's just something different to do in the winter," says Scout Reagan Northway, 13. "Being there with your friends in the freezing cold is fun."
A Scout is Cheerful. Even if you don't go home with a fish, you still can leave with great memories.
"Go with the correct mindset," says Life Scout Simon Ward, 15. "Most of us went saying, 'It's going to be a fun time to spend with my friends.'"
---
IS IT SAFE?
To safely walk on, ice must be at least 4 inches thick uniformly. If it's too thin, you could break through into frigid water, which could be dangerous. If you see any open water, don't go out on the ice.
Even if you don't see water, you cannot tell how thick ice is simply by looking at it. You will need something to make a hole, like an ice chisel or an auger, which is a large, spiraled drill. For new, clear ice, drill a hole and put a tape measure into it, hooking the end to the bottom edge of the ice so you can get a measurement.
Know that ice is never 100% safe, and older, cloudy ice often is only half as strong as new, clear ice. So if it's "white ice," it should be at least 8 inches thick to walk on.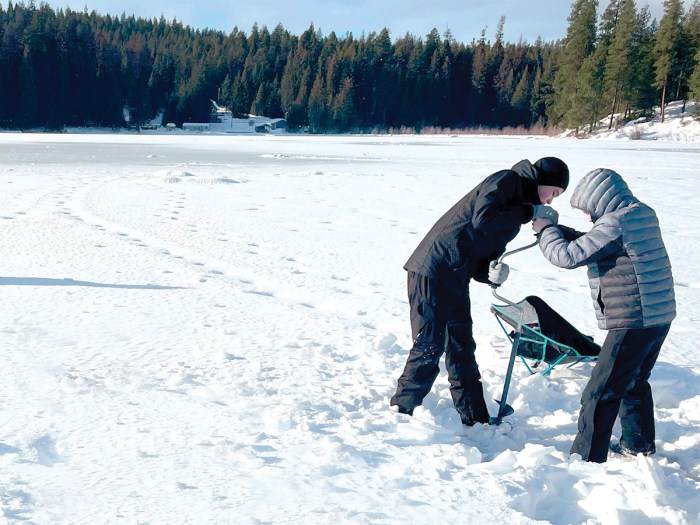 GEAR YOU NEED
If you have fishing tackle, you already have most of the necessary gear, but you might need a few extra items to stay warm, comfortable and safe:
• Fishing rod and reel
• Bait
• Auger or ice chisel
• Chair (or overturned bucket)
• Warm clothes (bring extra layers)
• Shelter to shield you from the wind.
An ice-fishing tip-up is a device that helps you know when you have bite. See how to make one at go.scoutlife.org/tipup.