Backpacking? Whitewater Rafting? Zip Lining? You Can Do It All at the Summit
Daniel Willis knew he wouldn't stay dry through his troop's backpacking trek last July. The Scouts were at the Summit Bechtel Reserve for the weeklong Pack N' Paddle Experience, which includes a day of whitewater rafting along the New River.
However, the guys of Troop 41 from Sugar Grove, Illinois, were already drenched before they got to the river. It rained on them several hours on the second day on the trail. After the storms stopped, the air remained calm and unbearably humid.
"Sometimes, it felt like I was breathing more water than oxygen," says Daniel, a 17-year-old Life Scout.
That made paddling through the rapids so much more refreshing and enjoyable. But that wasn't the only fun they experienced in the lush hills of West Virginia.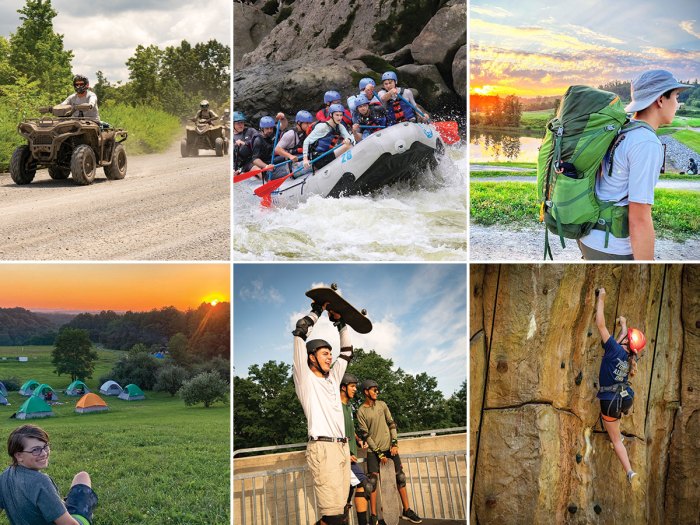 PICK YOUR ADVENTURE
The Summit, one of the BSA's four national high-adventure bases, guides Scouts through several different experiences. There's the New River Experience, a paddling journey on inflatable kayaks. You can also choose treks riding bicycles or all-terrain vehicles (ATVs) with the Polaris ATV Experience. Or you can stay at the Summit's developed property and have fun with everything there: skateboarding, shooting sports, zip lines and climbing, to name a few.
"We do a single high-adventure trip per year, and this time we chose the Summit," says Alexander Davis, 14, a Star Scout. "The Pack N' Paddle sounded like fun."
With this experience, the guys would travel more than 40 miles in the backcountry, trekking to beautiful overlooks and exploring forgotten mining towns, with a day devoted to whitewater rafting.
To get ready, they went on weekly practice hikes for five months at home and reviewed what gear to bring. After a 10-hour drive, they arrived in West Virginia, up for the challenge.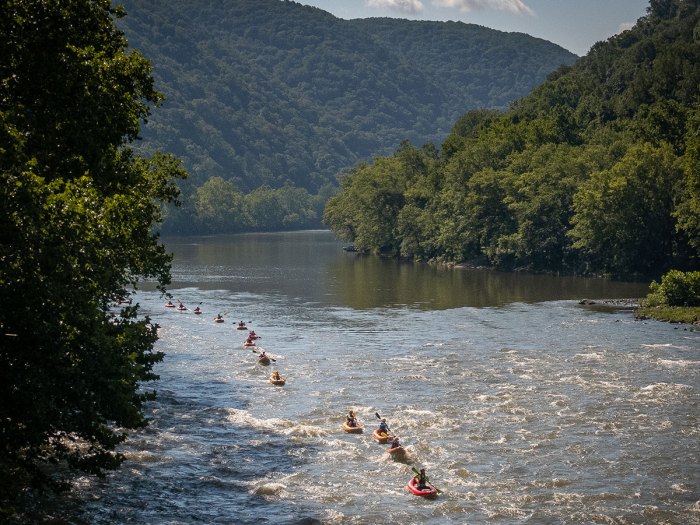 HIT THE TRAIL
Starting out, the guys scaled some switchbacks, hiking along easy grassy paths.
"The hiking didn't seem as bad as it was going to be," says Star Scout Lukas Zuttermeister, 14.
Then, the trails got steeper and slippery, slowing the group down. A Scout is Helpful: When your group faces a challenge, look out for each other.
"It was nice to see the teamwork develop this day," says Life Scout Nate Diaz, 17. "One of the Scouts was struggling, and several other Scouts were able to take some weight off of his backpack and help him out."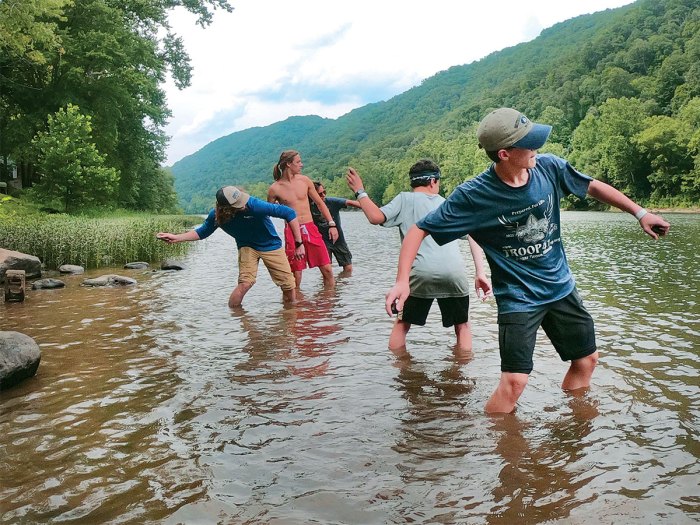 The day ended at a campsite by the New River, where they went swimming and admired the sights.
"The views you see at the Summit are absolutely amazing," says Nicholas Collins, 16, a Life Scout. "Everything is green and picturesque. It's like a postcard."
The next day, they kept their eyes on the trail as it began to rain. The group pulled out rain gear and trudged to Thurmond, a ghost town. Towns that were once busy with people and are now practically deserted are called "ghost towns." Because of coal mining, a few hundred people lived in Thurmond in the early 1900s. At last count, only five people still call it home.
Learning about local history added to the trip. The Scouts checked out old mining equipment and railroad tracks.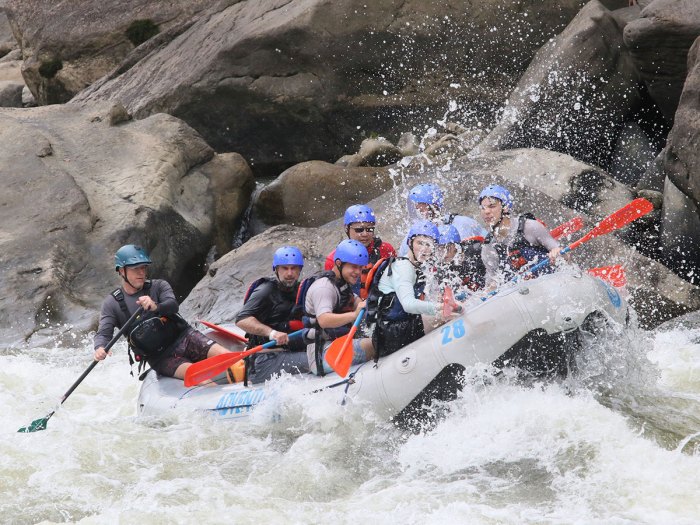 MAKING WAVES
The trek had many highlights, but most of the guys' favorite came on the New River.
"The best day was the whitewater rafting," Nate says. "Many of us had never been and did not know what to expect."
The troop split into three groups, riding three inflatable rafts — each with a guide who navigated them through exciting rapids.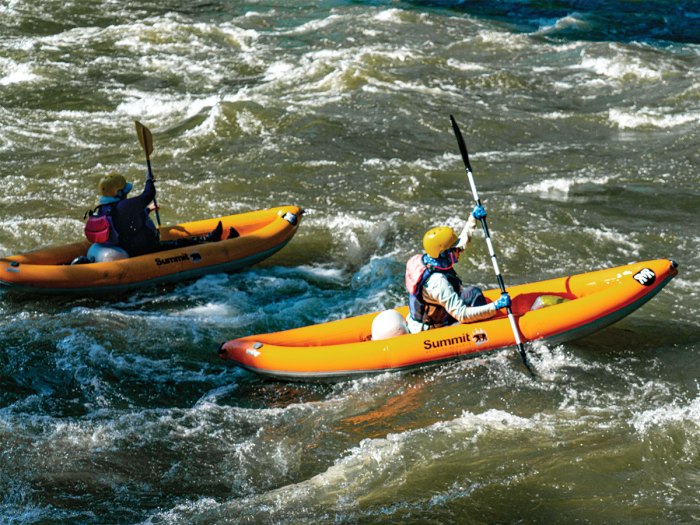 "As long as you don't mind getting wet and swallowing water, it's a lot of fun," says Eagle Scout Logan Cunz, 18.
In larger rapids, the rafts crashed through big waves and bounced off rocks. It was an adrenaline rush. The guys also tried some fun whitewater techniques like surfing. To do this, they rowed against the current into a rapid. Once they were in position, they paddled back and forth, riding the waves while staying in the same spot.
"It was probably the most fun I've ever had on a Scout trip," Daniel says. "The whitewater rafting was at just the right time to give us a very welcome break."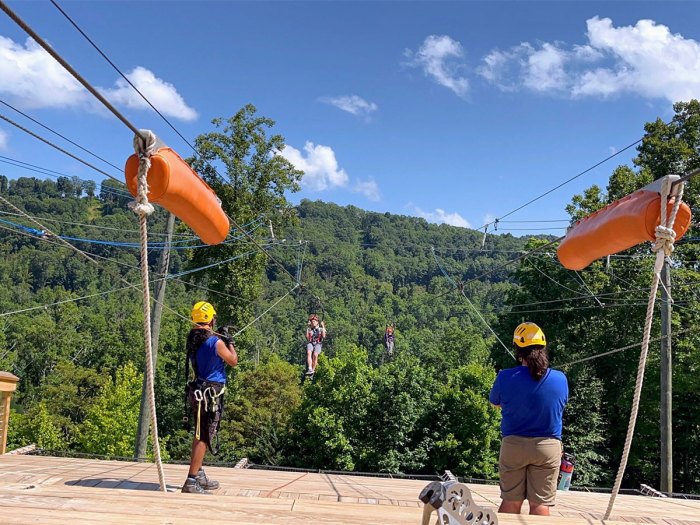 ZIPPING TO THE END
The Scouts finished their journey at the Summit's Big Zip, a set of zip lines that can reach speeds of 50 mph. Riding the Big Zip topped off a fun week — and for some in the troop, it marked the grand finale of adventures in Scouting.
By completing the trek, some of the Troop 41 Scouts, like Logan, had completed adventures at all four national high-adventure bases. There's a badge for that. It's called the Grand Slam of National High Adventure award. Scouts who go to three high-adventure bases can earn the Triple Crown of National High Adventure award.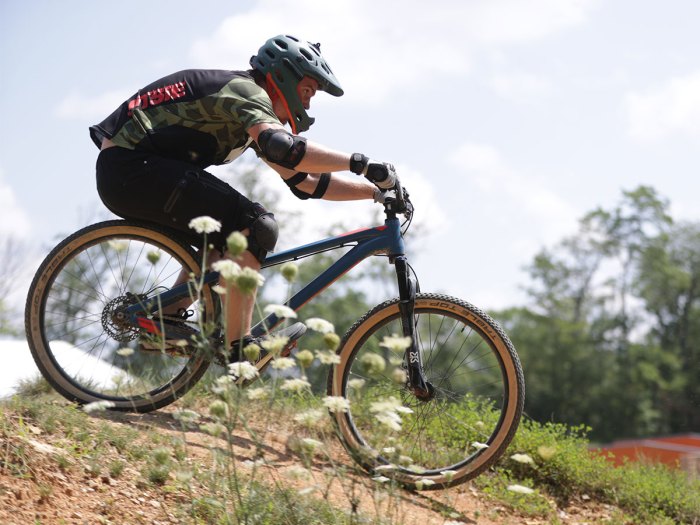 Each base offers something different in both challenges and rewards (see below).
"The trip was pretty intense," Logan says. "It was more physically taxing than mentally taxing, so I was able to focus on enjoying it."
At the end of each day, the Scouts could unwind in camp and play a game of cornhole while taking in their surroundings.
"When we were up on the top of the mountains, it really brought you to a strong realization of where exactly we were and that we hiked throughout these mountains," Nate says. "We all made it!"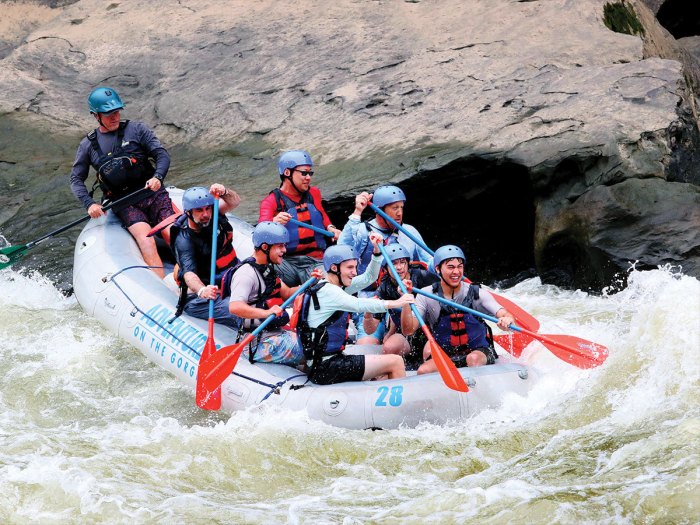 ---
Make Plans Now
Sign up for 2023 or 2024 treks at summitbsa.org
---
Where Will You Go?
The Summit is just one of the BSA's four national high-adventure bases. Here's what the others have in store for you:
Philmont Scout Ranch in the mountains of New Mexico offers backpacking treks with varying degrees of challenge. There's also horseback riding, rock climbing, shooting sports, leadership training and more.
Northern Tier serves up epic lake-hopping canoe treks and winter camping experiences from its bases in northern Minnesota and Canada.
The Sea Base in Florida lets you explore the ocean from the surface and below with adventures focused on scuba diving, sailing, fishing, coral restoration and more.
Scouting is full of adventures, and the BSA Outdoor Adventures Team is here to help you find the one that's right for you. Learn more at go.scoutlife.org/adventure.