The National Jamboree Provides a Scouting Experience Like No Other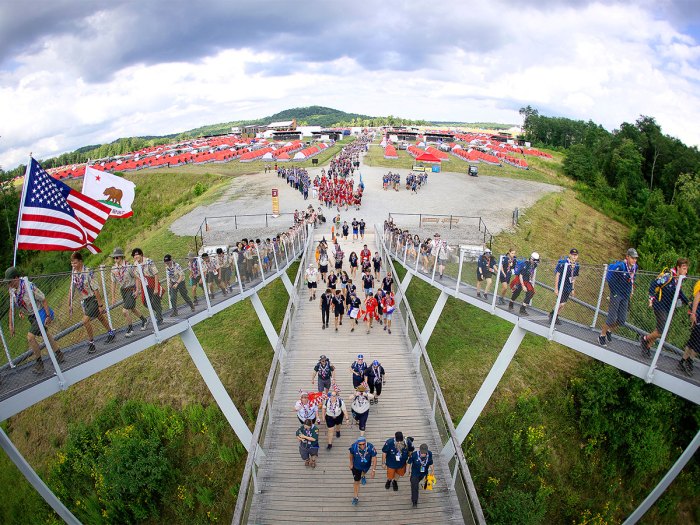 There's nothing quite like it. Thousands of Scouts from around the country in one place, making new friends, showing off Scouting skills and having so much fun they'll remember that week-and-a-half for the rest of their lives.
It's the National Jamboree.
The largest gathering of Scouts in the U.S. is happening now at the Summit Bechtel Reserve in West Virginia. It's an adventure for everyone who attends.
Jamboree Slideshow
Scroll through the latest photos from the 2023 National Jamboree. These photos are frequently updated, so check back daily for new photos during the Jamboree.
Visit natjamboree23.org to get the latest news and updates from the Jamboree.
WHAT'S A JAMBOREE?
To celebrate the 25th anniversary of the Boy Scouts of America, the BSA planned a big gathering in Washington, D.C., in 1935. President Franklin D. Roosevelt hoped every registered troop in every council would send a Scout "to have every nook and cranny of our nation represented" in the Jamboree. But a polio outbreak forced the cancellation of the inaugural event.
Two years later, the president saw more than 25,000 Scouts set up tents in the shadow of the Washington Monument. The boys went sightseeing, listened to speeches and swapped trinkets they had brought from home.
Scouts met again in 1950, and the gathering was even bigger. Over the years, the National Jamboree has been held in different places around the U.S. before settling in the wooded wilderness of West Virginia. Typically, the event happens every four years, but the last one was canceled because of COVID-19.
GOING 'FORWARD'
Since the Summit began hosting the Jamboree, Scouts have enjoyed all the exciting activities available there. You can go mountain biking, whitewater rafting, zip lining, rock climbing and skateboarding. You can tackle challenge courses and go on canopy tours. You can try stand-up paddleboarding, archery and BMX. Almost any fun high-adventure activity you can imagine is available at the Summit.
But since it's a Jamboree, there's more. This year, Scouts will enjoy entertainment at lakeside extravaganzas. They can also take part in Summit Apex, a new outpost program hosted by the Order of the Arrow.
Scouts can learn to become better leaders in their unit, community, nation and world through a new Jamboree program called Leadership Heights. Participants will hear from special speakers, try activities that enhance leadership and communication skills, and face challenges that help them reflect on being a better leader and team player.
More than 40 merit badges will be offered, including Fly Fishing, Mining in Society and Robotics.
Just like at the first Jamboree, Scouts can enjoy swapping with fellow Scouts. Trading patches has become a popular pastime, and some Scouts bring custom-made council emblems for the Jamboree. You can add the coolest patches to your collection during the week-and-a-half.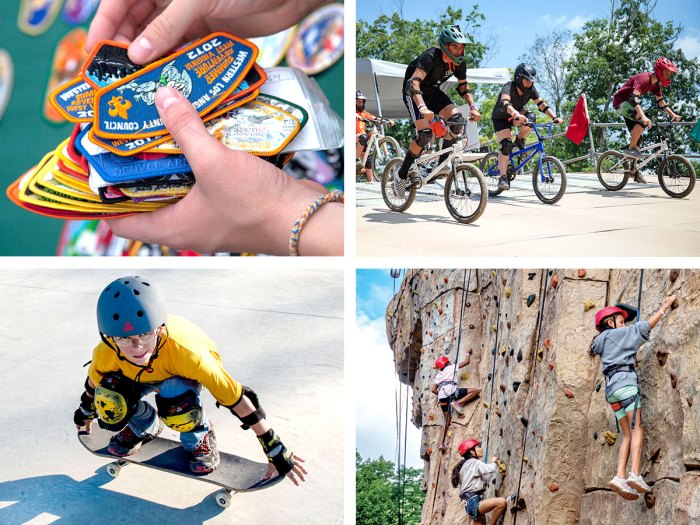 FUNDRAISING FOR THE FUTURE
Attending the Jamboree can be pricey, but it's worth every penny. Paying for the big event requires preparation, salesmanship and a disciplined approach to saving. Get ready for the next Jamboree by following these steps:
Check with your unit to see if you can use money you raise from unit fundraisers. If so, participate in as many unit fundraisers as you can — camp cards, popcorn or whatever your unit sells. Also check with your council for any fundraising events you can take part in.
Save cash from jobs you do throughout the year. You can also save any money you receive for birthdays and holidays.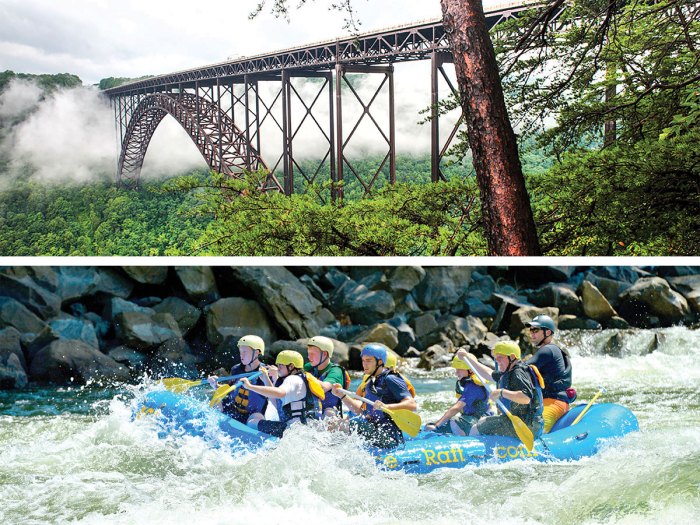 GET READY
Couldn't go to this year's National Jamboree? You can still follow the fun from home by logging on to natjamboree23.org.
Start thinking about attending the next Jamboree. Scouts often call it one of the defining experiences of their time in Scouting. Check back at jamboree.scouting.org for updates on registering for the next National Jamboree.
---
This Year's Event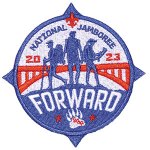 WHAT: The 20th National Jamboree
WHEN: July 19-28, 2023
WHERE: Summit Bechtel Reserve, Glen Jean, West Virginia
WHO: Scouts BSA members, Venturers, Explorers and Sea Scouts are invited
MERCH: www.scoutshop.org
THEME: "Forward"
---
Connect Online or Over the Air
You can connect with Scouts around the world every year via Jamboree-on-the-Air and Jamboree-on-the-Internet.
Every October, Scouts in more than 170 countries communicate with each other online or by ham radio. The events provide opportunities for fun activities and talking with other Scouts, and participation can fulfill requirements for Cub Scout Adventures, the Citizenship in the World merit badge and the International Spirit Award.
---
Around the World
Scouts meet not only on a national scale, but also on a global one. Since 1920, Scouts from around the globe have come together for the World Scout Jamboree. This year, it will be held Aug. 1-12 in Saemangeum, South Korea.
Like the BSA Jamboree, the World Jamboree is a time for fellowship and fun. You can meet Scouts from more than 100 countries, learning about their cultures and how Scouting makes an impact in their home countries.
The next World Scout Jamboree will be in Poland in 2027. It isn't the only Scout gathering that happens in other countries: The World Scout Moot invites young people ages 18-25 for a week-and-a-half of high-adventure activities. The next one will be in Portugal in 2025.
Inspire Leadership, Foster Values: Donate to Scouting
When you give to Scouting, you are making it possible for young people to have extraordinary opportunities that will allow them to embrace their true potential and become the remarkable individuals they are destined to be.
Donate Today