Scouts Soar at Aviation Museum in Virginia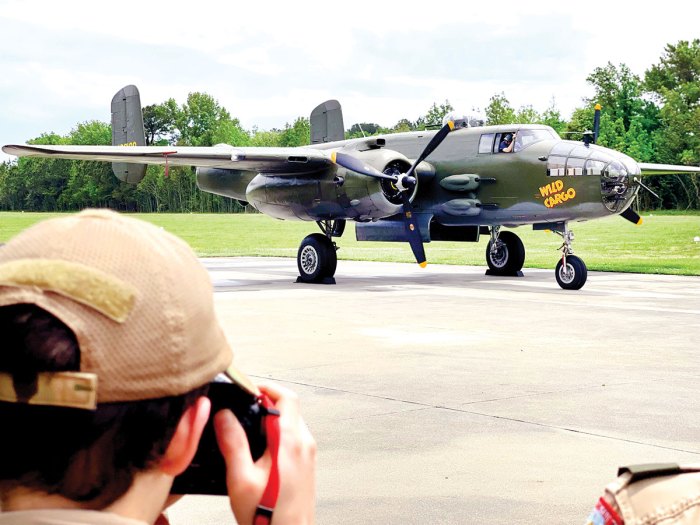 Max Kennedy looked out the windshield. But instead of an open road, he faced puffy clouds and a whirring propeller.
The 14-year-old First Class Scout was flying more than 1,500 feet above the ground inside a Cessna 172 Skylane airplane. He could see an amusement park below. The roller coasters looked like they came out of a model kit. Cars on the highway seemed like toys. But this flight was a little different from a commercial airliner.
"It was definitely bumpier since it's a smaller aircraft," he says.
An aerial tour capped off a campout during which Troop 94 of Yorktown, Virginia, learned about the fascinating history and science of combat flight.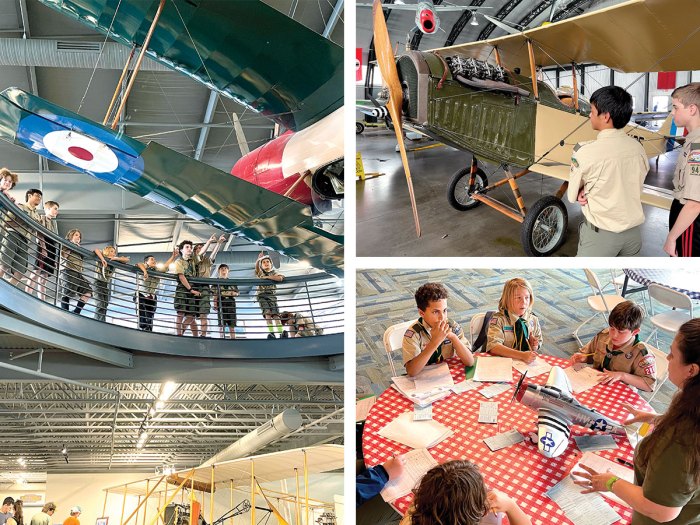 FLYING THROUGH THE YEARS
People long wanted to fly and soon saw warfare advantages to taking to the skies. In ancient China, kites were used to measure distances to help armies strategize how to attack fortresses. In the 1890s, Scouting founder Robert Baden-Powell's brother Baden designed man-lifting kites that could help spy on the enemy.
Airplanes were invented in 1903 — and a little more than a decade later, in World War I, the air was part of the battlefield. In World War II, the U.S. produced nearly 300,000 war planes. Some of the aircraft from both world wars are showcased at the Military Aviation Museum in Virginia Beach, Virginia.
The troop set up camp at a city park last year and headed to the museum to check out the more than 50 planes housed there. They saw small biplanes, iconic fighters and B-25 bombers — they even got to sit in a Beechcraft T-34 training plane.
"It's pretty amazing we got to see that and get a hands-on experience," says Grif Mahan, 15, a Life Scout. "As you progress, you go from wood frames to metal."
The Scouts noticed not only changes in designs and technology, but also what never materialized.
"They had these huge models that the Germans had blueprints for that they were supposed to use to dominate the sky," says Scout Elliot Hardman, 11.
While the Scouts studied the changes in flight, one thing that remained consistent was the science.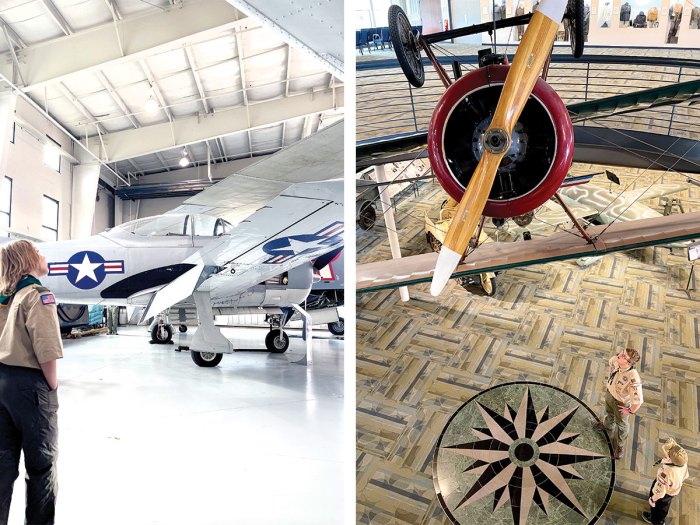 LEARNING TO SOAR
The Aviation merit badge teaches the principles of flight and how a plane meets those principles of lift, weight, thrust and drag. The guys handled the museum's flight simulators and constructed paper airplanes, experimenting with different designs to make their planes soar farther.
"I feel we learned a lot more, because it wasn't all up on a whiteboard," says Darek Kennedy, 12, a Second Class Scout.
The following day, they saw those flight principles in action from the air. Flying in an aircraft is a fun option for completing the Aviation merit badge. Before an orientation flight, adult Scout leaders must complete the BSA's flying plan checklist, which includes your parent's permission and getting all the documentation on the plane and pilot.
The troop met with pilots at the Newport News/Williamsburg International Airport. There, they piled into a Cessna and took turns flying. The 15-minute flight took the Scouts in a big loop over the area.
"It's one of the most fun experiences you'll ever have," Darek says.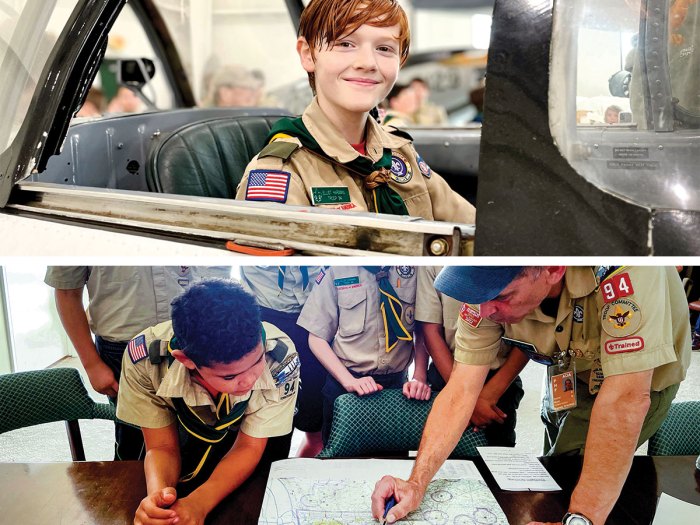 Inspire Leadership, Foster Values: Donate to Scouting
When you give to Scouting, you are making it possible for young people to have extraordinary opportunities that will allow them to embrace their true potential and become the remarkable individuals they are destined to be.
Donate Today