Halloween Tradition Connects Scouts BSA and Cub Scouts
One-eyed monsters, snaggletooth ghouls and even an adorable Grogu sat along a sidewalk staring at a group of Scouts last October.
The Scouts inspected each and picked their favorites. It was easy to enjoy the monstrous sights before them — they were, after all, the Scouts' creations.
Every year, linked troops 3589 and 5589 of Victoria, Minnesota, host a pumpkin-carving contest the day before Halloween.
"It's fun to hang out with friends while preparing for the holiday," says Star Scout Owen Antolick, 12.
SMASHING GOURD TIME
One of the troop families owns a pumpkin patch and provides 100 pumpkins for the activity. The Scouts spend an afternoon carving pumpkins and enjoying hot chocolate and cookies. The pumpkins are judged, and the winners take home festive trophies. But the activities serve as more than a fun day with friends.
The annual event also connects the troops with Pack 3589. Arrow of Light Scouts are invited to participate, a gesture that can help recruit them to cross over into the troops.
They are eligible for pumpkin-carving trophies, too — as are siblings.
"You get to meet other people, like the Scouts crossing over," says Amelia Mackenthun, 12, a Star Scout. "That's fun."
A CUT ABOVE
Eagle Scout Max Worthington, 14, didn't have a plan for his jack-o'-lantern. He wasn't alone.
"I think most of us winged it," says Life Scout Sofia Reeves, 15. "And that's how we ended up with funnier designs."
Each Scout had one hour to cut their design into a pumpkin. Many went with a classic toothy expression, while others tried more gruesome looks.
"One of the Scouts brought pottery tools; she didn't carve holes but sculpted into the face like she was whittling," says Star Scout Silas Bixby, 15. "It was unique."
Wearing gloves helped cut down on the mess for those who carved holes and scooped out the innards. Not all the Scouts threw away the squishy insides. Silas sorted out the seeds to take home and roast for a snack. All the Scouts took home their jack-o'-lanterns to display for Halloween.
---
The Perfect Pumpkin
Pick a pumpkin that works for you. You might like to transform a big, round pumpkin into a jack-o'-lantern — or maybe you want your orange creation to be lopsided. Embrace your creativity.
To help extend the life of your jack-o'-lantern, look for a few things:
Pick a pumpkin that isn't cracked and doesn't have soft spots. These are signs it's already decaying. Your pumpkin should also be firm. If it can be easily scratched, the pumpkin likely was picked too early and will rot faster.
Also, cut into your gourd a day or two before Halloween. Pumpkins last only three to seven days after they're carved.
"You can put Vaseline on the inside, and it'll help keep it from rotting," Owen says. "If you're in warm weather, the pumpkin will rot faster."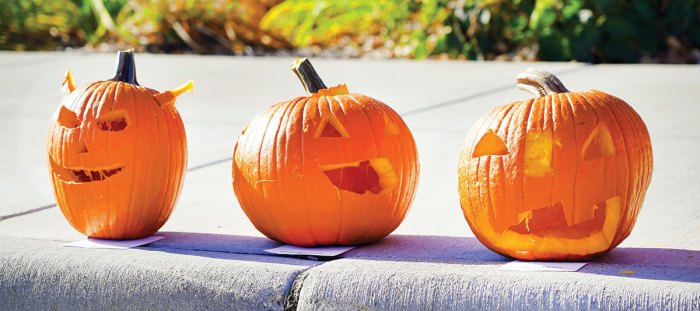 Inspire Leadership, Foster Values: Donate to Scouting
When you give to Scouting, you are making it possible for young people to have extraordinary opportunities that will allow them to embrace their true potential and become the remarkable individuals they are destined to be.
Donate Today