Join Troop 214 for a Big Day of Sledding in Montana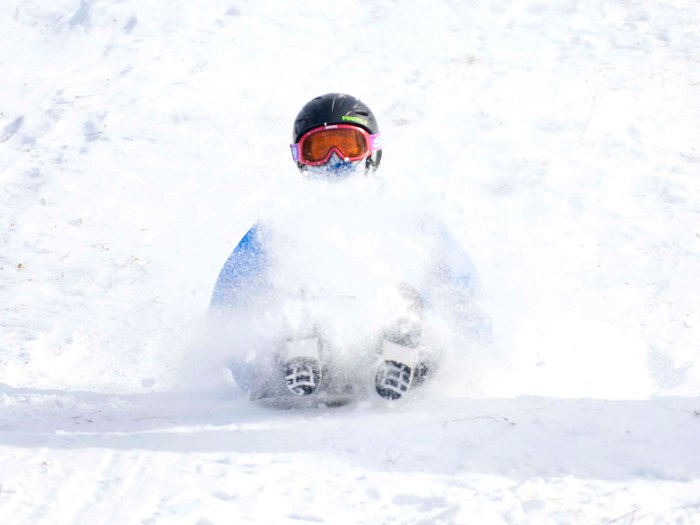 Laughing and shouting, Scouts sprint up a snowy hill, some with snow sleds tucked under their arms.
With a rope in each hand, Alec Ware, a 14-year-old Life Scout, steadily drags two pulk sleds filled with more snow sleds behind the group.
It's a long hill. The group's sprinting soon slows to Alec's pace. Halfway up, they stop and turn around. They're high enough for a fun slide down. Everyone grabs a sled and the laughing and shouting resume.
"I like sledding. It's really fun," says Tenderfoot Scout Henry Ring, 13. "It's fun to hang out with my friends."
Troop 214 in Helena, Montana, spent a day sledding last December — the highlight of a winter campout in the mountains.
HEAD FOR THE HILL
Every winter, Troop 214 goes on a sledding campout. With the Continental Divide nearby, the guys have plenty of prime places to visit close to home.
For their most recent trip, they pitched tents at a snow-covered campground about 14 miles from home. With temperatures hovering below 32 degrees, a few Scouts wanted to earn a council award. Some councils offer winter camping awards that give points for camping in subfreezing weather.
"If you get 100 frost points, you get a badge," says Scout Yuri Mullen, 12.
After a chilly night, the guys woke up and packed the troop trailer with sleds and cooking gear. A short drive over a mountain pass led the troop to an open hill off the highway, where they would sled and eat lunch.
When picking a hill, make sure the slope isn't too steep and there are no rocks or trees you could hit. You also need to wear warm clothing and a winter sports helmet.
"Make sure you have on good boots to get good grip," says Bridger Webster, 11, a Scout. "You should have stuff on your face to block the snow. You definitely don't want to get snow on your face, because it gets cold."
LET'S GO SLEDDING
The troop brought toboggans and heavy-duty pulk sleds. To safely sled, you need to maintain control. If your sled has a pull rope, flip it around and use it to steer. Other sleds feature a steering wheel or handlebars. You can drag your feet in the snow to manage your speed.
Sledders need to watch where they're going, but everyone downhill also needs to make sure they're out of the way. Establish sledding paths and return paths so you're not walking up a hill on the same path that sledders are coming down.
You can work up a sweat by repeatedly hiking up a hill. Even though you're in the snow, stay hydrated and bring plenty of clothes to moderate your body temperature.
"You have to dress in layers and have more gear," says 11-year-old Scout Wolfgang Hitz.
FUN FOR ALL
Later in the morning, Pack 214 joined the troop on the hill. Together, everyone enjoyed the activity and cheered each other on.
"I like sharing my sled with other people and trying their sleds," says Christian Romine, 7, a Wolf Cub Scout.
For lunch, the pack and troop chowed down on grilled hot dogs and hamburgers. Afterward, many of the Cub Scouts' parents and grandparents joined them in sledding. The outing helped show why Scouting is so fun.
"You feel very included, and you get to do a lot of fun activities," says Lizabetta Fowler, 10, a Webelos Scout. "Once you get into Scouts for a year or two, you start to get to know some of your pack and den members better. You have more fun because you have your friends here, and your family can come and just have a great time."
---
Sledding Science
The toughest ride down the hill is likely the first one. That's because friction is slowing you down.
Friction is the force resisting motion between two objects. As you sled down a path, the friction between the sled and the snow creates a little heat, which melts the top layer of snow.
It helps if you go sledding when the air temperature is closer to 32 degrees and you're not sledding on fresh, fluffy snow.
When you carve out a smooth sledding path, that's when you can pick up speed.
---
Protect Your Head
Not all helmets are created equal. Each is designed to protect you in certain activities — for instance, a bicycle helmet won't give you the protection you need when sledding. When you're skiing, snowboarding or sledding, wear a winter sports helmet. Winter sports helmets provide more coverage, including protection from side impacts. Also, many helmets are built to withstand only a single impact. Replace your helmet if it's absorbed the impact of a fall or crash, as the material might be damaged.
Inspire Leadership, Foster Values: Donate to Scouting
When you give to Scouting, you are making it possible for young people to have extraordinary opportunities that will allow them to embrace their true potential and become the remarkable individuals they are destined to be.
Donate Today