Take a Scout History Tour of Washington, D.C.
Washington, D.C., is filled with Scouting history. The first National Scout Jamboree was held near the Washington Monument in 1937, and every president since Howard Taft has served as the honorary president of the BSA.
Explore the interactive map below to see some of the Scouting-related attractions in our nation's capital and then scroll down to see how you can take an actual Scouting history hike in Washington, D.C.
Click on icons to view historic sites. (full screen)
---
HIKING THROUGH SCOUTING'S HISTORY
The National Capital Area Council's History of Scouting Trail (HOST) program is designed to take visitors to Washington, D.C., on a tour of Scouting's past.
The HOST program features four options: the 5.9-mile Colin Livingstone Hike, named for the first president of the BSA; the 7.2-mile Baden-Powell Hike, named in honor of the founder of Scouting; the 5.4-mile James E. West Hike, named for the first Chief Scout Executive; and the 2.5-mile history hike.
Each route features Scouting-related attractions, but finding them is part of the challenge. That's because HOST is part capital tour, part scavenger hunt. Scouts must fill out cards showing they completed a challenge at each site.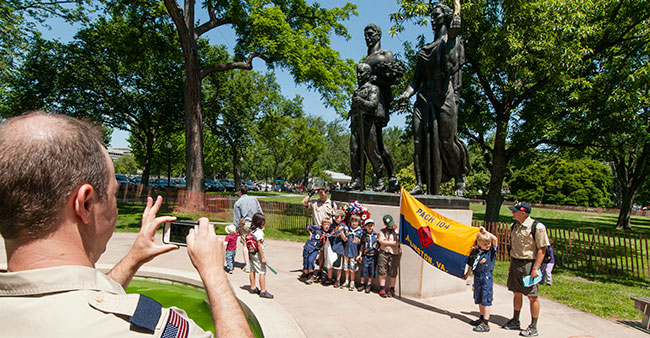 Inspire Leadership, Foster Values: Donate to Scouting
When you give to Scouting, you are making it possible for young people to have extraordinary opportunities that will allow them to embrace their true potential and become the remarkable individuals they are destined to be.
Donate Today