Creative ways to cook favorite foods when camping
Camp cooking doesn't have to be weird or boring. Check out how recipes for some of your favorite foods can be adapted for your next campout.
---
PIZZA WHEREVER
Pizza delivery where you're camping? Doubtful. But you can bake your own in a Dutch oven.
Servings: 10 to 12
Equipment: 16-inch camp Dutch oven, heavy-duty aluminum foil, medium-size frying pan and coals
Challenge Level: Moderate
INGREDIENTS
1 pound sweet Italian sausage, casing removed
1 tablespoon olive oil
1 bell pepper, chopped
1 onion, thinly sliced
4 cloves garlic, minced
8 ounces sliced fresh mushrooms
1 teaspoon dried basil
1 teaspoon dried oregano
1/4 teaspoon ground black pepper
3 13.8-ounce containers refrigerated Pillsbury Classic Pizza Crust
1 15-ounce jar pizza sauce
1 pound shredded mozzarella cheese
PREPARATION
Crumble sausage into dime-size pieces in frying pan.
Cook sausage over medium heat, stirring often until no trace of pink remains.
Drain excess grease, then add olive oil, bell pepper, onion, garlic, mushrooms, basil, oregano and black pepper. Stir.
Cook until onions are translucent. Remove skillet from heat and set aside.
Line Dutch oven with heavy-duty aluminum foil, then grease the foil.
In the oven, mold pizza dough from all three dough containers to the shape of the bottom of the oven, leaving outer edges of the dough thicker than the middle.
Evenly spread pizza sauce over dough to within a half-inch of the edge.
Spread sausage and sautéed vegetables over the dough.
Cover all with cheese.
Bake for about 20 minutes, using 29 coals on the lid and 16 coals under the oven, until cheese has completely melted and crust is fully baked.
Recipe from George Downs
---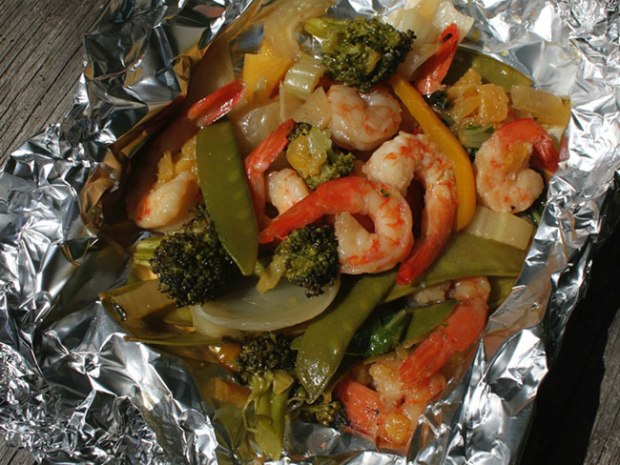 ASIAN TAKEOUT
Foil is the only cookware you'll need for this one. It's easy to char or undercook foods in foil if you're not careful, but it's also easy to get it right using a few simple techniques.
Servings: 8
Equipment: Heavy-duty aluminum foil and a campfire or grill
Challenge Level: Moderate
INGREDIENTS
½ cup peanut oil
2 pounds uncooked peeled shrimp or extra-firm tofu
1 11.8-ounce jar Kikkoman Teriyaki Baste & Glaze
1 bell pepper, thinly sliced
1 6-ounce package sliced almonds
1 head bok choy, chopped
1 sweet onion, cut into thin wedges
8 ounces snow peas
1 20-ounce can crushed pineapple in heavy syrup (do not drain)
1 head broccoli, cut into florets
PREPARATION
On each of eight 18×18-inch sheets of foil, layer ingredients in the order listed, beginning with the oil on the foil and ending with the broccoli at the top.
To trap the steam, seal packets very tightly by folding the edges over repeatedly.
If packets have been customized, write name of each owner on the foil with a marker.
With the broccoli side up, cook foil packets over a low campfire or on a grill grate over medium heat for about 20 minutes.
---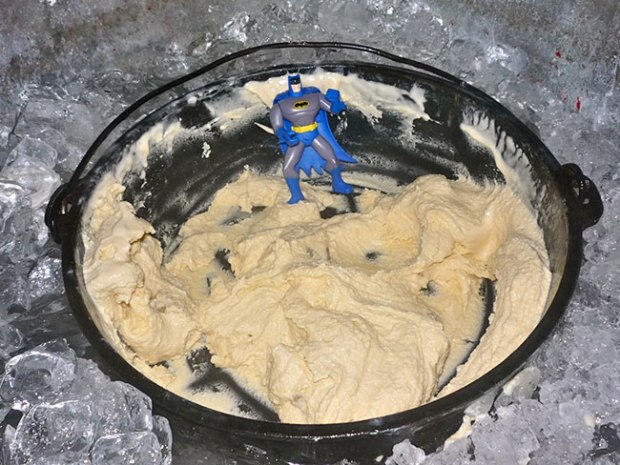 ICE-CREAM TRUCK
When you've got a Dutch oven, you've got your own ice-cream truck. Now that's cool.
Servings: 8-10
Equipment: 12-inch camp Dutch oven, 2 medium-size bowls, rubber spatula and a large tub or cooler
Challenge Level: Moderate
INGREDIENTS
1 3.4-ounce package instant pudding (your favorite flavor)
1 cup whole milk
2 cups heavy cream
1/2 cup granulated sugar
1/2 tablespoon vanilla extract
1/4 teaspoon lemon juice
1 12-ounce can evaporated milk
2 to 3 cups rock salt (depending on the size of tub)
12 to 20 pounds ice (depending on the size of tub)
Water
PREPARATION
In a medium-size bowl, blend together pudding, milk and 1 cup of heavy cream.
In a second medium-size bowl, combine sugar, vanilla extract and lemon juice.
To the second bowl, add evaporated milk and the remaining cup of heavy cream, then stir until smooth.
Combine the contents of the second bowl with the first bowl and mix well.
Add about 2 inches of crushed ice to the bottom of a clean tub or cooler that can hold a 12-inch Dutch oven with room to spare around the edge of the oven.
Sprinkle about half of the rock salt over the ice. Set the Dutch oven on top of the ice.
Pack the gap between the oven and sides of the tub with more crushed ice and the rest of the rock salt. Keep the level of the ice and salt at least 1 to 2 inches below the rim of the Dutch oven to prevent salt water from sloshing into the ice cream.
Carefully pour water over the ice to the side of the Dutch oven to create a 2-inch-deep slurry at the bottom of the tub. Let the oven sit for about 10 minutes to chill.
Pour the ice-cream mixture into the now-cold Dutch oven.
Set lid on Dutch oven and cover the lid completely with crushed ice. Do NOT put rock salt on the lid!
About 30 minutes after adding the lid to the oven, begin checking ice cream every 10 minutes, stirring and scraping the cold mixture from the walls of the oven using a rubber spatula.
Once ice cream has solidified to the point that it's hard to stir, it's ready to serve! Total freezing time takes about 45 to 60 minutes.
Recipe from John Malachowski
---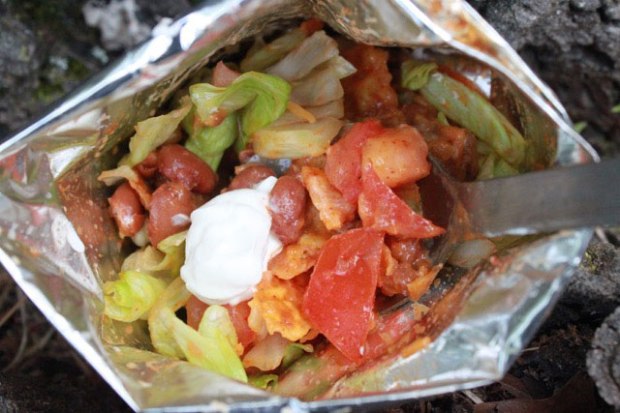 NACHOS TO GO
Everyone will love this Tex-Mex recipe, and not just because it starts with chips.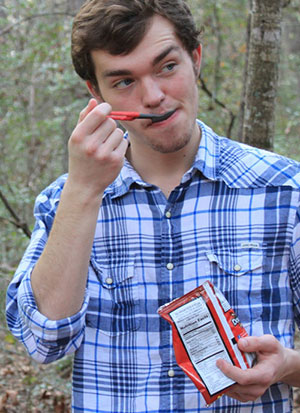 Servings: 6
Equipment: Small cook pot and stove
Challenge Level: Easy
INGREDIENTS
1 15-ounce can chili
6 single-serving packages tortilla chips
1 8-ounce package shredded cheese (your favorite)
2 tomatoes, chopped
1/4 head iceberg lettuce, chopped
1 8-ounce container sour cream
PREPARATION
Briefly warm chili in a small pot. Don't allow chili to become hot to the touch!
With the packages still sealed, crush tortilla chips into small pieces.
Open bags, then carefully scoop about 1/4 cup of warm chili into each.
Add cheese, tomatoes, lettuce and sour cream to each bag to taste.
Eat directly from the bag using a fork.
Recipe from James Landis
---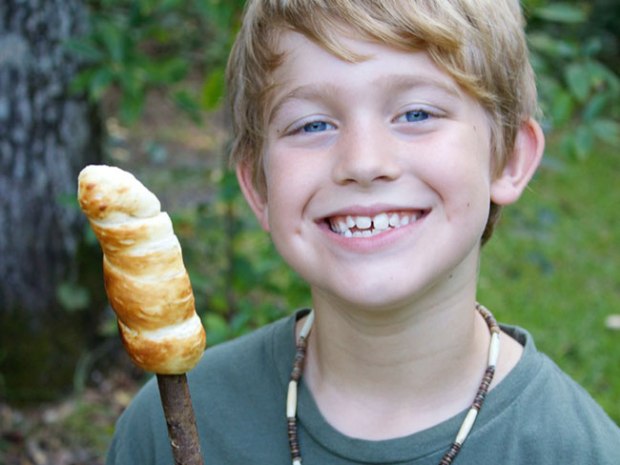 BREAD ON A STICK
Imagine the whiff of fresh bakery bread while sitting around a campfire. Just grab a sturdy dry stick, and you're pretty much good to go.
Servings: 8
Equipment: Cooking stick (from nontoxic tree or bush!) and campfire
Challenge Level: Easy
INGREDIENTS
1 16.3-ounce container Pillsbury Original Homestyle Grands refrigerated biscuits
1 8-ounce can Kraft Sharp Cheddar Easy Cheese
Optional fillings: honey, jelly or peanut butter
Nonstick cooking spray
PREPARATION
Allow campfire to burn down to a bed of hot embers. Avoid cooking over open flames, which tend to burn the dough.
Open container of biscuit dough and separate biscuits from each other. There will be a total of 8.
Shape each biscuit into a "snake" about 1 foot long. Roll out any lumpy parts so the snake is evenly thick.
Cover about 1 foot of the end of each stick with cooking spray, then wrap the dough around this part of the stick like a candy cane, starting at the top end and working down.
Hold dough on the stick over the embers, rotating the stick often to bake all sides of the dough and prevent burning.
Cook until dough becomes golden brown all over, then remove the stick from over the fire. Hold the stick for a few minutes while the bread cools.
Once the bread is cool to the touch, carefully wiggle it off the stick. Eat the biscuit bread plain or fill the hole with cheese or optional ingredients (see tip below).
Tip: For a less messy way to fill the bread hole, put your filling in a sandwich bag, then trim a small corner from the bottom. Squeeze out the filling like you would with an icing bag.
Recipe from Kathleen Kirby
---

ABOUT THE AUTHORS
Tim and Christine Conners are the authors of eight outdoor cookbooks, including The Scout's Dutch Oven Cookbook and The Scout's Campfire Cookbook for Kids. Visit them at lipsmackincampin.com for video tutorials, more recipes and book information.
Inspire Leadership, Foster Values: Donate to Scouting
When you give to Scouting, you are making it possible for young people to have extraordinary opportunities that will allow them to embrace their true potential and become the remarkable individuals they are destined to be.
Donate Today