Discover the Spirit of Philmont With a 21-Day Adventure Like This One!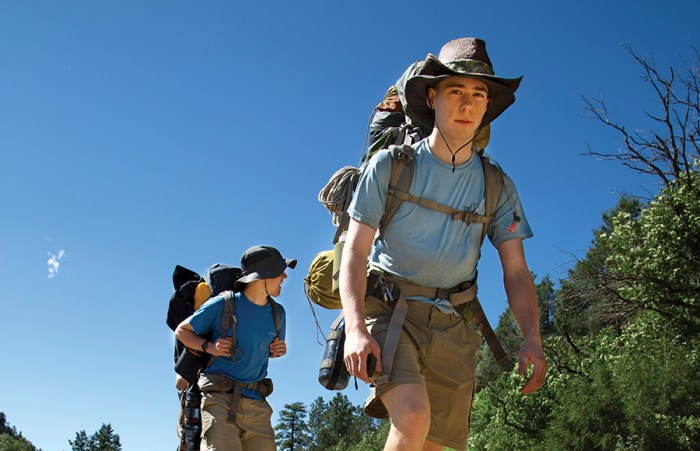 Cassidy Lathrom remembers all four times she has been to Philmont Scout Ranch.
The first was in 2015. It was five days, and it was her first time backpacking of any kind.
"It was one of the most difficult things I had ever done," she says. "It was also one of the most rewarding. I wanted to go back."
Yep, Philmont does that to you. It changes you. Then it calls you back. In 2016, she went again. In 2017, she attended Philmont's National Advanced Youth Leadership Experience program.
Then, this past summer, it was Rayado, a 21-day backcountry adventure with the motto, "Expect the unexpected."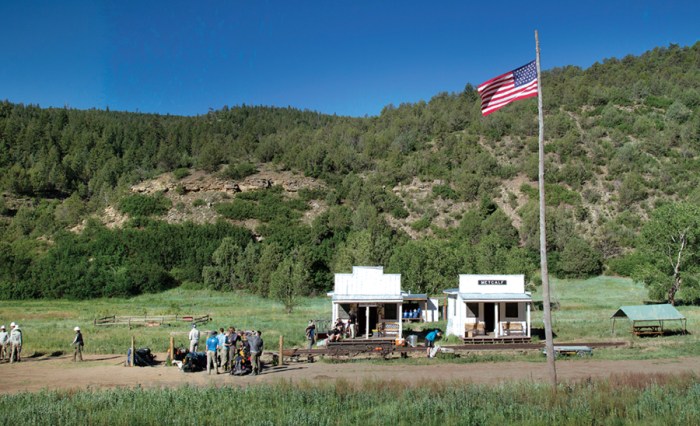 It's the ultimate experience at Scouting's ultimate location, 140,177 acres of fun in northern New Mexico.
"It's a journey of learning about yourself and others," says Cassidy, now an 18-year-old member of Venturing Crew 2052 in Lawrence, Kansas. "It's a journey of excellence and bettering yourself. It's definitely difficult, but that's what makes it worth it.
"That's where the lessons come from."
Yep. That's Philmont for you.
The Ultimate Test
Daniel Alli remembers the first time he went to Philmont. It was a 12-day trek in 2017. His ranger suggested he come back and try Rayado.
Two years later, he did just that. "For me, it was the pinnacle of Scouting," he says.
Rayado will test you. Daniel's trek was scheduled to be 186 miles. "It ended up being a lot more, because we took some wrong turns here and there," says Daniel, 17, from Troop 307 in Catonville, Maryland.
Rayado participants sign up as individuals, not as troops or crews. Groups meet each other for the first time and then hit the trail not long after.
They're accompanied by two rangers, who are there to make sure no one does anything that could get them hurt. Other than that, you're on your own. Make a wrong turn? That's on you, and it's up to you to get back on track.

"It's a very unique experience," Daniel says. "It's a great way to focus on what makes you you. … The things we take for granted … you can focus on those things at Philmont. It's a true escape.
"I haven't really experienced that anywhere else."
Yep. That's Philmont.
It's Not Supposed to Be Easy
Gwei Strong-Allen remembers the first time she went to Philmont. It was a Roving Outdoor Conservation School trek. Similar to Rayado, it's 21 days in the wilderness. But the focus is more on building and maintaining trails and learning about wildlife management than it is on covering ground.
Like all the others, she came back for Rayado.
Expect the unexpected, they say. On the very first day, the all-girl crew tackled one of the most challenging hikes the land has to offer. (Boys' Life has been asked not to reveal too many spoilers about the itinerary. It's different for each crew, and it's supposed to be a surprise.)
Rayado crew members rotate leadership roles each day. There's a crew leader, who's basically in charge; a wilderness guide, who makes sure the group follows all Leave No Trace principles; a chaplain, who oversees religious activities; and a navigator, who's in charge of the map and compass for the day.
But what Gwei remembers the most about her trek is the moment her group was reunited with a hiker who had to miss a couple of days due to tendinitis in her foot.
"We didn't know when she was coming back," says Gwei, 20, from Crew 56 in Cambridge, Massachusetts. "When we got to the campsite, she was there, and everyone ran over and hugged her. That's how sad we were to have not had her."
Yep. Sounds just like Philmont.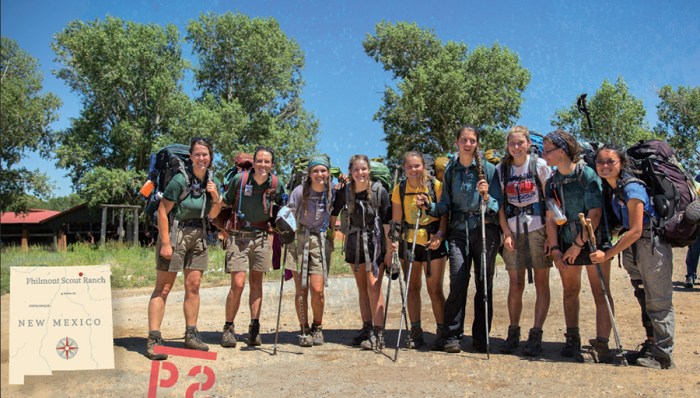 Becoming a Family
Carson Johnson of Troop 705 in Bowling Green, Kentucky, remembers the first time he went to Philmont. It was back in 2016. It was a spectacular and challenging 90-mile adventure.
It was nothing like Rayado.
On Rayado, you can climb many peaks, like Baldy Mountain, Little Costilla or the Tooth of Time, one of Philmont's most popular spots. Rayado crews are also special because they can hike in both the north and the south parts of Philmont instead of just one or the other.
You'll hike many miles, but there are shorter days when you have more time to relax and recoup, and there are days reserved for activities that we won't name here because — remember — it's a surprise, and we don't do spoilers. And you're doing all this with a group of people you've never met before.
"As the days went on, we grew closer and closer," Carson says. "By the end, we were one big family."
Of course. That's Philmont.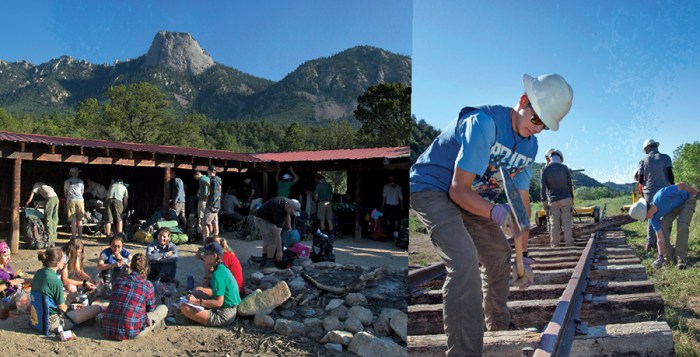 Where Will You Go?
Philmont Scout Ranch in New Mexico is one of the BSA's four national high-adventure bases. In addition to the Rayado program, it offers backpacking treks of different lengths with varying degrees of difficulty. There's also horseback riding, rock climbing, and training for both youth and adults.  go.scoutlife.org/philmont
Florida National High Adventure Sea Base features aquatics programs, including deep-sea fishing, sailing, scuba diving and trips to the Florida Keys, Bahamas and U.S. Virgin Islands. go.scoutlife.org/seabase
Northern Tier National High Adventure Program serves up epic lake-hopping canoe treks and winter camping experiences from its bases in northern Minnesota and Canada. go.scoutlife.org/northerntier
The Summit Bechtel Reserve in West Virginia offers treks on kayaks, rafts, ATVs and bikes, or you can try The Summit Experience, which includes BMX, skateboarding, mountain biking, zip lines, climbing and more  go.scoutlife.org/summit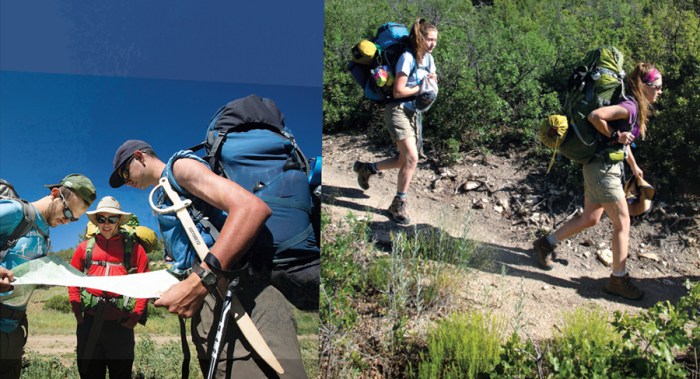 Who May Participate?
The Rayado Trek program is open to young men and women alike. Participants must meet the following requirements:
Be a registered member of the Boy Scouts of America.
Be 15 years of age before participation but not yet 21.
Be in excellent physical condition and able to hike 10 or more miles with a 40- to 50-pound backpack. (Philmont height and weight guidelines will be strictly enforced.)
Have mastered the skills of Leave No Trace camping and backpacking.
Previous Philmont experience is not mandatory but is strongly recommended.Learn more at  go.scoutlife.org/rayado
Inspire Leadership, Foster Values: Donate to Scouting
When you give to Scouting, you are making it possible for young people to have extraordinary opportunities that will allow them to embrace their true potential and become the remarkable individuals they are destined to be.
Donate Today