Have the Time of Your Life at These 8 Exciting Scout Camps
Get ready for summer camp! Make plans to visit one of these eight exciting Scout camps.
Click here to see more Scout Camps featured in previous years.
---
H. ROE BARTLE SCOUT RESERVATION
Heart of America Council; Osceola, Missouri; hoac-bsa.org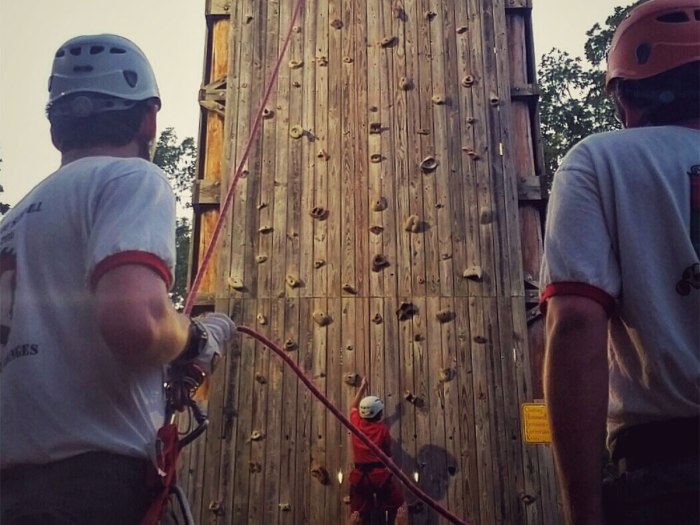 GO UNDERGROUND: Strap on a helmet to climb a tower or go spelunking. If you choose the latter, you'll descend into darkness as you're lowered into the Up and Down Cave, one of several caves to explore on the land.
YOUR CHOICE: Take your pick from three camps at the 4,200-acre property: Lone Star, Sawmill or Piercing Arrow. Bartle Scout Reservation is the only 10-day summer camp in the country. Although not part of the camp, many Scouts like
to hike a mile down the road to Scott's Iconium General Store to grab a hamburger and a Peach Nehi float.
CARRY A TUNE: When you enter the dining hall, be ready for more than just a meal. The staff has a fun, energetic program, full of skits and songs.
---
WEHINAHPAY MOUNTAIN CAMP
Conquistador Council; Sacramento, New Mexico; wmc-boyscouts.org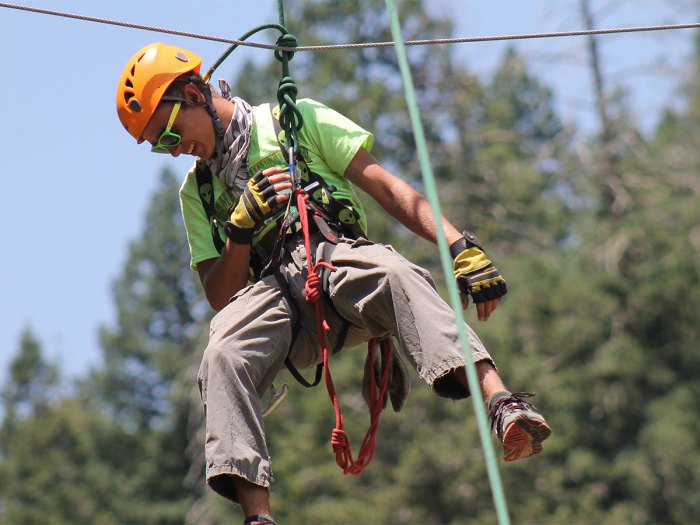 ZIP AROUND: Feel a rush of adrenaline as you navigate the ropes course, 30 feet in the air, and scale the climbing tower. Zigzag along four zip lines across the narrow canyon where this camp sits within the Lincoln National Forest.
OLD AND NEW: Learn how life was for fur traders and Native Americans more than a century ago at the Mountain Man camp, where you can throw tomahawks, make knives, and build fires with flint and steel. At the technology center, staff can teach you to fly a drone.
NICE NIGHTS: At an elevation of 8,500 feet, you'll feel like you're in the mountains. The evening temperatures can dip into the 40s under a night sky adorned with millions of stars. Daytime temps often stay in the 80s, perfect for a horseback ride or ATV drive.
---
MANY POINT SCOUT CAMP
Northern Star Council; Ponsford, Minnesota; manypoint.org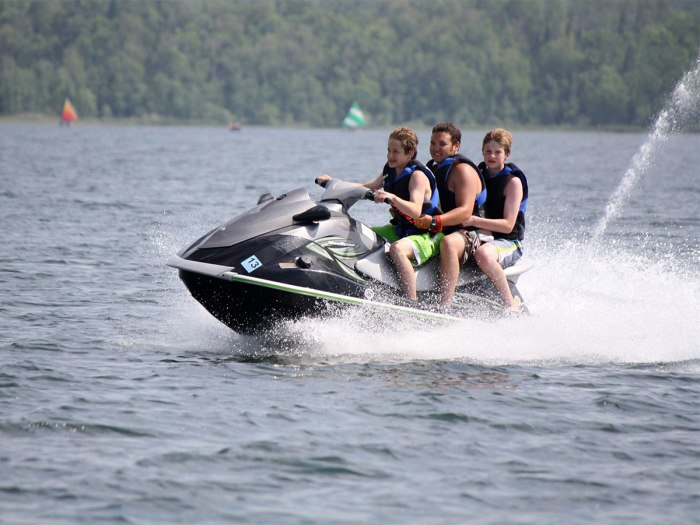 CAMP WHEREVER: Sure, you can sleep in a tent, but have you ever spent a night in a treehouse? Older Scouts can at Many Point: Two treehouses are built on a 30-foot bluff overlooking the lake. Or you can paddle out to a raft in the middle of the lake and sleep there after enjoying a day of swimming, fishing and cooking from the raft.
GAME ON: Grab a greased watermelon — or try to, at least — during one of the camp's popular aquatic games. You can also play gaga ball, basketball, lacrosse and water polo, or bounce on the aqua trampoline. Older Scouts can go waterskiing or take out the jet skis. Later, relax in a sauna or take in the sights atop a 100-foot fire tower.
WE'RE ALL FAMILY: Eat at the dining hall with meals served family style, or choose to cook and eat with your troop at your campsite. Patrol boxes and ingredients can be provided, making mealtime easy and fun.
---
CAMP PUPUKEA
Aloha Council; Haleiwa, Oahu, Hawaii; scoutinghawaii.org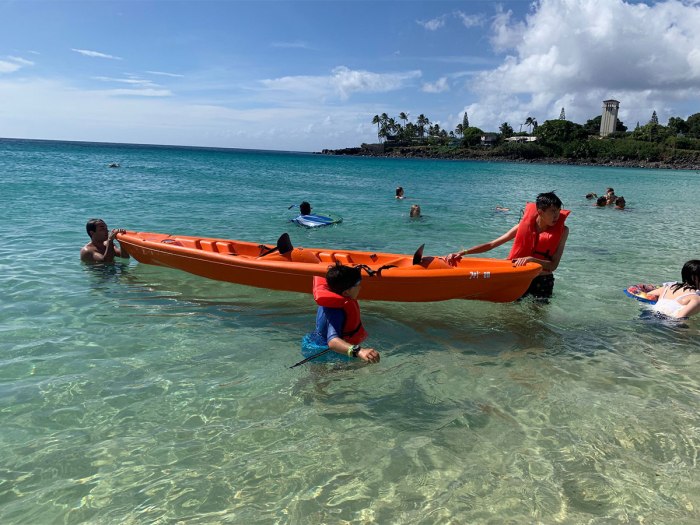 TAKE YOUR PICK: Even though it's nestled in a tropical rainforest, this camp isn't a luxurious island getaway. You still get that rugged feeling at Pupukea, since about half of the campsites are classified as primitive. The staff embodies the friendly Aloha Spirit, making you feel welcome for the week.
GO TO THE BEACH: A short hike leads you to the Pacific Ocean, where you can go snorkeling, kayaking or paddleboarding. Scouts can work on about two dozen merit badges, including Oceanography.
EXPERIENCE HAWAII: If you're from the mainland, sign up for the Hawaiian Camping Adventure program. You'll get to spend a night aboard the USS Missouri battleship, go sightseeing at the scenic Waimea Valley Park, and catch a show and buffet at the Polynesian Cultural Center.
---
CAMP LOUD THUNDER
Illowa Council; Illinois City, Illinois; loudthunder.org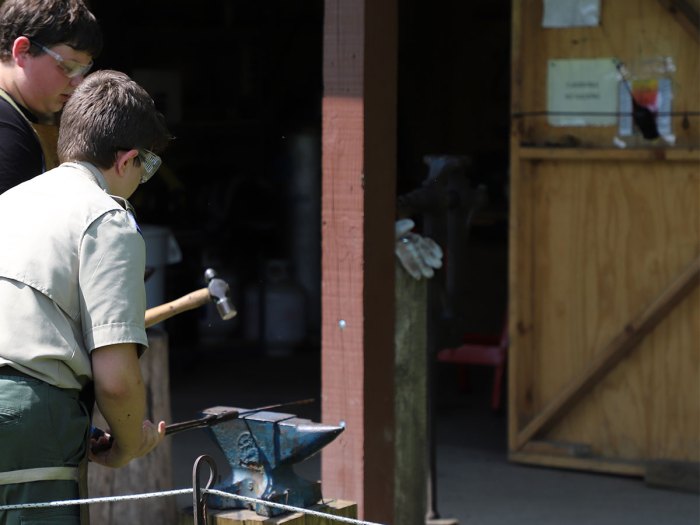 TRY SOMETHING NEW: Camp is never boring, especially when there's an activity you've never done before. Loud Thunder has many novel camp programs, such as fingerprinting and a giant chess tournament.
GRAB SOME GRUB: Eat an authentic cowboy meal prepared out of a chuckwagon. You can pile enchiladas, beans and rice or venison high onto your pewter plate and guzzle down a cold sarsaparilla soda.
SEE THE STARS: A local college professor stops by the camp to host an educational evening of stargazing at the on-site observatory. You can also look up at the stars from the middle of the Mississippi River as part of the Huck Finn Experience, where you can canoe the mighty river and camp out on an island.
---
CAMP M.K. BROWN
Golden Spread Council; Mobeetie, Texas; goldenspread.com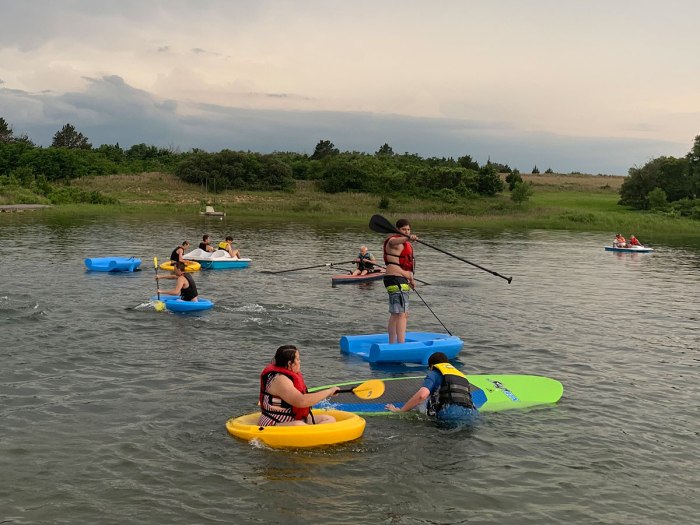 GOOD EATING: A pot-roast dinner with gravy awaits you after checking into camp. Later in the week, Order of the Arrow members host an ice-cream social. And your Scoutmasters can compete in a cobbler cook-off. Sounds like a delicious week for everyone.
AT THE LAKE: You can navigate the spring-fed 65-acre lake in a sailboat, kayak, rowboat or floating discs that spin. You can also fish for bass, bluegill and catfish.
LET'S PLAY: You can play flag football, soccer and horseshoes, but the big event is the campwide relay race in which you can compete with your troop or join another troop.
---
JUNE NORCROSS WEBSTER SCOUT RESERVATION
Connecticut Rivers Council; Ashford, Connecticut; gotowebster.org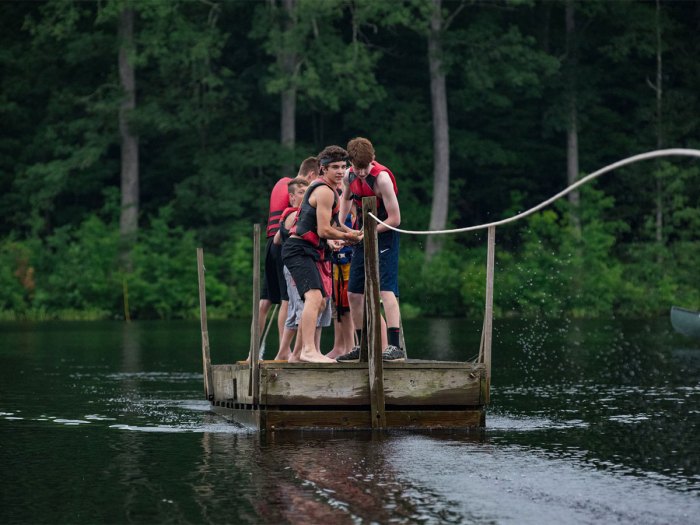 BIG, BIG, BIG: Everything at this 1,200-acre camp is big — big dining hall, big aquatics lake, big merit badge program. With about 75 merit badges offered, you can choose some you might not find at other summer camps, like Engineering, Golf, Railroading and Whitewater.
RUGGED LIFE: Step back in time and live the life of a mountain man or woman. Grab a friend and try using a crosscut saw, throwing a tomahawk and saying "hello" to a team of oxen. Afterward, grab a plate of delicious barbecue ribs cooked over a canoe.
YOUR WEEK: Want to spend your week building robots, learning a trade, fishing or driving ATVs? After the primary summer camp season, the camp offers specialized weeks when you can focus on a specific activity theme.
---
CAMP HO NON WAH
Coastal Carolina Council; Wadmalaw Island, South Carolina; camphnw.com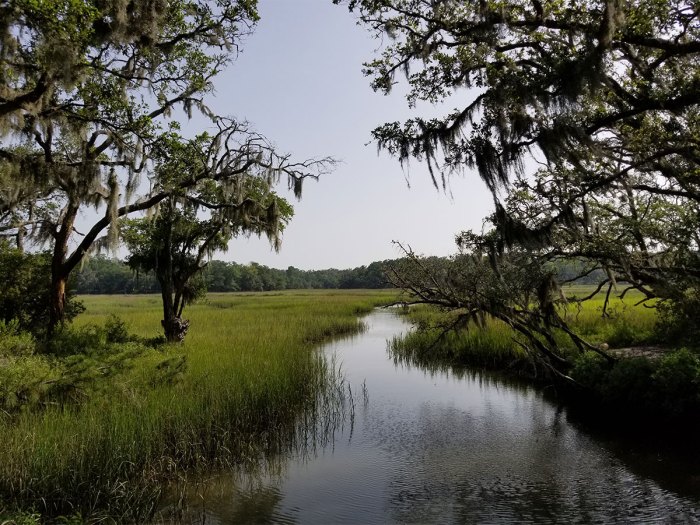 WATER, WATER, EVERYWHERE: Surrounded by the Bohicket River, a saltwater creek and a lake, the camp offers practically any aquatic fun you can imagine: paddleboarding, canoeing, boating, sailing, swimming in the pool and waterskiing. The camp also has a fishing pier, where Scouts have caught redfish, sheep head, trout, stingrays and sharks.
COLONIAL TIMES: Sign the leather ledger with a quill and ink for a week in Bohicket Towne, a colonial village where re-enactors show you what life was like in the 1700s. You can create candles, knives and wooden tools, as well as watch the re-enactors fire a replica cannon.
GO OFF-SITE: Not all programs are held at camp: Work on your Aviation merit badge at a nearby airport. Get your Second Class 5-mile hike requirement signed off with a trek to the only tea plantation in North America.
Inspire Leadership, Foster Values: Donate to Scouting
When you give to Scouting, you are making it possible for young people to have extraordinary opportunities that will allow them to embrace their true potential and become the remarkable individuals they are destined to be.
Donate Today