Even at Yosemite, Prepare to Be Flexible!
Editor's note: Yosemite is operating under special restrictions right now. Find details from National Park Service.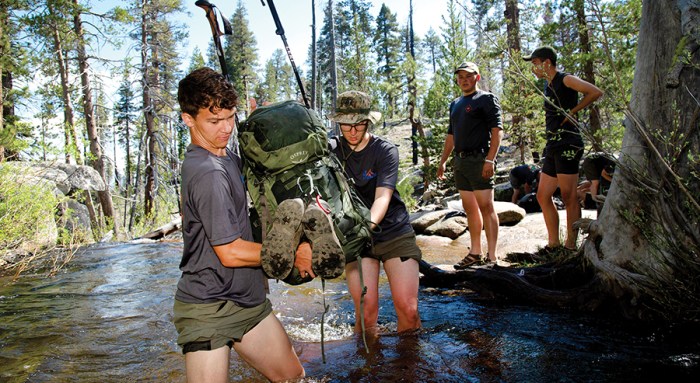 Plan. Prepare. Adjust.
Great. Only a couple of miles into a multiday trek, and it's getting late and there's already a water crossing.
A wide one.
Sure, it's not that deep, and there are spotters ready to help. But it's wide. It's fast. And it's not exactly bathwater warm. Not even close.
"There was no turning back," says Anton Boyce of Troop 65 from Morgantown, West Virginia. "We came to California to do this hike. [The water] was cold. I did not expect it to be that cold. There was nothing else I could do. I took my shoes off, put on my river crossing shoes and went across."
Colin Petsko might have been a little anxious with that first hurdle too. How are we going to get through this? he thought. But once it was done, the 12-year-old says, "I felt proud of myself. I'd crossed a river!"
Welcome to Yosemite National Park.
Changing Plans
It all started a year before, when the troop decided to make an early June trip to California. On non-National Jamboree years, Troop 65's summer outings are either inexpensive treks close to home or big adventures out of their area. This year was a big one, as in, "let's take Scouts and adults 2,500 miles across the country to go backpacking" big.
"We came to the decision it was going to be either Yosemite or Kings Canyon National Park," says Will Burton, 15. "But the more we looked at the snowpack, the more we realized Kings Canyon wasn't going to happen."
There was record-setting snowfall into the late spring that had the guys changing plans, routes and logistics right up to the time boots hit the trail. And then there was the training.
"I did some training hikes with the backpack," says Thomas Giggenbach, 14. "I sorted my gear several times, and I helped sort troop gear as well."
"I have a loop around my neighborhood that's all up and down, so I'd get my backpack and stuff a blanket with a 45-pound weight in there," Brooks Pirrong, 16, says. "The loop is a mile, and I'd do it at least twice a day."
Preparation isn't just gear lists and pushups.
"I got myself over the fact that it will probably be hard," Anton said.  "It's amazing to think we can go out 'there' with nothing but a backpack and survive out in the wilderness for half a week."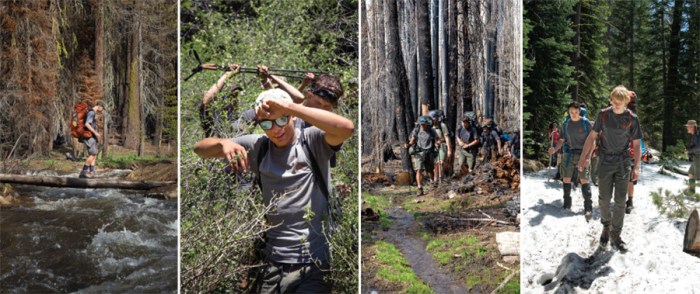 Something for Everyone
At Yosemite, the troop divided into three different hiking crews by age and experience, each starting at different trailheads. Sometimes their routes crossed, but every crew had a little different adventure.
The first two crews accomplished about 20-25 miles over three nights, while the more experienced Crew Three covered more than 52 miles, camping out for five nights.
For many in Crew One, this was their first extended backpacking trip.
"I was pretty much brand new to the whole idea of backpacking," Colin says. "I found out I really liked it. And Yosemite is beautiful!"
"Being with your friends makes hiking 10 times more enjoyable," says Will, a member of Crew Three. "Walking from A to B and just being able to talk about stuff, sing songs or whatever, just makes everything way better."
Crew Two was in between with a mix of experience, but seeing big scenery and Crew Three's itinerary inspired them.
"I'd want to stay longer so I could see so much more," Thomas says. "I think it would be wonderful to stay for several weeks and be able to explore all of what Yosemite has to offer."
Snow Going
They found some trails were closed because of snow, even in June. Other routes were snowy but passable — or the paths were obstructed because trail crews had not been able to clear fallen trees downed by snow storms.
"Snow was my biggest fear," Will says.
He had been in late-season snow before and knew how to deal with it, but he was concerned for other,
less-experienced members of the troop. And Will found the downed trees just annoying.
"I'd have to stop every 10 steps and check, stop and check, making sure we're going the right way," he says.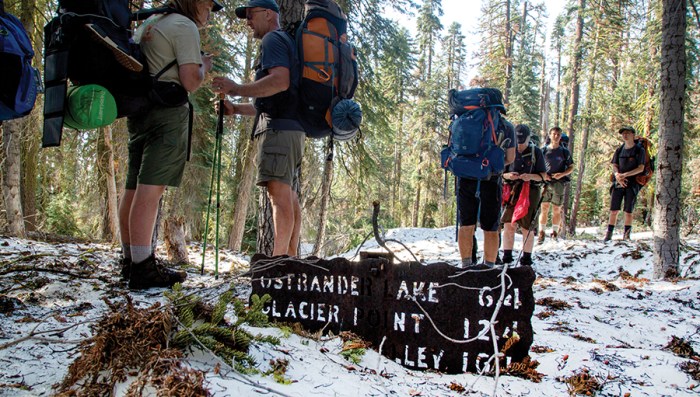 Lots to Enjoy, Lots Learned
Maybe to make up for late-season snows disrupting Troop 65's plans, Yosemite gave the Scouts a week of blue skies, warm days for hiking and cool nights for good sleeping. The views weren't too shabby, either, especially hiking along the south rim of Yosemite Valley, taking in El Capitan and Yosemite Falls or at Glacier Point with Half Dome in your face.
"And people climb that?" Anton says. "It's crazy!"
Oh, yeah, and then there was the bear.
"I was not expecting to see a bear," Will says. "I hopped over a log and I turned around. It was coming down the hill!"
Fortunately, the bruin was at a safe distance and apparently had other places to be.
On the trail, Thomas learned he could handle adversity during a long day of hiking when everyone was tired and wanted to stop.
"I thought, 'Just power through it; push through; you'll be done soon. We're going to get through this and be at the campground soon.' "
"I learned about my physical abilities — being able to hike that far and that long," Anton says.
But don't get too serious. As long as your backpack fits, Colin says, just enjoy the experience.
"Don't think too hard about anything," he says. "Go with the flow and take in all the nature."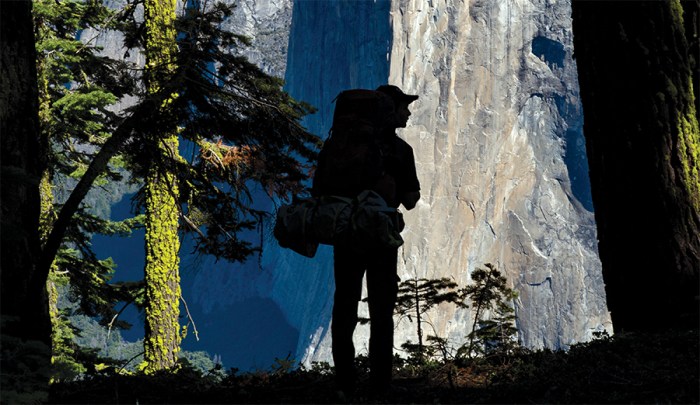 Yosemite Fun Facts
Although Yosemite was our third national park, it was the inspiration for the national park system. President Abraham Lincoln signed a bill in 1864 setting aside the Mariposa Grove and Yosemite Valley for public use and preservation.
Yosemite is about 1,200 square miles, supports more than 400 species and welcomes about 4 million visitors per year.
The park has three groves of giant sequoia trees that can be more than 25 feet thick and as old as 2,000 years.
About 500 of the famed Buffalo Soldiers, members of African American army regiments, served as some of Yosemite's first park rangers.
It's the only national park to bid on hosting the winter Olympics (it bid on the 1932 Games).
Yosemite Falls is one of the tallest waterfalls on Earth. It's made up of three separate falls: Upper Yosemite Fall, the middle cascades and Lower Yosemite Fall, for a total of 2,425 feet of cascading water.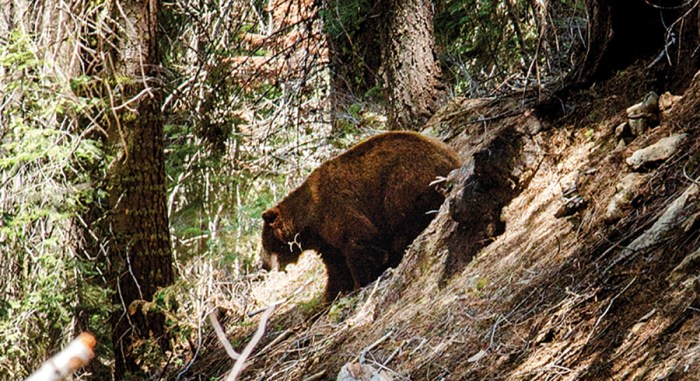 Life with a Bear Canister
Hanging food is illegal in Yosemite National Park, so backcountry visitors must use approved bear-resistant canisters.
The park has containers available for rent, and there's a list of other acceptable containers on their website. Some tips for using a bear-resistant container:
Bear canisters work only when closed and locked.
Containers should be placed on the ground 25-50 feet from the campsite and where a bear cannot easily roll it away or knock it into a stream or off a cliff.
Do not hang or attach anything to the container. Bears can use attached ropes to carry away the can for their own picnic.
Maximize space inside the container by repackaging items that have bulky and unnecessary packaging. Repackaging also saves on garbage.
Plan ahead to make sure all food and other smellables needed on the trip fit inside the canisters.
Inspire Leadership, Foster Values: Donate to Scouting
When you give to Scouting, you are making it possible for young people to have extraordinary opportunities that will allow them to embrace their true potential and become the remarkable individuals they are destined to be.
Donate Today