How to Escape From a Rip Current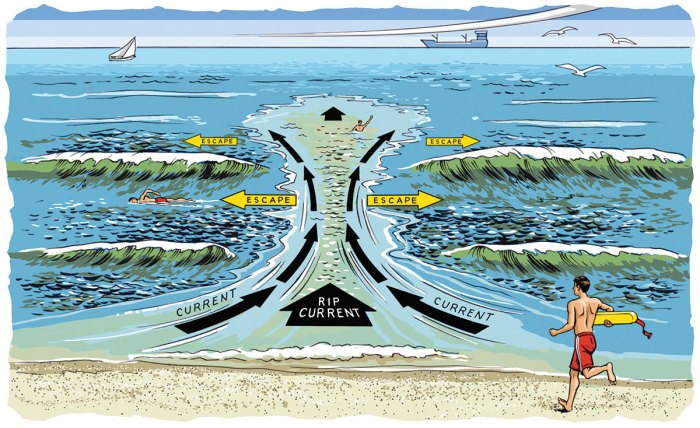 If you go to a beach with breaking waves, like along an ocean shoreline or a large lake, there's a possibility rip currents will form. After waves break on shore, water surges back out in a channel — sometimes as narrow as 10 feet wide or as wide as 100 feet. This fast-moving water can carry sand, sediment and swimmers hundreds of feet away from land.
Swimmers who get caught in rip currents can lose their balance, panic and drown as they are pulled out into the water. You might have heard terms like "undertow" or "rip tide," giving the impression that the water pulls you under. It doesn't; it pulls you out.
It can be difficult to spot while in the water, but you can tell where a rip current might be as waves often don't break in that area. You might also see foam or seaweed being pulled out.
If you get caught in a rip current, don't exhaust yourself trying to swim against the current. Here's what you should do instead:
Don't panic.
Shout to people on shore for help.
Swim across the current, parallel to the shoreline, until you're clear of the current. When you reach calmer water, head back to shore.
If you get tired, float on your back until the current calms.
Inspire Leadership, Foster Values: Donate to Scouting
When you give to Scouting, you are making it possible for young people to have extraordinary opportunities that will allow them to embrace their true potential and become the remarkable individuals they are destined to be.
Donate Today