Making a List? Here Are 29 of the Best Toys and Games of 2021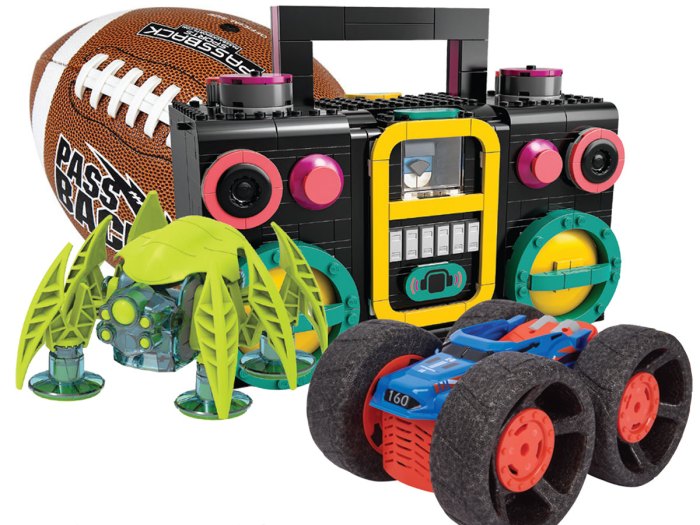 Here are some of the top toys, games and gadgets to put on your list for this holiday season. Each one was kid-tested and approved.
---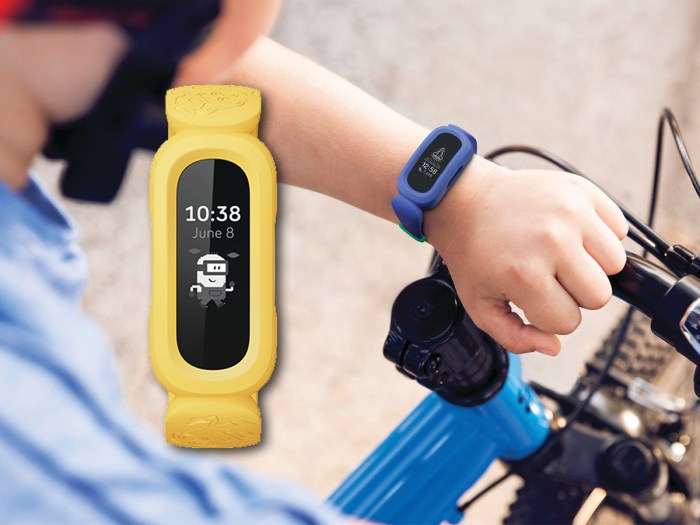 KEEP UP WITH YOUR FITNESS
Keep up with your fitness and more with Fitbit Ace 3. Our 7-year-old tester says this newest tracker is easy to use — and because it's waterproof, you can swim with it. She also likes the timers, calendar and alarms. You can have fun with the family challenges and animated clock faces. The Ace 3 can also help you track your sleep and build healthy habits. ($79.95, fitbit.com)
---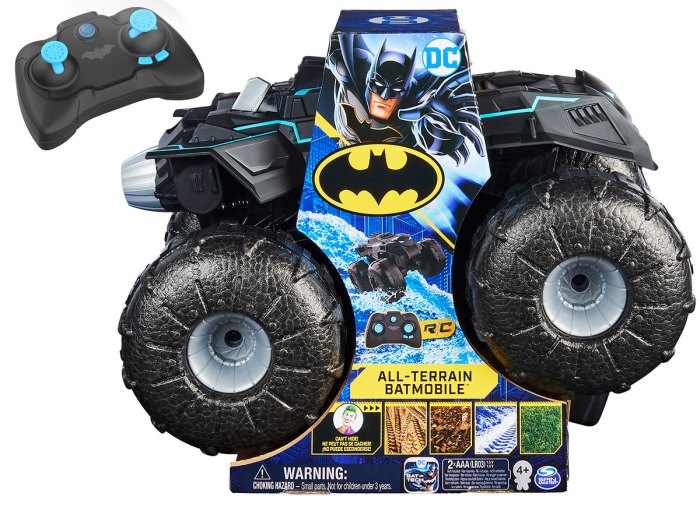 VROOM!
Land or water, rocks or snow, the RC All-Terrain Batmobile can tackle it all. Our 8-year-old tester, who plays with the car regularly, says, "It has lots of power, is fast — a little noisy — and fun to drive." Plus, it's compatible with all 4-inch Batman action figures. ($49.99, spinmaster.com)
---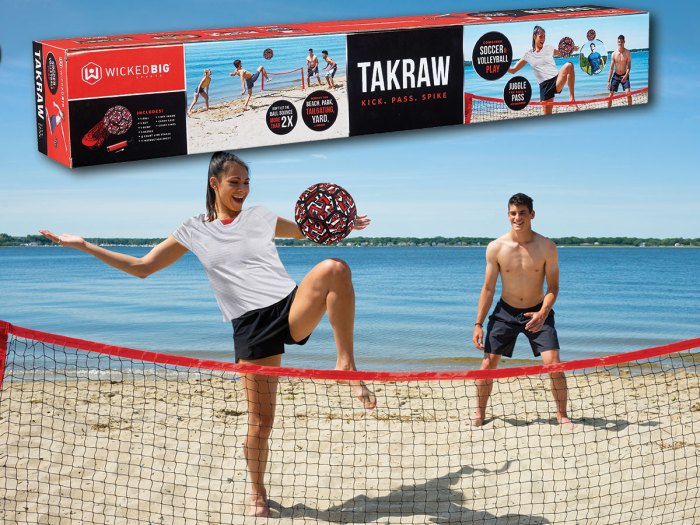 VOLLEYBALL/SOCCER MASHUP
It's a volleyball/soccer mashup. With Takraw, kick, knee and head the ball back and forth over the net — just don't use your hands. Our 13- and 14-year-old testers say it takes some decent soccer dribbling skills. The portable game comes with a 10-foot-wide net, net stand, ball, pump, court lines and carrying case. ($20, wickedbigsports.com)
---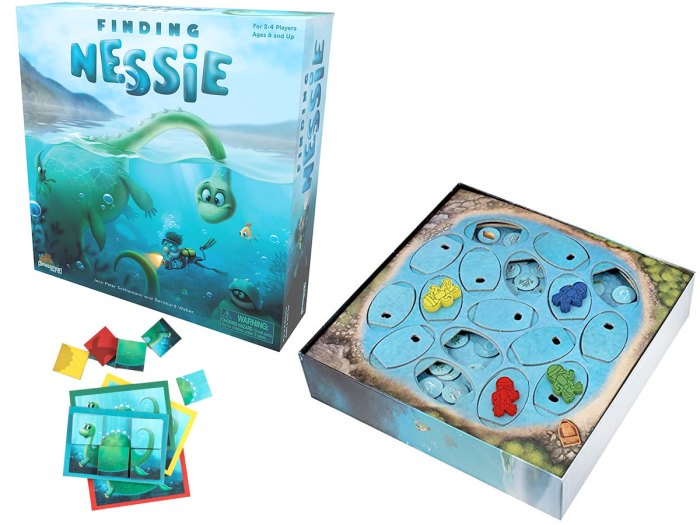 MONSTROUS FUN
According to our tester family, Finding Nessie is a "super creative and fun game. It's probably best for elementary schoolers, but even the teens and adults enjoyed it." With the 3D board game, you "dive" to collect pieces of a "photo" of the Loch Ness Monster and try to be the first to put them together. ($34.95, goliathgames.us)
---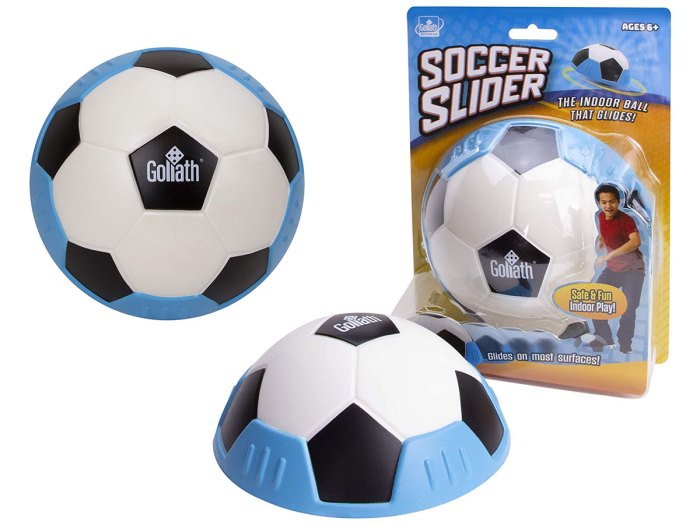 GET YOUR KICKS INSIDE
When the weather outside is frightful, you can get your kicks inside with Soccer Slider. This soft foam half-ball works on any smooth indoor surface. Practice skills or challenge friends to games. Although the slider is designed to do just that, our 8-year-old tester still got it airborne! ($14, goliathgames.us)
---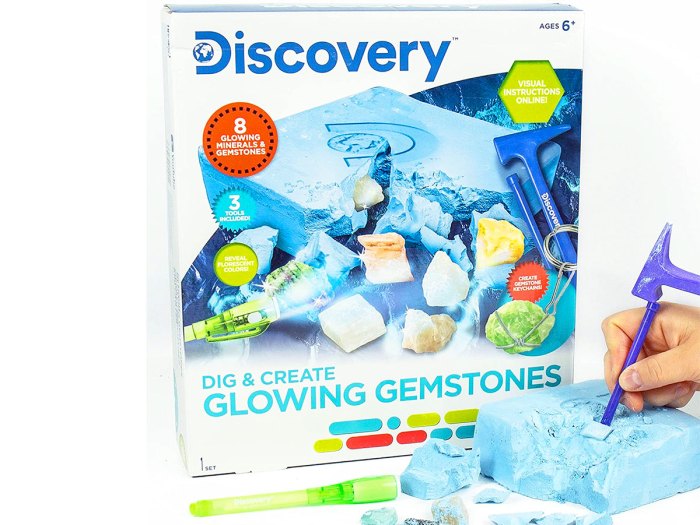 A GEM OF A KIT
Calling all future geologists! With the Discovery Dig & Create Glowing Gemstones kit, dig up eight hidden gemstones with the provided tools. Then you can use them to make keychains or lanyards. Our 7-year-old tester made a necklace with the "super cool" gems. Since they glow in the dark, you can also search for them with the included black light pen in a nighttime scavenger hunt. ($12.97, horizongroupusa.com)
---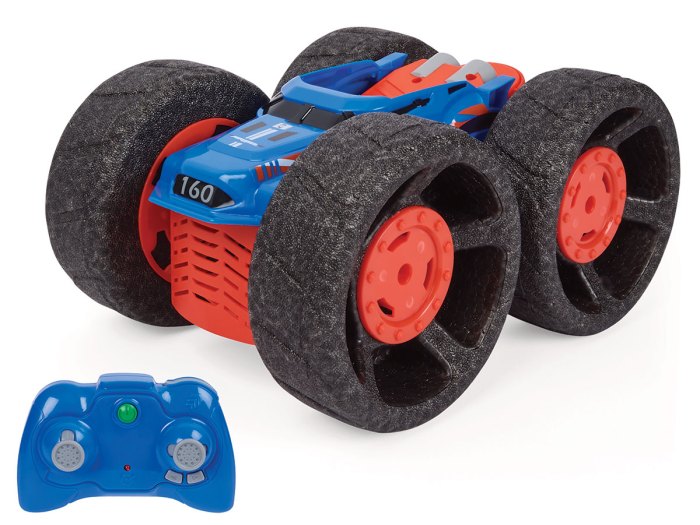 JUMP TO IT
It's fast and, like the name says, it jumps — almost 2 feet high! Airhogs Jump Fury RC indoor vehicle was a hit with our 8-year-old tester, who says, "I like that the wheels are foam so Mom doesn't say that I should try not to crash into the wall." So no worries about baseboards or furniture. "The car often lands upside down when it jumps, but it can still drive like that." ($39.99, spinmaster.com)
---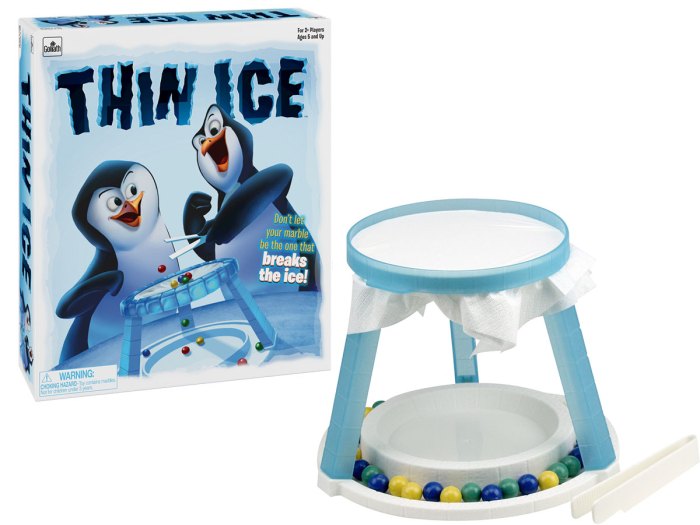 BREAKTHROUGH GAME
Thin Ice is an easy game, but like our eight-year-old tester says, "It's so fun!" Take turns using the tweezers to place the marbles on the tissue — just don't be the one holding the tweezers when the marbles break through the "ice." ($11.57, goliathgames.us)
---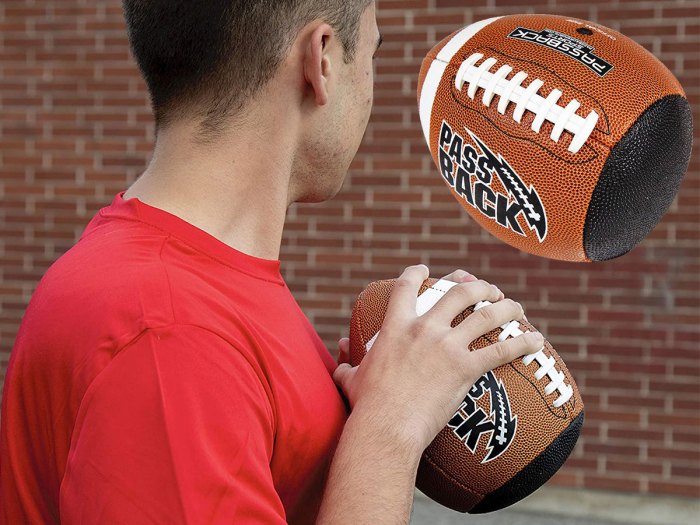 TOSS A FOOTBALL ON YOUR OWN
Want to toss a football but nobody's around? With the Passback Football, no worries! Throw it like a regular football at a hard surface, and it comes back to you. Our 14-year-old tester says that it "bounces great — several feet — off solid outside walls." (3 sizes, $18.95-$32.95, passbacksports.com)
---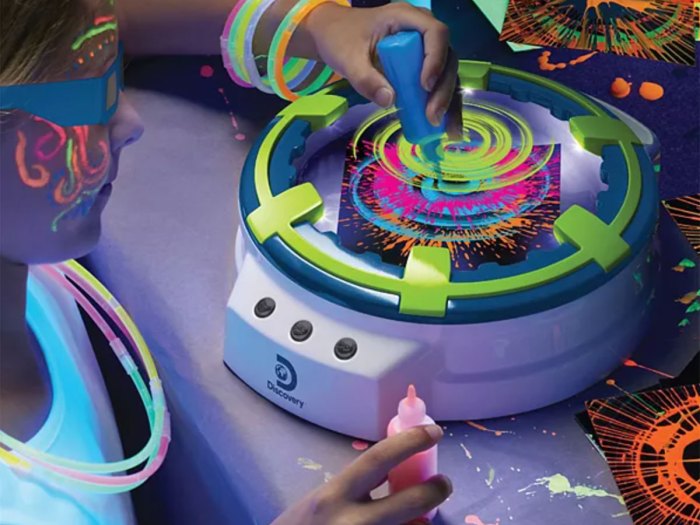 SPIN UP SOME FUN
With the Discovery 3D Glow Art Spin Station, place a card in the middle of the swirl machine wheel, pick a glow paint, turn off the lights, put on the provided glasses and watch your creations pop in 3D! Your parents don't have to worry about big messes because there's a splash guard. ($24.99, kohls.com)
---
A NEW SPIN
Our 8-year-old tester and her entire family are big fans of the Spirograph Animator. They have a traditional Spirograph, but this update grabbed and kept their attention. It includes the same cool gears to make designs, but now lights and motion spin your masterpieces into lifelike 3D. ($29.99, playmonster.com) Note: This product is not recommended for those with photosensitivity issues.
---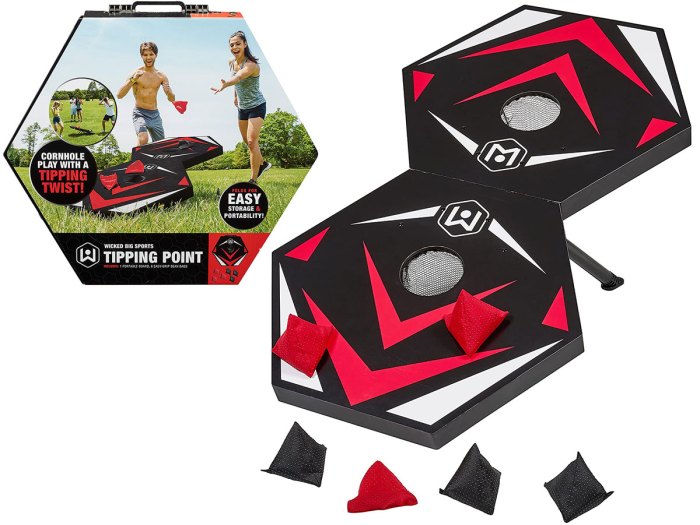 HERE'S A TIP
It's basically the game of cornhole, but with a Tipping Point. The board can tip toward you or your opponent while you're playing, making it even more challenging. Our tester teens say, "It's loads of fun, but be sure to play outside because the chalk starts coming out of the bags after a while!" ($64.99, wickedbigsports.com)
---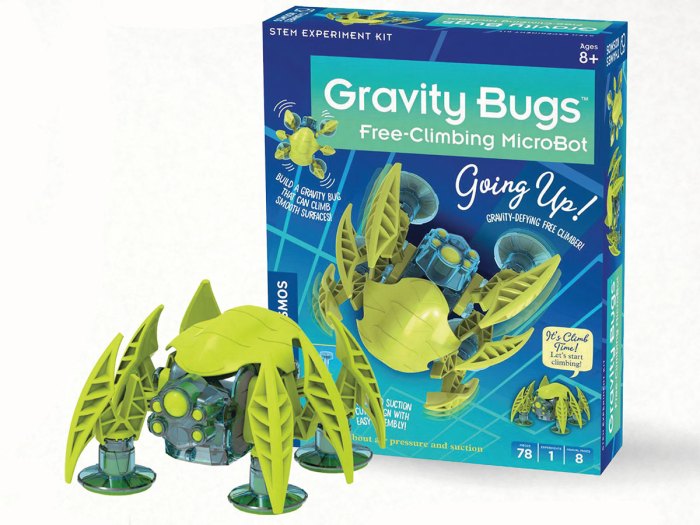 CLIMB THE WALLS
They're called Gravity Bugs because they defy gravity. After you build it, this little beetlebot can climb smooth walls. Also included are science experiments for you to conduct with your microbot. Our 7-year-old tester needed help putting together his bug, but once he did, he loved it. ($19.95, thamesandkosmos.com)
---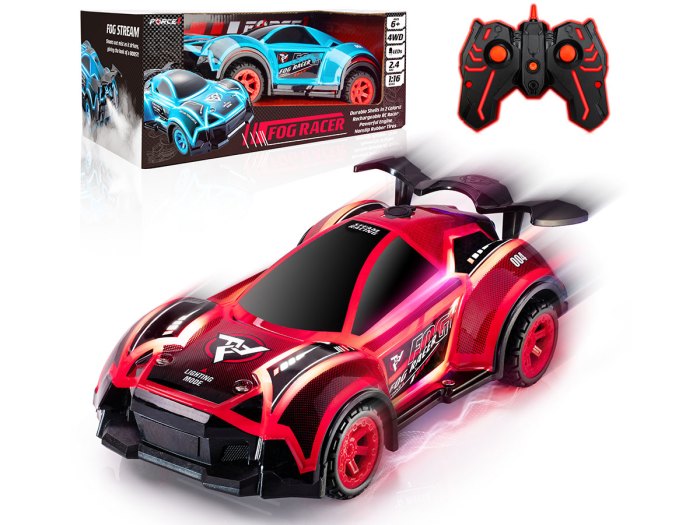 SMOKIN' RACER
The remote-controlled Fog Racer Car will wow you with its power and signature trail of fog "exhaust." Our 8-year-old tester thought that was the coolest part. There are five flashing LED modes on the car's different shells — blue and red — which you can swap whenever you want. ($39.99, usatoyz.com)
---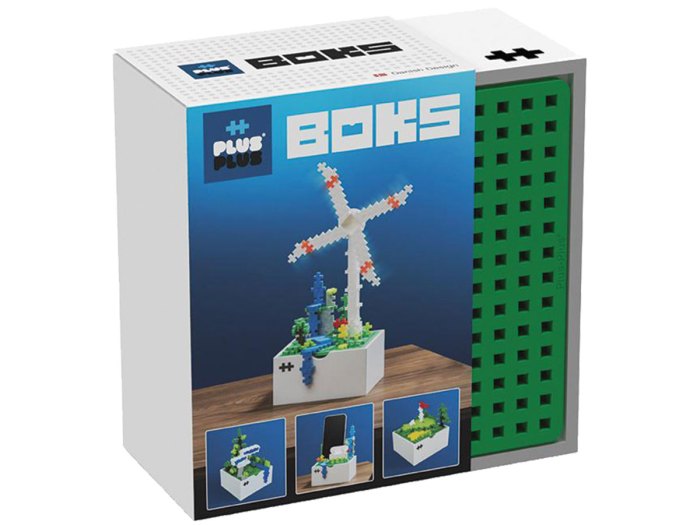 ANOTHER WAY TO BUILD
Use the 220 pieces to build whatever you can imagine, including the BOKS Windmill. The wooden platform supports lots of ideas. "I had a great time building things with it," reports our 13-year old tester. "10/10 would buy with my own money." His 11-year-old sister adds, "It's like Legos but different." ($24.99, plusplususa.com)
---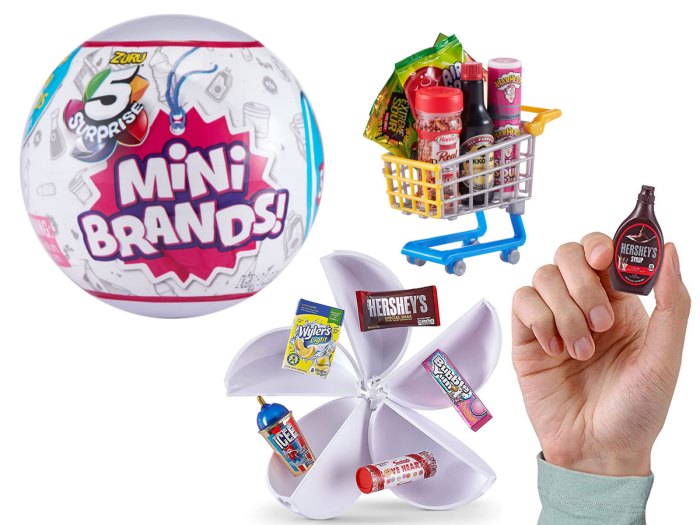 MINI PLAY
Have fun with some of your favorite shopping brands in miniature with 5 Surprise Mini Brands Series 3. Each replica looks real — only in a very tiny form! Our 7-year-old tester loved them, using the mini products along with many of her other toys. Her mom says she wishes they'd had this stuff when she was growing up. ($6.99, zuru.com)
---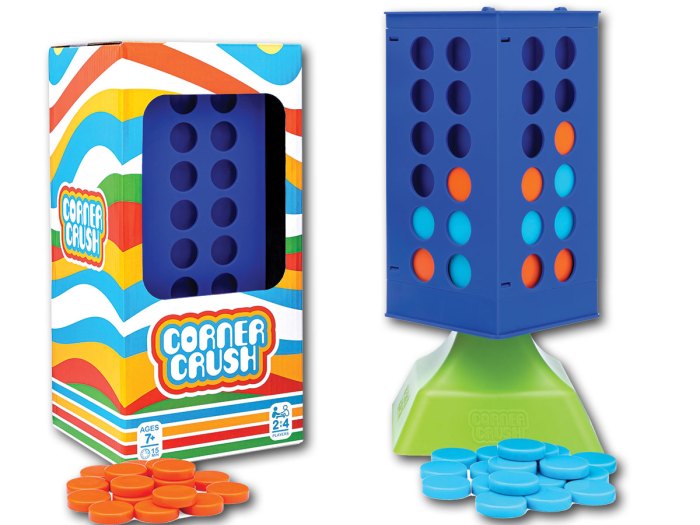 NEXT GEN CONNECT FOUR
Corner Crush is like a next-level Connect Four game, so it's easy to learn the basics but still challenging and fun to play. "It's a fun game for all ages," reports one of our testers, a 16-year-old girl. "It has a lot more strategy to it than you expect at first." ($19.99, biggcreative.com)
---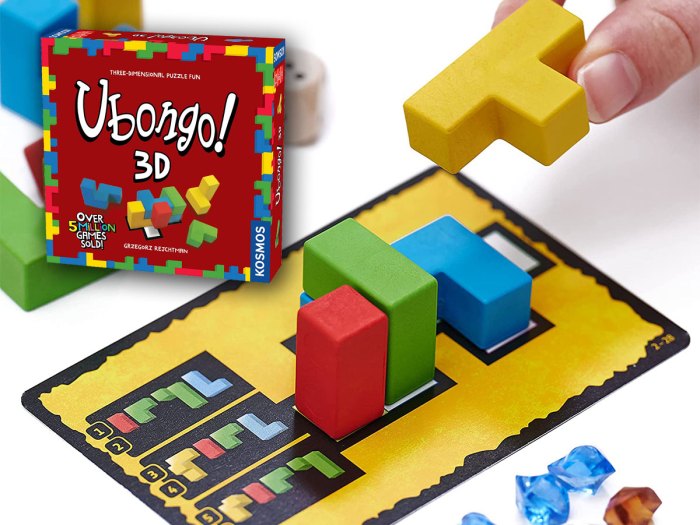 PLETHORA OF PUZZLES
"It's challenging and fun," reports our tester family about the game Ubongo 3D. "It's great for anyone 10 and older who enjoys puzzles and brainteasers." Players compete to fit interlocking geometric blocks into specific areas — and the puzzles get progressively more challenging. ($39.95, thamesandkosmos.com)
---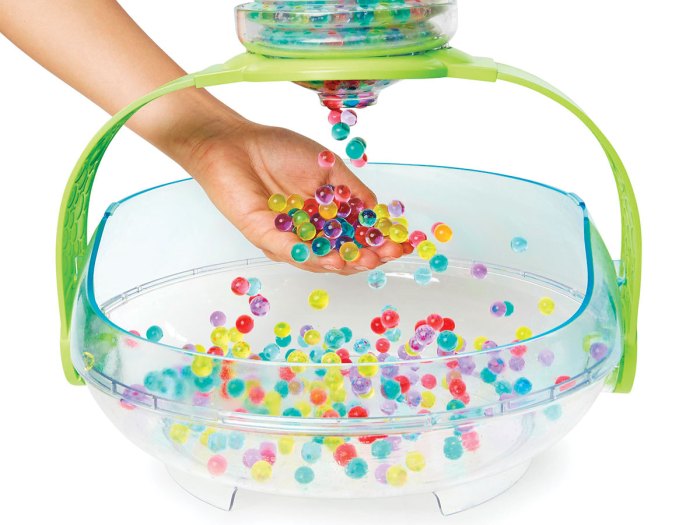 TAKE THE CHALLENGE
If you haven't gotten into Orbeez yet, maybe now's the time. The Orbeez #Challenge playset lets you have fun in 15 different ways with the squishy water beads. Use the six included tools to blast, scoop, roll, shape, crush them and more. Our 7-year-old tester made her own stress squeezers. ($24.99, spinmaster.com)
---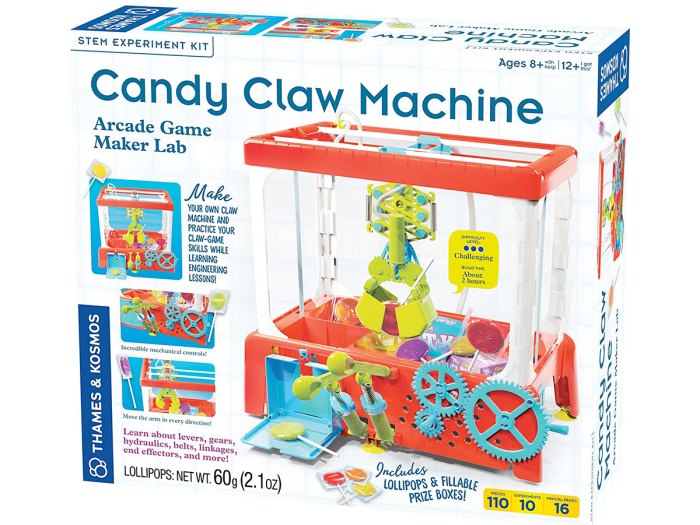 STEM IS SWEET!
Build your own working Candy Claw Machine, and learn about engineering along the way. Our 8-year-old tester says, "It was really cool to see how the gears and parts make it work." But his favorite thing about it? The kit comes with candy. ($39.95, thamesandkosmos.com)
---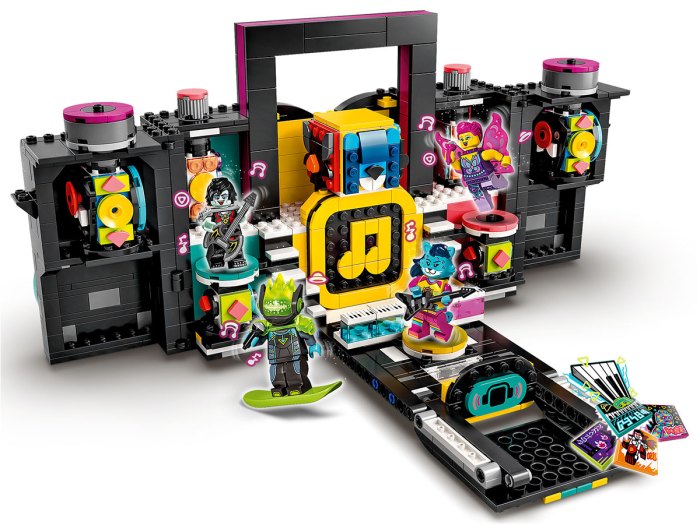 ROCK OUT
Make your own music videos with Lego VIDIYO's The Boombox. Build the stage and then use the app to choose tunes, scan the minifig stars and customize your style (tropical, space, forest or castle), then record and share. The set folds up to look like a boombox. ($99.99, lego.com)
---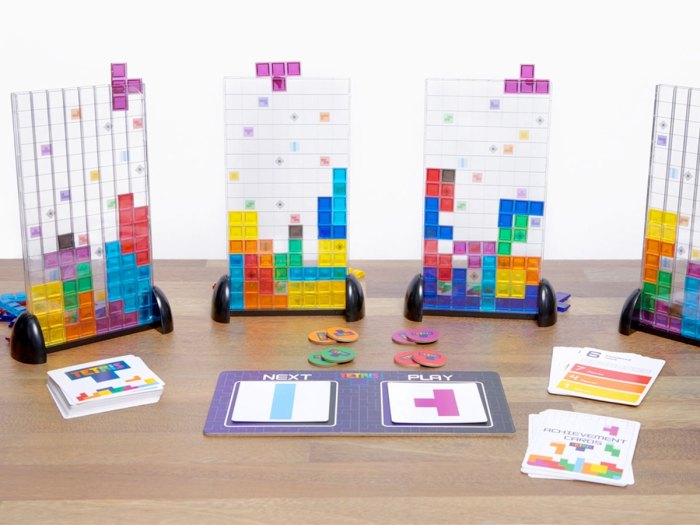 TETRIS 2.0
It's tabletop Tetris! Drop your pieces into your tower and score points against your opponent by completing rows and taking on special challenges for bonuses. Our 11-year-old tester played with her dad and almost beat him — "but he outsmarted me. It's easy to play." ($19.99, buffalogames.com)
---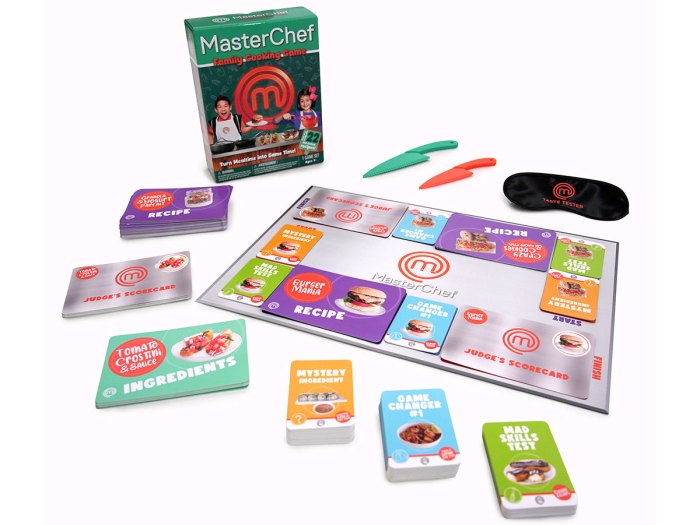 COOKING UP FUN
Turn breakfast, lunch or dinner into a game with the MasterChef Family Cooking Game. Our tester family says it "takes planning, but it's fun once you have the ingredients." Cook your way through challenges, do taste tests, improve your culinary skills, discover new foods and more. ($19, wildertoys.com)
---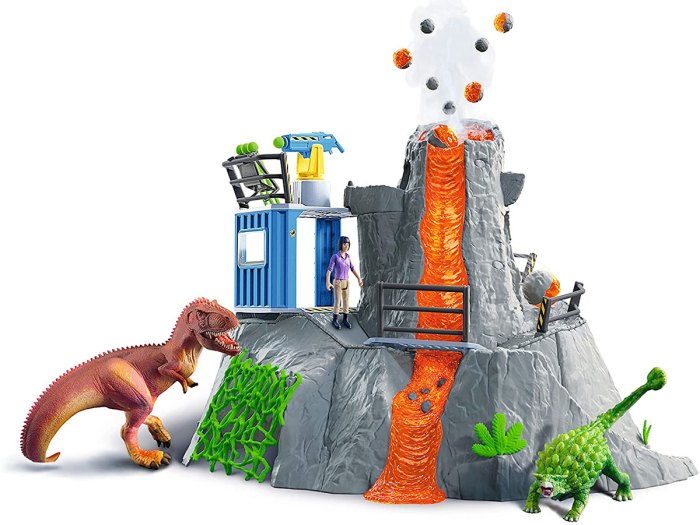 ERUPTING WITH FUN
The Volcano Expedition Base Camp playset is literally action packed: the volcano steams, the lava glows, the dinosaurs roar, and you can make an eruption with rocks. It comes with a Giganotosaurus, Ankylosaurus and a dinosaur researcher named Yuki. ($129.99, schleich-s.com)
---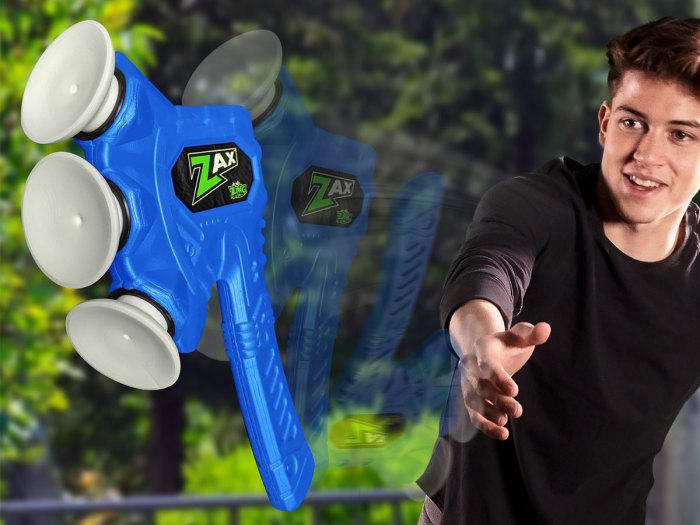 AX-CITING ACTION
Zax is fun for the whole family. Seriously. The 5- and 8-year-olds were our official testers, but ages 4 to 59 got in on the foam ax-throwing action. The 8-year-old says, "I like them because they suction cup to a lot — walls, ceiling, chairs and floor." And the soft and safe foam holds up well after many throws. ($12.99, zing.store)
---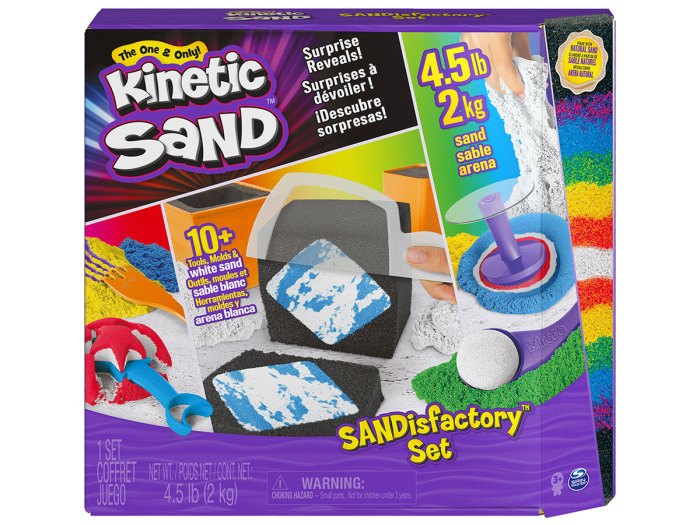 BE SAND-ISFIED
Shape just about anything with the Kinetic Sand Sandisfactory Set. Our 7-year-old tester described the special sand to be "like slime and sand put together in one. I love how it feels." The set comes with 10 different molds and tools, as well as 4.5 pounds of kinetic sand. ($19.99, spinmaster.com)
---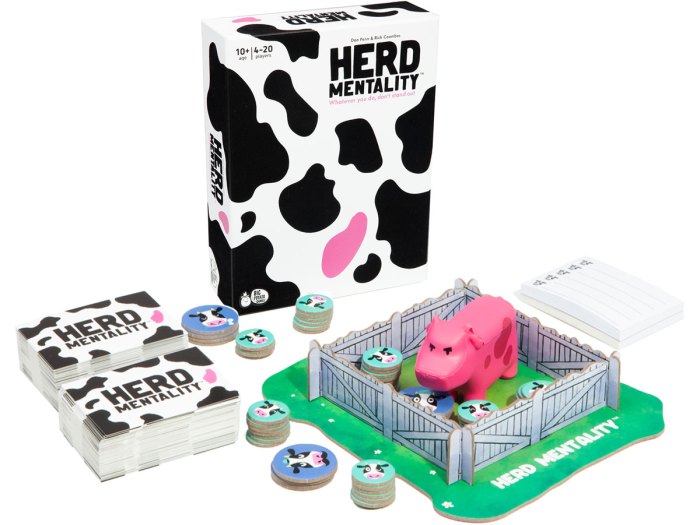 HOW NOW PINK COW
Whatever you do, don't stand out — after all, it's Herd Mentality. Answer the random game questions how you think everyone else will answer. Do it successfully and earn a cow token. If not, you get the pink cow. The first to get eight tokens without the pink cow wins. Our 13-year-old tester advises, "The more players, the better." ($20, bigpotato.com)
---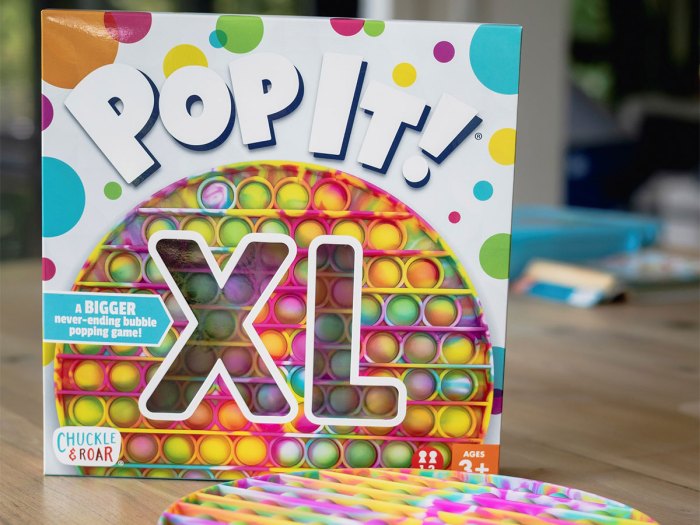 POP TIL YOU DROP!
Who doesn't like to pop bubbles? Get your fix with Pop It! XL. Our 11-year-old tester says it's "easy to play and is really fun! It would be an amazing road trip game." Her 8-year-old brother adds, "I like the strategy of it, and I like that there's more than one way to play." ($19.99, chuckleandroar.com)
---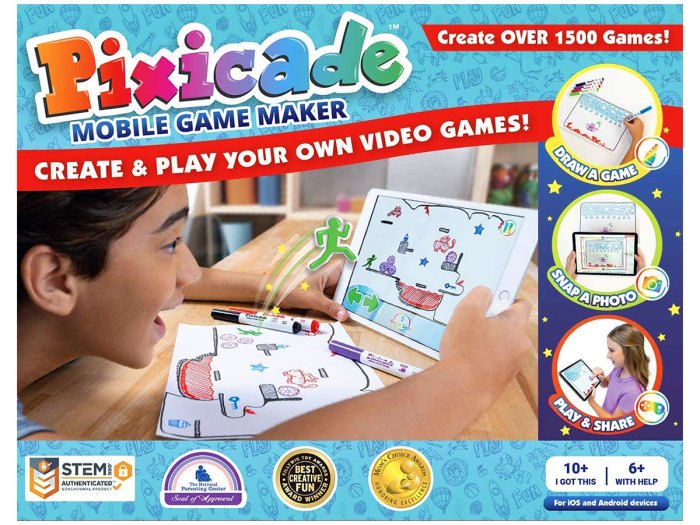 DRAW IT AND PLAY IT
Make your own videogames with Pixicade Mobile Game Maker. Draw it, snap a pic, and then play and share. Our 7-year-old tester likes drawing his own games, but he also likes the pre-drawn games so he can just add obstacles and goals to them. ($19.99; $29.99 for Pixicade Plus, which includes more game creations, types and stickers, and also 16 game templates, pixicade.com)
Inspire Leadership, Foster Values: Donate to Scouting
When you give to Scouting, you are making it possible for young people to have extraordinary opportunities that will allow them to embrace their true potential and become the remarkable individuals they are destined to be.
Donate Today