Get Back to Nature at These 6 Amazing Scout Camps
It's time for another great summer at one of these cool Scout camps.
Click here to see more Scout Camps featured in previous years.
---
RESICA FALLS SCOUT RESERVATION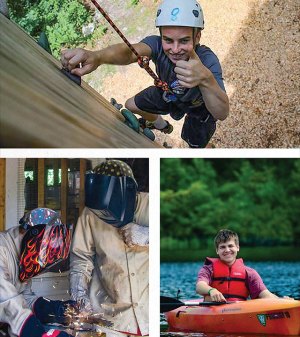 Cradle of Liberty Council; East Stroudsburg, Pennsylvania
resicafalls.org
NOT YOUR NORMAL CHOICES: You can choose from about 70 merit badges, including 10 Eagle-required. Some of these badges are Engineering, Fly Fishing, Law and Metalwork.
DOWN TO THE SWIMMING HOLE: There are six miles of streams around camp where you can fly-fish for trout. You can also paddle across a lake in a "dragon boat," a canoe adorned with a golden dragon's head. But everyone's favorite aquatic areas are the swimming holes along Bushkill River, some of which feature waterfalls.
GAMES GALORE: The parade field is the place to be for games. Play gaga ball, grab some friends for human foosball and make some free throws on the basketball court. The camp also offers a scavenger hunt, a triathlon and extensive campwide games.
---
ZINK HIGH ADVENTURE BASE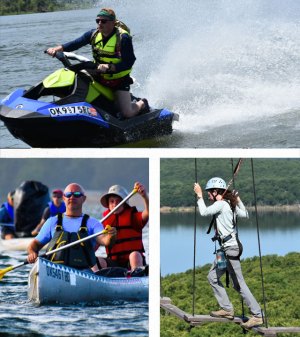 Indian Nations Council; Tulsa, Oklahoma
zbase.camp
GO BIG: You'll have plenty of room to play at the 35,000-acre "ZBASE." The high-adventure base features ATV and mountain biking courses, an 18-station sporting clays complex and a 10,000-acre lake where you can ride Jet Skis and go wakeboarding on a cable wake park.
TAKE A TREK: Instead of working on merit badges for a week, you choose one of eight different treks, each planned with multiple activities, like backpacking and riding horses. You can stay overnight in treehouses, air-conditioned bunkhouses and cabins.
FLYING HIGH: Get a good look at the property from the 70-foot-tall steel tower. This COPE (Challenging Outdoor Personal Experience) course features more than 40 elements, such as picnic tables and a boat. You can also zip line 1,300 feet across the lake.
---
CAMP EASTON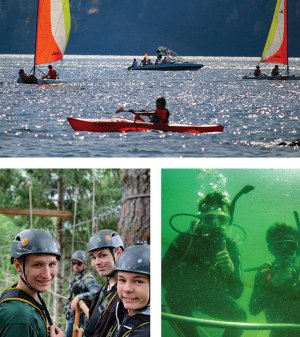 Inland Northwest Council; Harrison, Idaho
nwscouts.org/campeaston
THE WATER'S FINE: Jump into Lake Coeur d'Alene, where the water is usually around 70 degrees and Scouts are enjoying practically any aquatic activity you can imagine, including scuba. The camp offers every aquatic merit badge except for Whitewater. You can also play on the camp's large inflatable water toys or paddle in a 24-foot-long fiberglass canoe.
HAVE SOME FUN: Evenings at Easton are always entertaining. On Wednesday nights, the camp staff sets up a projector at the parade grounds and screens a movie. Other nights feature games, such as Scouts-versus-staff tug of war.
UP FOR A CHALLENGE: You can also go zip lining or earn special camp awards, like the Gold Paddle for patrol participation or the Knot Ninja for tying eight knots in 75 seconds. But the big prize is the Iron Scout Award. Not only must you complete the Knot Ninja challenge, but you also have to identify plants and animals, demonstrate fire-building and first-aid skills, and master the archery range.
---
BEAUMONT SCOUT RESERVATION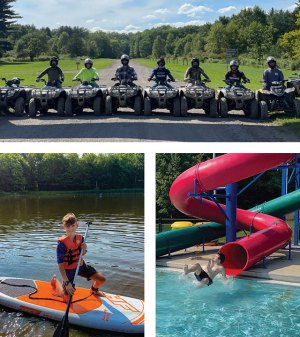 Lake Erie Council; Rock Creek, Ohio
lecbsa.org/beaumont
LOVE THE LODGING: You can pick from 27 campsites at the 1,200-acre camp or choose to stay in one of the 12 troop lodges. These buildings have bunk beds and can sleep up to 36 people. They also come with a small kitchen, complete with a pot-belly stove and refrigerator.
WEAR THEM PROUDLY: The camp offers more than 100 merit badges, but badges aren't all you can earn. Scouts who participate in the camp's honors program receive a totem that they can decorate with beads as they achieve certain Scouting accolades. Do the Mile Swim? You get a bead. Inducted into the Order of the Arrow? Another bead. After a few years, some Scouts wear their totem decked out with nearly two dozen beads.
LET'S GO SWIMMING: Beaumont features four lakes, where you can go fishing for sunfish and bass. You can also head down to the camp's swimming pool and zip down one of the two waterslides. The slides drop you into the shallow end of the pool so Scouts of all swimming skill levels can enjoy them.
---
CAMP PIGOTT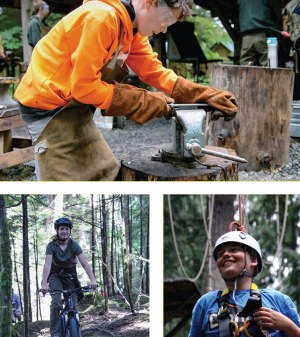 Chief Seattle Council; Snohomish, Washington
seattlebsa.org/camping/camp-pigott
GO ON AN ADVENTURE: The camp offers mountain biking, blacksmithing and boating, but for older Scouts who want more, there's Adventure Camp. This option provides treks offering whitewater rafting, rappelling down a waterfall and scaling natural rock faces.
TAKE THE FAMILY: Want your whole family to experience summer camp fun? Then sign up for Camp Getaway, a shortened family camp that's separate from the traditional summer camp experience. You and your family can still go hiking, mountain biking, swimming and climbing. You can also invite a non-Scouting family to attend with you.
HIT THE TRAIL: You can bring your bike or use one of the camp's bikes to travel along the camp's trails. A staff member can help you work on the Cycling merit badge and take you on a guided ride to scenic spots and views of waterfalls.
---
CAMP BARSTOW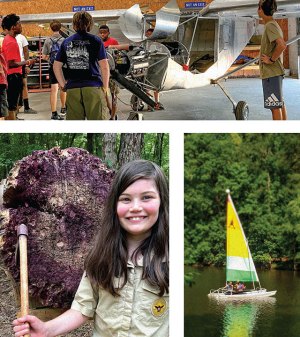 Indian Waters Council; Batesburg, South Carolina
campbarstowsc.com
BUNDLE UP: Tired of running from one side of the camp to the other for your next merit badge class? That won't happen at Barstow. The camp has bundled together its merit badges, and campers work together in cohorts during half-day sessions. That means more individualized learning and more field trips, like to the local airport or fish hatchery.
ORGANIZED FREE TIME: The staff plans plenty of fun activities to do in the evenings, including basketball and pingpong tournaments, ecology tours and tubing behind a motorboat. On Tuesday nights, the staff puts on a karaoke party.
CAMP OUT, CAMP IN: Every campsite has two or three Adirondack shelters, each with 12-16 bunks and electrical outlets. They also have large canvas tents and covered hammock shelters, complete with rigging.