Check Out the 22 Top Toys and Games of 2022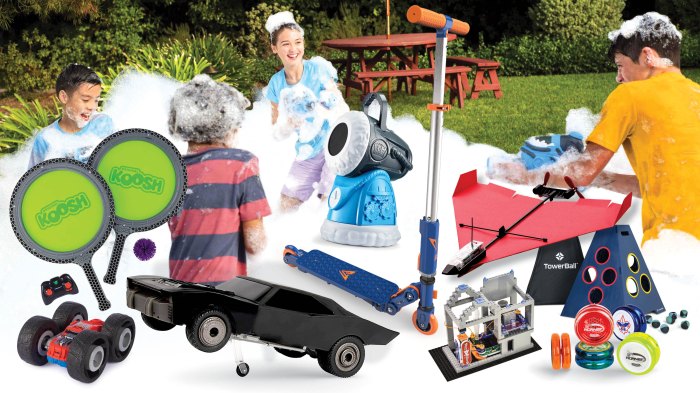 It's the season for wish lists and giving gifts. To help you get started on your holiday shopping, here's our annual Scout Life guide for some of the hottest toys and games of the year. Each top toy was kid-tested and approved.
---
MIX IT UP
Mix your own music with just a punch, swipe, twist or flick of the handheld RUKUSfx Motion-Controlled Music Mixer. It comes with more than 120 music tracks and 80 sound effects, and you can also record your voice and upload favorite tunes. Our 9-year-old tester really got into it after watching the video tutorial. "I like the different music and sound effects," she says. "My favorite sound is 'ew'!" ($49.99, rukusfx.com)
---
MEASURE UP
"Who knew you can measure in squirrels?" our 8-year-old tester says about the T.A.P.E.S.! party game. Measurements have never been sillier — or more fun. You and your friends will measure dimensions of everyday objects by chicken eggs, gummy bears, bananas and more. ($27.99, hogwildtoys.com)
---
A GOOD BAT TIME
The Turbo Boost Batmobile RC will help you save Gotham City. With its turbo speeds and wheelie-popping action, our 8-year-old cousin testers rate it as "niiiice!" and "awesome pants!" The custom controller makes it easy for the youngest drivers to play, too. ($44.99, spinmaster.com)
---
IT'S A BIRD! IT'S A PLANE! NO, IT'S A DINO!
How would you like a dinosaur with a 10-inch wingspan flying around your room? With just a little help from her mom, our 9-year-old tester was able to assemble the Jurassic Park: Dominion Flying Pterosaur Quetzalcoatlus. While the motorized dino circles overhead, you can check out fun facts about it in the included brochure. ($19.95, store.thamesandkosmos.com)
---
BOUNCY ACTION
With paddles like mini trampolines, the Koosh Paddle Play Set provides lots of bouncy action. Bounce the Koosh ball back and forth with a partner — moving farther and farther apart for a challenge. By yourself, see how high you can get the ball going. Since the paddles are lightweight, you can even hold one in each hand and bounce the ball from hand to hand. ($16.99, playmonster.com)
---
THE SKY'S THE LIMIT
Our brother and sister testers loved Catch the Moon. The game is recommended for ages 8 and up, but our 5-year-old tester really got into it, too. "We had a lot of fun and made a really tall ladder tower," says the 8-year-old. "I also think it is sort of suspenseful, but in a fun way." One word of caution: The ladders are made of a very soft wood, so be careful not to break them. ($34.95, store.thamesandkosmos.com)
---
FAST-PACED PLAY
You have to think and act fast with Match Madness. Be the first to match your blocks to the patterns on the playing cards. There are 60 challenges and five different levels of difficulty. Our 13-year-old tester loved it. He says, "It's a really fun game for older kids and their parents to play together." ($29.99, foxmind.com)
---
QUICKSANDY FUN
Be the last jungle explorer standing in the quicksand! With the Sink n' Sand game, players take turns removing sticks from the Kinetic Sand platform to see whose character falls in next. "It's a fun game. At first the instructions are a bit complicated," our 7-year-old tester reports. "I'm a fan of Kinetic Sand, so it's not messy and not a problem for me to clean up." ($21.99, spinmaster.com)
---
GO YO-YO
Duncan's Hornet Yo-Yo is designed for advanced looping tricks and high performance. Its ball-bearing axle allows for long spin times, and this latest design has been updated for better response. Get going with competitive two-handed play. ($9.99, yo-yo.com)
---
MONSTER JAM DRAGON ACTION
It's simple but fun: Launch your monster truck over lava onto the castle turret or into the dragon's mouth. The Monster Jam Dueling Dragon playset is easy to put together. Several ramps are included for lots of monster truck stunt action. Our 8-year-old tester went back to play with it again and again. ($16.99, monsterjam.com)
---
POWER TO THE PAPER
Launch paper planes into powered flight with the PowerUp 4.0 RC Paper Plane. It includes an on-board flight computer, autopilot assist, gyro, accelerometer and two propellers. There was a learning curve with control, but our 8-year-old tester soon got the hang of it. (She doesn't recommend the foam and balsa wood add-ons, which were hard to build and didn't hold up in crashes.) ($89.99, poweruptoys.com)
---
ALL ABOARD!
If you're into trains, the Switch & Signal game is for you. As our 8-year-old tester reports, "It's fun a game to play as a team." Cooperation is the key. Be the team that makes your trains the best at running on schedule and delivering goods. There are two game boards, one featuring train routes of North America and the other of Europe. ($47.99, store.thamesandkosmos.com)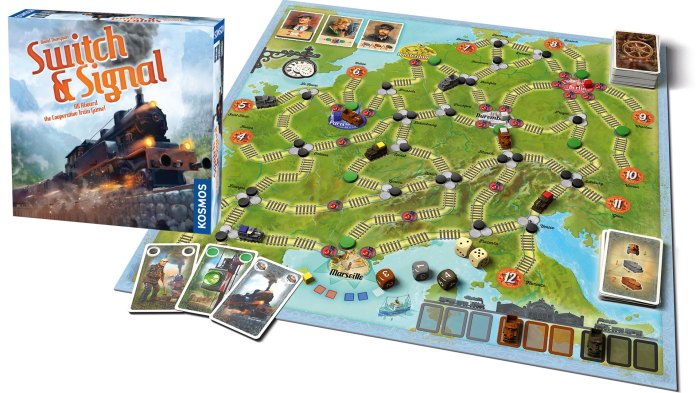 ---
CHAIN-REACTION
Action ZipLinx calls itself "high-flying chain-reaction fun." With pieces that can launch up to 6 feet high, it takes classic domino toppling to the next level. The first-time rubber-band setup can take a while, but it's worth the work. Our 5- and 8-year-old brother and sister testers had a blast making slow-motion videos to rewatch the action. ($19.99 Hi-Fly set, $44.99 Triple Tower Blast set; ziplinx.com)
---
CODE+CONTROL
Robo Dozr is a robotic bulldozer that you build, along with its wireless controller. Our 8-year-old tester needed some help assembling it, but then she was soon driving it, as well as programming routes and using it to deliver stuff. She says, "I like coding it and honking the horn." ($59.95, store.thamesandkosmos.com)
---
SWEET SCIENCE
Science and math have never been tastier than with the Lollipop Lab. You'll master info on crystallization, as well as temperature, measurements, conversions, volumes and weight as you create red cherry and blue raspberry lollipops. And, yes, our 6-year-old tester confirms they're delicious! ($21.95, store.thamesandkosmos.com)
---
BUILD AND WIRE IT UP
It's a construction and circuitry mash-up with Snap Circuits BRIC: Structures. Build more than 20 brick projects wired up with lights, sounds and moving parts. Our 8-year-old tester was able to follow the instructions mostly on her own, as well as make her own modifications so the House of Lights also included sounds. ($55.99, elenco.com)
---
A-MAZE-ING RACE
Build your own 3D mazes, swap boards with your opponent and race balls through them with Maze Racers. With endless possibilities, the magnetic walls make creating easy. Although the game is recommended for players ages 7 and up, our 5-year-old tester says he also had a blast with it. ($39.99, foxmind.com)
---
I SPY A PRIVATE EYE!
The Master Detective Toolkit is all you need to start investigating. With 25 different experiments, gather evidence through fingerprints, shoe prints and tire tracks, as well as analyze hair, fiber and soil samples. Codebreaking, secret symbols and invisible ink also play a part in the fun. Our 8-year-old tester needed a little help from Dad but loved all the activities. ($49.95, store.thamesandkosmos.com)
---
FOAMY FUN
Our 5- and 8-year-old testers (as well as their parents) are big fans of Fömalanche. The machine cranks out lots of light foam to play in — it's even more fun on a windy day. Mom was thrilled because "the cleanup was easy," since the foam dissolves on its own and doesn't leave anyone very wet. ($50, fommania.com)
---
IT'S A TOSS-UP
Get ready for some friendly backyard competition with TowerBall, which takes the toss game to a new level. Our teen sister testers say it's "loads of fun and harder than it looks. It's very well made and easy to put together." Along with the collapsible tower, it comes with eight soft hackey balls and a backpack carrying case. ($189.99, calibergames.com)
---
FLIP OUT
With its Super Soft Technology foam tires, the Air Hogs Flippin' Frenzy RC indoor vehicle is no danger to the furniture. Two different stunt modes allow it to spin around or flip from race car to muscle car and back again. "I like spinning it in circles really fast," reports our 9-year-old tester. ($49.99, spinmaster.com)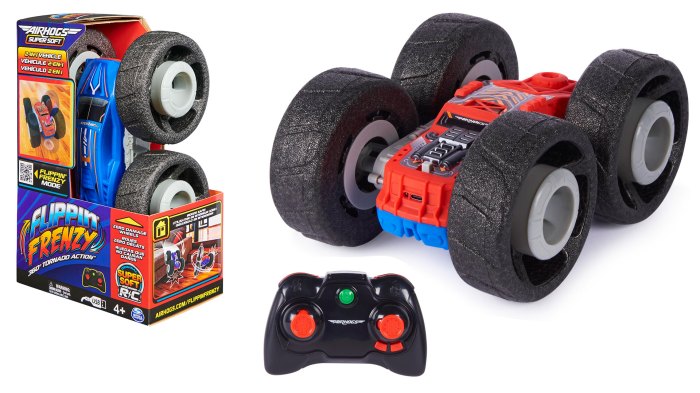 ---
ON THE GO
You can take the Valor Kick Scooter pretty much anywhere. It is lightweight and folds down small enough to fit in your backpack or locker. With its shocks and anti-rattle T-bar, rides are smooth and quiet. Also, the platform deck is more "foot friendly," according to our 8-year-old tester. He says, "It doesn't hurt your legs if it swings around and smacks you." For ages 8 and up. ($99, valorscooter.com)