Eagle Scout Wins Famous Sled-Dog Race
Fighting 65 mph winds while trekking across a frozen Alaskan trail, Brent Sass fell and tumbled into the snow. When he got up, he couldn't find the path.
"There was zero visibility," he says. "I used my headlamp to shine into the abyss."
For nearly two hours in the dark, Sass hunkered down while the wind and snow battered him and his team. They needed to find the trail, and Sass was the only one who could navigate — or talk.
Brent Sass, 42, of Eureka, Alaska, is a sled-dog musher and an Eagle Scout. He did get back on the trail that blustery day, and his team of 11 dogs pulled him 975 miles over eight days in March 2022 on the way to winning the Iditarod, the most famous sled-dog race in the world.
"It was a pretty treacherous race," Sass says. "I never felt like it was over until I was racing up the street to the finish line."
LEARNING TO LEAD
Sass grew up in a Scouting family: His dad, uncles and cousins all earned the Eagle Scout rank. He joined as a Cub Scout and later crossed over into Troop 424 of Excelsior, Minnesota. Scouting taught him about leadership and teamwork.
"It laid the foundation to manage a team and deal with differences," he says. "Little did I know I'd be using all of these skills."
After high school, he moved to Alaska and began mushing for fun after seeing his neighbor do it. Wanting to try competitions, he started raising his own sled-dog team. Today, he owns more than 50 dogs, with about half being in the prime racing age (between 3 and 7 years old).
Sass has been racing since 2006, notching up multiple top finishes — including three victories in another 1,000-mile race, the Yukon Quest. To be successful, you have to know your animals.
"They all have personalities and strengths," Sass says. "It's my job to put all of that together."
PUTTING IT TOGETHER
Before last year, Sass had mushed in the Iditarod five times, finishing in the top five twice. It takes more than assembling the perfect team to win. Studying the trail, monitoring the dogs' health and staying on schedule all play a part.
"Experience is everything," Sass says. "Each year, you learn something new about your dogs, the trail and yourself. You're soaking in all of that knowledge and applying all of it."
For such a long race, you need to have speed and stamina. At most checkpoints, mushers and their teams rest for a few minutes. They also have one 24-hour break at the halfway point. Sass estimates that over the eight-day stretch, he slept for only 14 hours.
After Sass and his team took the lead halfway through the race, he kept checking the progress of the other mushers behind him. Rarely does one hold on to the lead for long. He reminded himself to stay positive and focused all the way to the finish line.
"It was a 20-year dream coming to fruition. It was pretty awesome," he says. "Dream big and go after it — that's the biggest thing."
---
This Year's Race
More than two dozen mushers will compete in the 51st Iditarod, which begins March 4, 2023. Sass is scheduled to race again.
---
Dog Health and Safety
Racing in harsh conditions requires sled dogs to be in tip-top shape. Veterinarians check on each sled dog before the race, including physical examinations, blood tests and heart checks. Vets check on the dogs during the race, too. Mushers carry clothes and booties to help protect their dogs from the elements.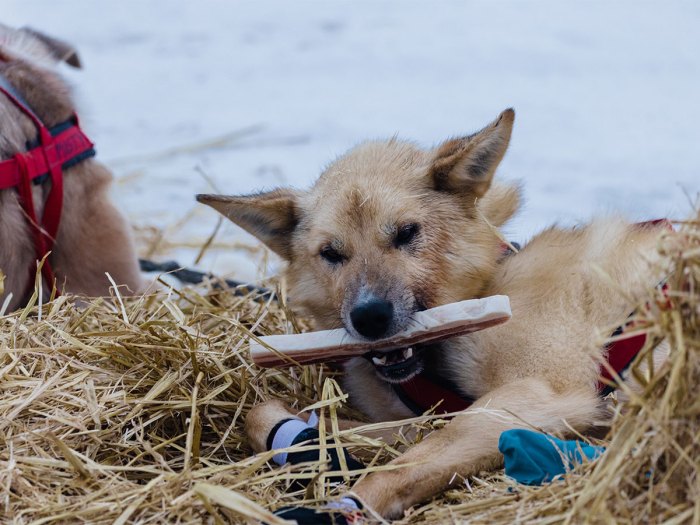 Inspire Leadership, Foster Values: Donate to Scouting
When you give to Scouting, you are making it possible for young people to have extraordinary opportunities that will allow them to embrace their true potential and become the remarkable individuals they are destined to be.
Donate Today