Making a List? Here Are Some of the Greatest Toys of 2023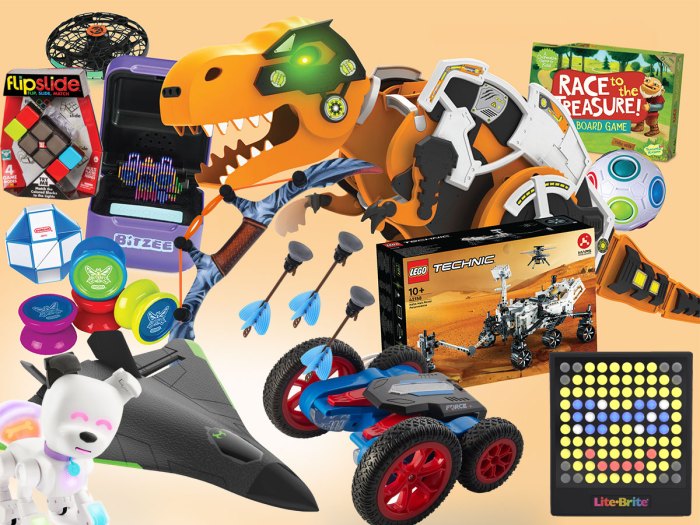 The most wonderful time of the year is here. It's play time! Check out our annual Scout Life guide for some of the latest and greatest from the toy world. Each toy or game was kid-tested, reviewed and approved.
---
ROBO REX
Build, code and rampage with Code+Control Dinosaur Robot: REX. Move the dino in all directions, make its eyes light up and trigger all kinds of sounds — including it chowing down. Our 12-, 10- and 8-year-old testers can't get enough of it. The 12-year-old says, "It's challenging to do the wiring when putting it together, but it does everything it's supposed to and is really cool." ($69.95, store.thamesandkosmos.com)
---
LOVE AT FIRST BYTE
Here's your next best pet friend: the Dog-E Interactive Robot Dog. Feed and cuddle it, teach it tricks, draw pictures with it, play games and more. The robot's changeable colors and more than 200 sounds and reactions keep the fun going. Our testers, a boy and girls ages 8, 10 and 12, needed adult help installing the app and getting it synced up, but then they were off on their own with their new pet pal. ($79.99, wowwee.com)
---
PULLING STUNTS
Take off with the Sky Viper Vector Performance Stunt Jet. Our 10-year-old pilot says it's the most fun he's had in a while! Launch it by throwing it in the air or taxiing along a smooth surface, like a sidewalk. It's easy to fly, and you can do loops and barrel rolls with the controller's stunt button. Our tester says you need a large space until you get the hang of it, so fly it in a field or empty parking lot. The plane is durable in crashes, and it has great battery life. ($79.99, sky-viper.com)
---
JUST THE FACTS
Are you up on your Disney knowledge? Have a fun family showdown with the fast-moving trivia game Beat the Parents Disney Edition. The board and card game includes 150 different drawing and active challenges. Our tester family says it's fun and easy to play. ($19.99, spinmaster.com)
---
FROM THE BATCAVE
It's the ultimate for DC Universe fans: the Flash Batmobile RC car. This limited edition 1989 vehicle roars to life with sound effects, working head and tail lights, and jet-engine water-vapor exhaust. The charging base doubles as a spinning display platform. As he raced it around, our 9-year-old tester rated it as "very cool!" Action figure and batteries included. ($179.99, spinmaster.com)
---
CAN'T PUTT IT DOWN
Our 9-year-old-testers of the Nerf Trick Shot Golf Set say, "It's fun to create your own mini golf course." The set comes with an adjustable putter, ramp and cups, allowing for different ways to customize each hole. And since the golf balls are typical Nerf foam, it's safe for inside. ($34.99, franklinsports.com)
---
TAKE IT FOR A SPIN
Duncan Butterfly XT is a high-performance yo-yo especially for beginners and intermediates, offering 10 times the spin as the original model. Its ball-bearing axle and wide, durable design are perfect for all your long-spin tricks. ($5.99, duncantoys.com)
---
TAKE IT OUT!
The main idea with the Faction Skyfire Target Drone is to take it out of the sky. Use a connected gel bead blaster or standard soft dart shooter as the drone flies on auto-pilot, hovering and maneuvering to avoid attacks. The free app tracks your hits, accuracy and reaction times. Our 10-, 13- and 16-year-old testers loved it, but caution that wind can affect flight control. Also, the drone has a 7-minute flight time and takes about 45 minutes to recharge. ($34.99, factionbattle.com)
---
JAMM'D TIME
Get your party started and take it wherever you go with the Jamm'd Speaker. It fits in the palm of your hand, but it's packed with Bluetooth 5.0 technology that works up to 800 feet. Our 9-year-old tester used its handle and a clip to attach it to her backpack while she "pumped up the music." Take your pick from 16 cool designs. ($25, watchitude.com)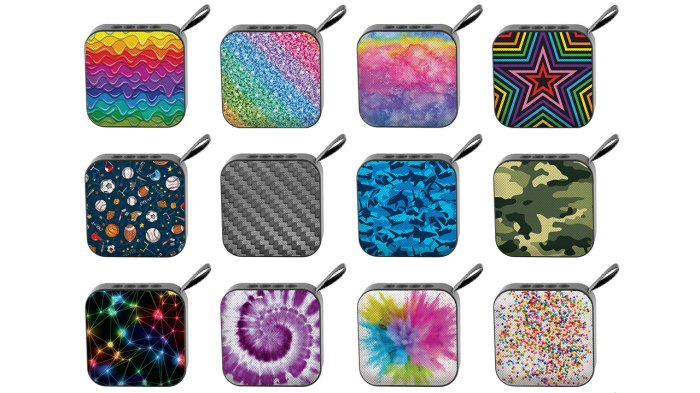 ---
MIX IT UP
Punch, swipe, flick or twist to make DJ-style mixes. The new RUKUSfx PRO comes with lights and more than 120 music tracks and sound effects. Set your music to the beat with the new BeatSnap technology. Then connect to the app for advanced editing and mixing tools, plus games. Our 9-year-old tester really got into it. "There are so many games to choose from," she says. "The music's not bad, and you can make your own." ($69.99, rukusfx.com)
---
FLIP FOR FUN
Flipslide was an instant hit right out of the packaging with our testers, ages 12, 10 and 8. With this handheld electronic game, flip and slide the colored blocks to match them to the lights. The four different puzzle games are fast-paced and challenging, and you can play solo or with friends. Batteries included. ($19.99, moosetoys.com)
---
JUST KITTEN AROUND
Collect as many colorful cats onto your property as you can with the Here, Kitty, Kitty! game. Play can get kind of crazy with the stray dogs and furballs! Our tester family had a hiss-terical time with it. For 3 to 6 players. Recommended for age 10 and older. ($29.95, firesidegames.com)
---
ON TARGET
The Avatar Defender Bow hit the bull's-eye of fun with our sister (age 9) and brother (6) testers. The suction-cup arrows can fly more than 40 feet, but they're lightweight with soft tips, so they're safe for indoor play. "The arrows are very easy to shoot, and I like that they stick on the windows, walls and ceiling," sister says. ($24.99, zing.store)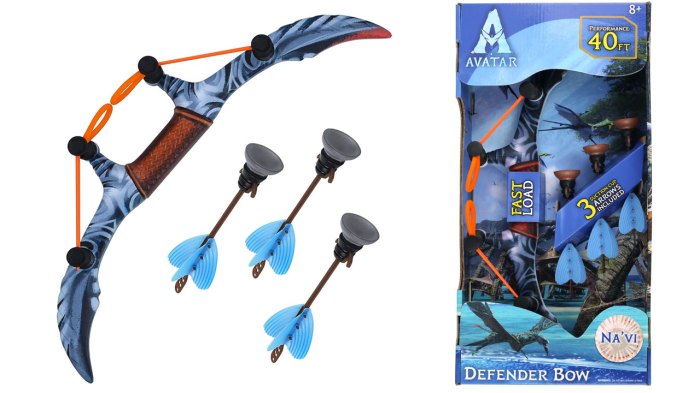 ---
TWIST AND TURN
Flip it and drive it right-side up or upside down. Spin it on two wheels and watch it light up. The Tornado LED Stunt Car and its grippy rubber tires can take on all kinds of terrain. Our 9-year-old testers assure us, "It's really cool." ($44.99, force1rc.com)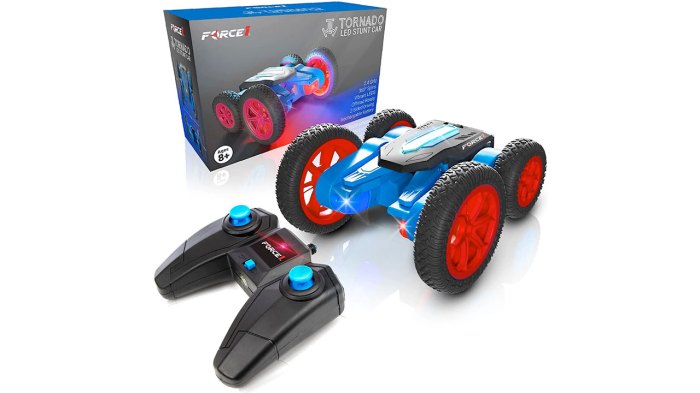 ---
A-MAZE-ING FUN
Draw cards and move your game piece through the maze to get to your character in Disney100 Labyrinth. You can change the board's layout to get to your destination faster or block opponents. Of the 15 games they tried out, this was our tester family's favorite. They say, "It's a must-have for anyone into Disney movies and fun." ($36.99, ravensburger.us)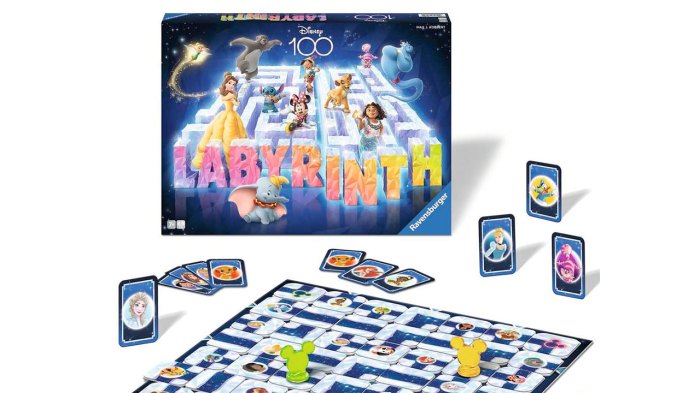 ---
HOOP IT UP
Take your mini b-ball game indoors with Bank-a-Ball. You can adjust the rim and backboard to different angles for trickshot games. It comes with a 4-inch foam basketball. Our 9-year-old tester says, "I like that it can hang on my bedroom door. It's fun to practice basketball in my room!" ($44.99, bankaball.com)
---
GUESSING GAME
HedBanz Lightspeed electrifies the classic "What Am I?" game. The battery-powered headband with lights and sounds keeps the action moving. Guess as many cards as you can before your headband sings. Green light? Act out a scene. Blue? Give three clues. Orange? Answer fast! Our brother (age 11) and sister (9) testers had a blast playing with their parents. ($19.99, shop.spinmaster.com)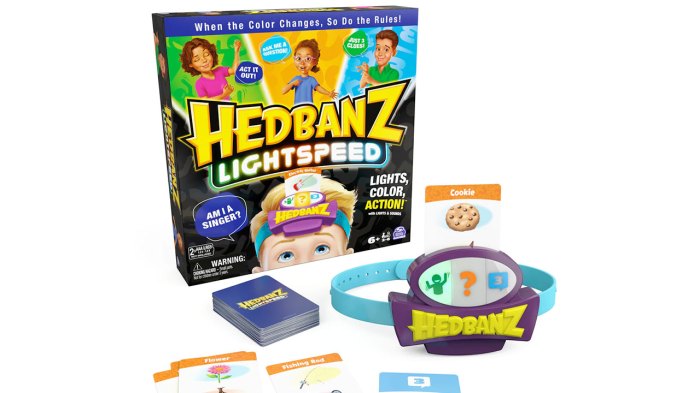 ---
ALL TOGETHER NOW!
This was our tester family's favorite board game of the year. They describe Race to the Treasure as "a super-fast escape-style game that had us all screaming and laughing." Players work together to build a path to get to the treasure before the ogre does. ($18.95, mindware.orientaltrading.com)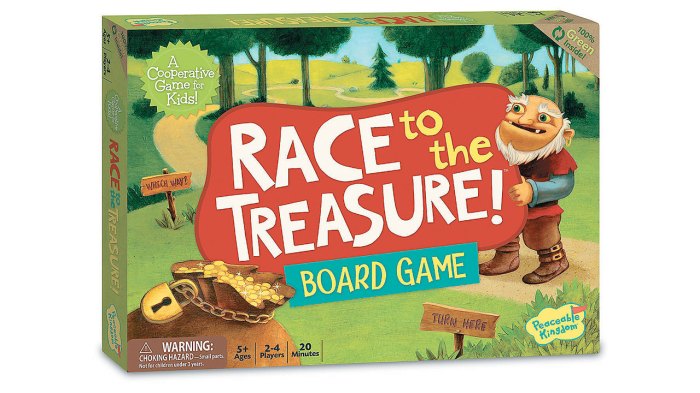 ---
EASY PLEASER
This one is a real crowd-pleaser. Nerf Kids Bounce N Score can be played indoors or outdoors, with the family or at a party — or even by yourself. All you do is bounce the foam balls on the target to score points. "This is fun," our 12-year-old tester says. "I would definitely play it with my friends, and it's easy to put together." His three younger sisters loved it, too. ($39.99, franklinsports.com)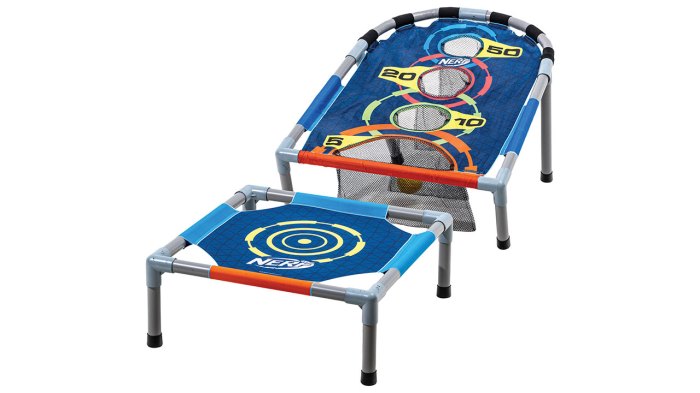 ---
MISSION TO MARS
Blast off with the Lego Technic NASA Mars Rover Perseverance set. The rover can move across uneven surfaces and packs 360-degree steering and movable arms. The set includes the rover's NASA helicopter companion, Ingenuity. Use the Lego Builder augmented reality app for instructions, 3D models you can rotate and zoom in on, facts about the NASA mission and more. Recommended for age 10 and older. ($99.99, lego.com)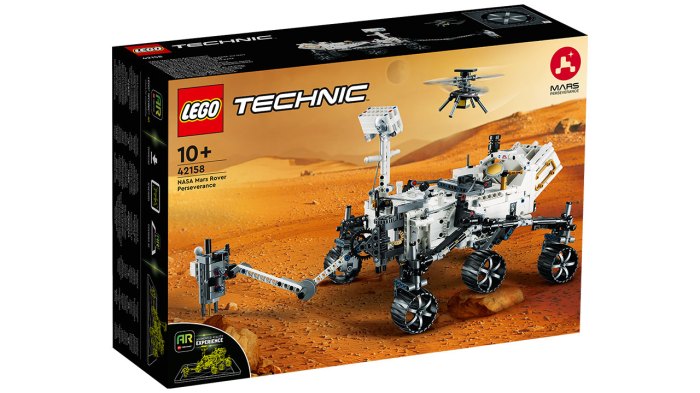 ---
ITTY BITZEE PET
The Bitzee Interactive Digital Pet isn't just one virtual pet; it's 15 in one pod! As you take good care of it — feeding, rocking it to sleep and even cleaning up after it — it grows from baby to adult to super Bitzee. Once the puppy, hedgehog, bunny, chameleon, unicorn or whatever becomes a super Bitzee, you can play a game. Bitzee was a big hit with both our 6- and 9-year-old testers. ($29.99, spinmaster.com)
---
SAVE THE CASTLE!
In this cooperative game, up to six players work together to stop the monsters from destroying Castle Bravehold. Don't let the complicated-looking directions for Castle Panic Second Edition worry you — the Dized app made it easy enough for our 9- and 6-year-old testers, and they loved the game. ($34.95, firesidegames.com)
---
PLAY CATCH 2.0
Take a squishy orange ball and a gaming app, put them together and you get SmartBall. Play interactive games, enjoy music and sound effects, and get real-time audio coaching as you throw the ball around. It makes outdoor play feel like videogame time. You can even compete with players around the world in a virtual league. "I like how the ball gives you a bunch of different challenges," says our 9-year-old tester. ($79, playfinity.com)
---
TAG TEAM
Get outside and make a few catches, passes and/or touchdowns! The Nerf 10 Player Flag Football Set comes with two sets of five flag belts and a mini Nerf football. The tear-away belts are adjustable for all sizes, including adults, and easy to use. ($29.99, franklinsports.com)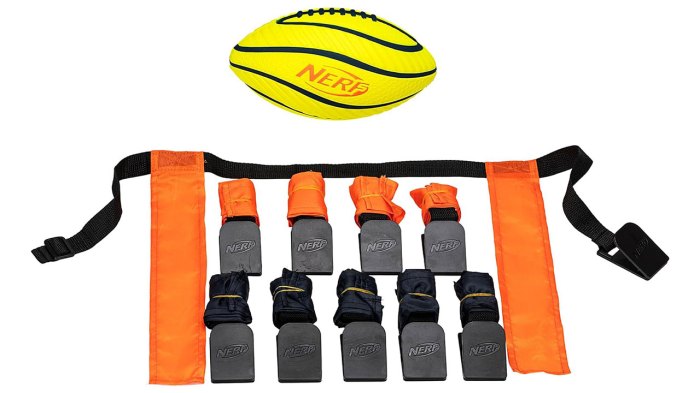 ---
STAR MAKER
Be the star of your own show with Studio Creator 2 Video Maker Kit. It comes with an adjustable tripod, smartphone mount, green screen and ring light. Our 9-year-old tester loved creating her own content, but she cautions that you make sure to "flatten the creases in the green screen" before getting to work. ($34.99, amazon.com)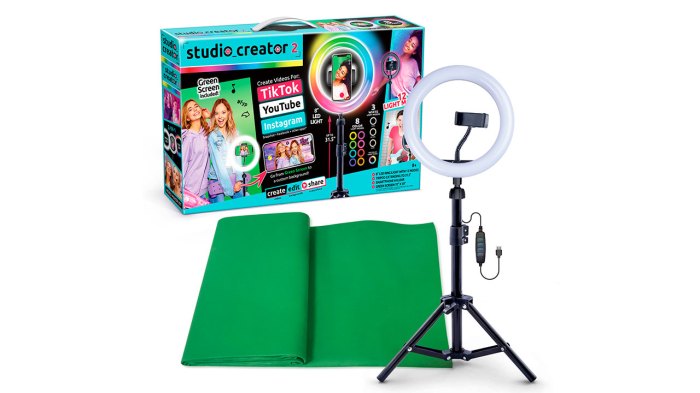 ---
DIGITAL DESIGNER
Spirograph Doodle Pad gives you classic fun without all the paper and markers. Create colorful designs on the screen, then start again with just the push of a button. Built-in storage makes it easy to take with you. "I like that I can use it in the car," says our 8-year-old tester. That is, when she can get a turn from her 12-year-old brother and 10-year-old sister. ($24.99, playmonster.com)
---
MARBLE MANIA
Launch marbles through wheel chutes, sliders, loops and trampolines with the Marble Run Stunts Starter Set. Our 8-, 10- and 12-year-old testers agree that the set is super fun and easy to put together. You can get more building ideas from the Marble Genius app, as well as extend, mix and match with two other stunt sets. ($49.99; Super Set $59.99; Extreme Set $89.99; marblegenius.com)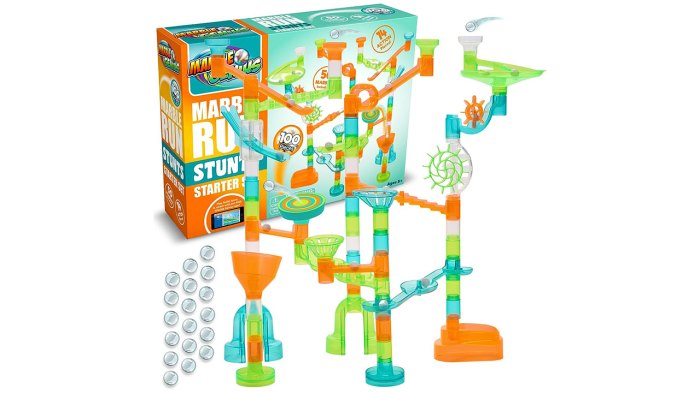 ---
PUZZLE IT OUT
Put your solving skills in play with the Duncan Brain Game Set. You get three handheld puzzles: Color Shift Puzzle Ball, Quick Cube 3×3 and Serpent Snake Puzzle. Match, twist and turn your way to the challenging solutions. Our 9- and 11-year-old testers say the set would make "a good stocking stuffer." ($17.99, duncantoys.com)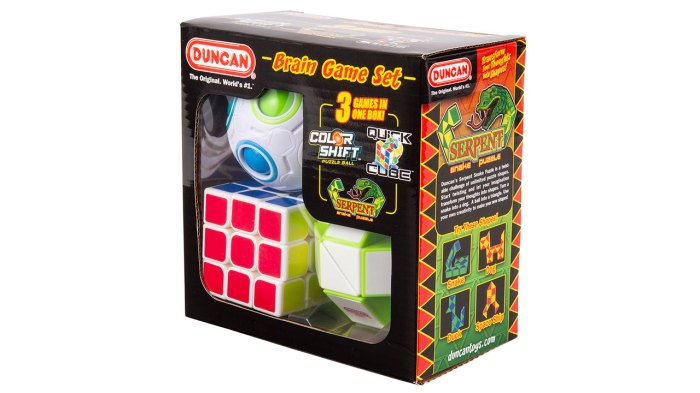 ---
A LIGHT TOUCH
It's Lite-Brite without the pegs. With Lite-Brite Touch, "you can create your own animation, which is really cool," our 9-year-old tester says. Press the color-changing buttons on the board to light them up. It comes with games you can play by yourself or with friends. The portable design makes it perfect for traveling. ($29.99, basicfun.com)
---
Inspire Leadership, Foster Values: Donate to Scouting
When you give to Scouting, you are making it possible for young people to have extraordinary opportunities that will allow them to embrace their true potential and become the remarkable individuals they are destined to be.
Donate Today