12 Funny Giraffe Jokes and Comics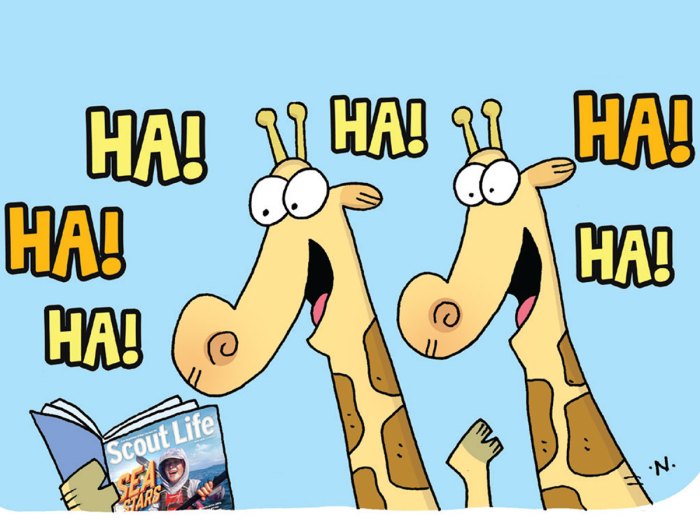 Giraffe jokes will make you laugh for a long, long, long time! No need to stretch, these great jokes sent in to us by Scout Life readers are head and shoulders above the rest!
Do you know a funny giraffe joke? Send your joke to us and you could get a free patch!
---
Seth: What do you call it when a giraffe swallows a toy jet?
Jake: Tell me.
Seth: A "plane in the neck."
Joke submitted by Jake P., Vaihingen, Germany
---
Max: Why is a giraffe such a good father?
Ed: Why?
Max: Because he is someone you can look up to!
Joke submitted by Max S., Tacoma, Wash.
---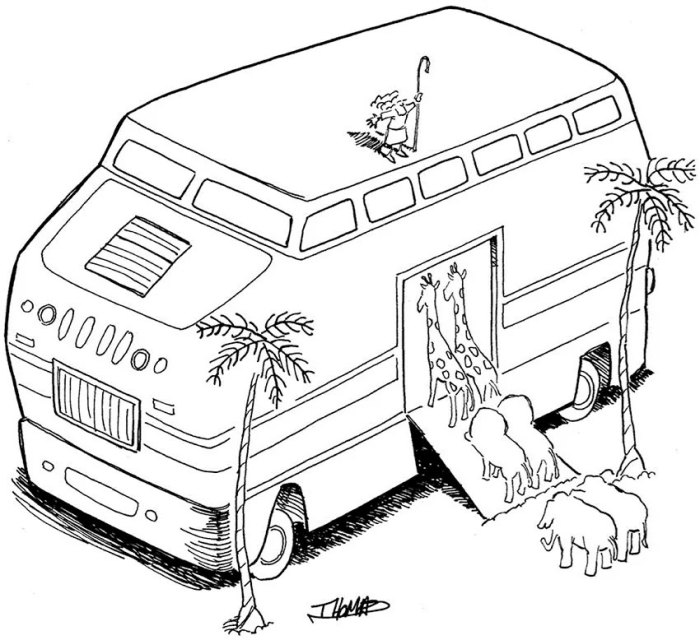 Comic by ThomasToons
---
Nick: What do you get when you cross a giraffe and a Scout?
Mick: I haven't a clue.
Nick: A person everyone looks up to.
Joke submitted by Nick C., Windsor, Conn.
---
Jack: Why do giraffes have long necks?
Jill: I have no clue.
Jack: Because their feet stink.
Joke submitted by Alex S., Marietta, Ga.
---
Joshua: Why are giraffes so slow to apologize?
Timothy: Why?
Joshua: Because it takes them a long time to swallow their pride.
Joke submitted by Joshua and Timothy T., Cheltenham, Pa.
---
Ted: What do you call a zoo that has only giraffes in it?
Ned: I don't know. What?
Ted: Giraffic Park!
Joke by Nicholas B., De Pere, Wis.
---
Tyler: What do you get when you mix a Labrador and a giraffe?
Tommy: I don't know. What?
Tyler: A dog that barks at airplanes!
Joke by Tyler H., Folsom, Calif.
---
Joseph: What do you get when you cross a giraffe and a pig?
Johnny: What?
Joseph: Bacon and legs.
Joke by Joseph R., Nutley, N.J.
---
Jim: Have you ever seen any giraffes hiding in trees?
Braeden: No.
Jim: That's because they're so good at hiding.
Joke by Braeden A., Murfreesboro, Tennessee
---
Noah: What do you call a giraffe in the middle of the road?
Ed: What?
Noah: "A giraffic jam!"
Joke by Noah H., Corvallis, Ore.
---
Mark: What has an elephant's trunk, a tiger's stripes and a giraffe's neck?
Steve: What?
Mark: A zoo.
Joke by Mark E., San Jose, Calif.
---
Peter: What is a giraffe's favorite fruit?
Elaine: What?
Peter: A neck-tarine!
Joke by Julia S., St. Paul, Minn.
---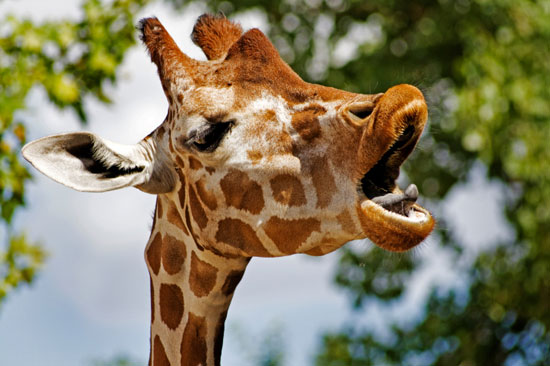 Inspire Leadership, Foster Values: Donate to Scouting
When you give to Scouting, you are making it possible for young people to have extraordinary opportunities that will allow them to embrace their true potential and become the remarkable individuals they are destined to be.
Donate Today