4 Basic Swimming Strokes to Know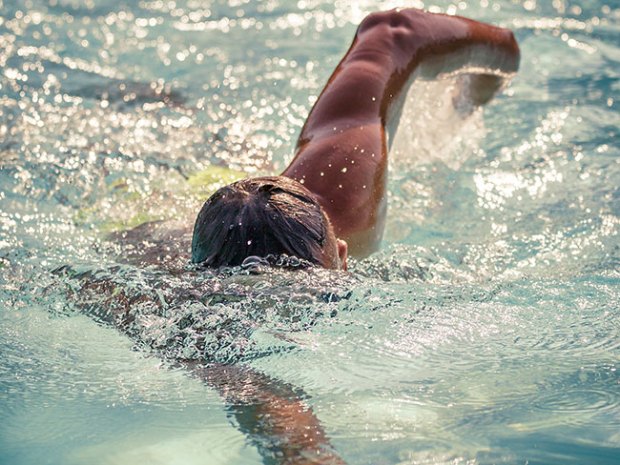 When it comes to swimming, there are lots of different swim strokes that'll get you from Point A to Point B. Here are a few of them.
BREASTSTROKE

Use For: Conserving energy when swimming a long distance.
Keys To Success: Exhale slowly while under the water; take a quick but powerful breath as you lift your chin out of the water in step 3; make an upside-down heart shape with your hands; time your stroke so that your arms and legs are fully extended at the same time.
FRONT CRAWL

Use For: Speed.
Keys To Success: Most of your forward movement comes from your arms; don't kick too hard — the distance between your feet should be only 8 to 12 inches; keep the surface of the water between your eyes and your hairline; breathe in by turning your head to inhale on the same side each cycle.
BACKSTROKE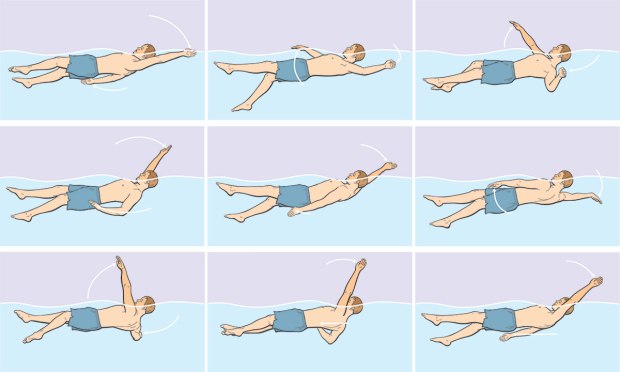 Use For: Easy breathing, but don't forget to check your direction because you won't be able to see where you're going.
Keys To Success: When your hand enters the water, bend your arms at the elbow and push the water toward your feet; straighten your arm as it leaves the water, but relax your hand, wrist, arm and back muscles; use a flutter kicking motion like that of the front crawl.
SIDESTROKE

Use For: Swimming long distance with a restful stride.
Keys To Success: Perform a scissor kick with your legs to keep you moving as you rest your arms between strokes in a pull-kick-glide sequence; keep your nose and mouth out of the water the whole time.