F1 (Formula One) 2015 Racing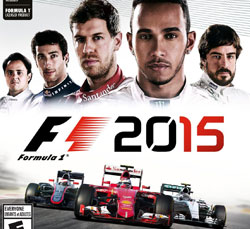 F1 2015
Gameplay:7.5
Graphics: 8.0
Sound: 8.5
Replay Value: 8.8
Overall Score: 8.0
Pros: True racing simulation; race alongside the heroes of F1; ask for engineer for race information.
Cons: Needs more modes, especially Career; occasional glitches; online has glitches.
Summertime, and the gaming is easy. With just a few games released this time of year, some are good and some are not.
So, how good is F1 2015? Here, you compete against the great heroes of the Formula One circuit to become a world champion. You travel the world from Malaysia to Austria as part of one of 10 teams in Championship Pro Season mode. To help you choose which top racer to play as, you'll see stats scroll below the teams. These include race victories, fastest laps and total points. Some teams have been around since 1950. Others debuted less than five years ago.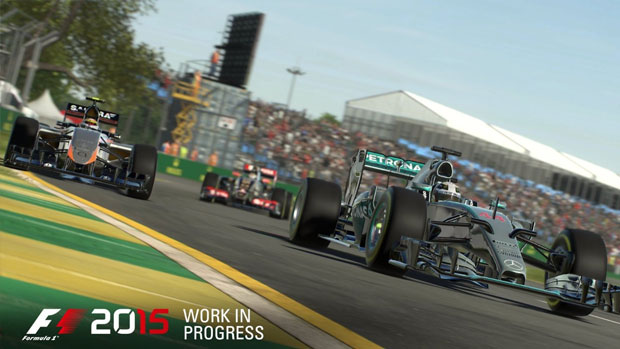 Your journey, which starts in Melbourne, Australia, will take you to five continents and 19 tracks. The affable announcers inform you that your race in Mexico will be a highlight. You hear from your pit and from the sportscasters about who's up and coming. But when you're in the car, it's just you, the racers, and a technical guy who tells you when to hit a pit stop and when to slow down.
It's important to note that the F1 series is a racing simulation — not an arcade game. So you can't speed up willy nilly. You have to drive carefully and cautiously, but you have to often speed over 200 miles per hour, too. That's tough, even at the beginning in easy mode. Cutting corners on a track immediately gives you a penalty (and the subdued wrath of your the engineer who's talking in your ear).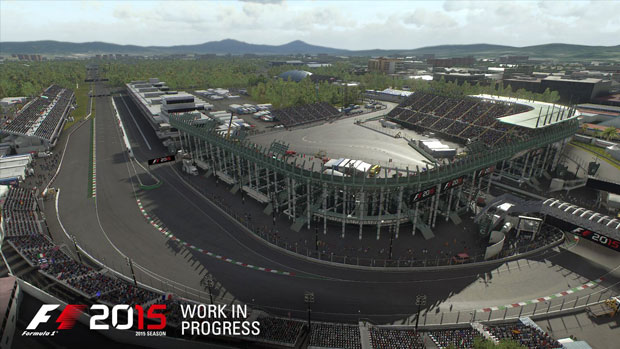 But you'll get the hang of it. Still, I would caution against playing on Legend mode and trying manual gear shifting. In manual, you'll change gears from 40 to 70 times a lap. That extra work is crazy, especially during a race against the top drivers in the world — and I can't imagine ever becoming that good.
As I checked out the game, I asked, Where are the other modes? What's really lacking is a Career mode. There are no "bush leagues" from which, after winning races among easier foes, you emerge as a big time pro of Formula One racing. For instance, in real life, kids start Kart racing at the age of 8 and Formula driving at the age of 14. There's just no feeling of rising up from the ranks in F1 2015.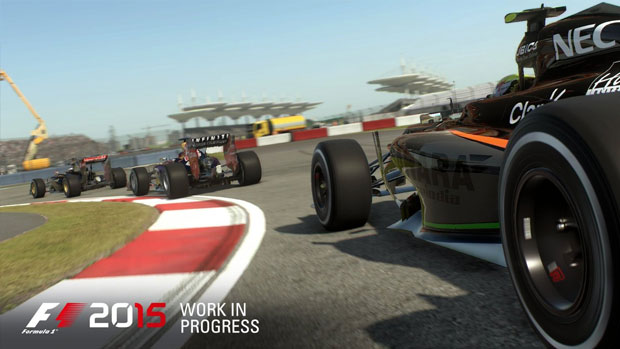 There is, however, a Quick Race mode. It allows you to forego any practice and takes you right to the starting line. Any track and any driver are yours with a click of the controller button. It's a fast race for those who don't have a lot of time. Unfortunately, you'll find the occasional drop in frame rate duringyour races. And sometimes when you hit another racer, his car or yours doesn't take damage. Sure, you're concentrating on the race. But it's the kind of thing that will take you out of the fast-paced experience of driving an amazing vehicle.
That doesn't mean F1 2015 isn't a good game. It is. You can race as Sebastien Vettel and Fernando Alonso and a number of other stars. Your engineer will verbally tell you how far back your nearest competitor is and keep you up to date on a number of other potential issues. If he doesn't, you can ask him to via voice recognition software on Kinect.
There's realism, too. Your competitors actually seem to understand how you race. Your tires show wear. And when you do crash (it will happen, trust me), the car takes damage. Adding rain to the mix makes things more intense. You always wonder if your tires will lose their grip, even when you've added tires for rain to your car.
Near the season's end, you get to that Autodromo in Mexico City outside town near the airport. Here, you've leveled up enough to win the race, despite some nasty turns on a track that's nearly three miles long. But as you progress, one thing you should not do is constantly gun the engine. Unless you're on an extended straightaway, pressing the trigger all the way down is sure to cause a spinout or crash. You just won't be able to slow down fast enough to take on the tighter turns.
Overall
The gamemakers needed more time to add extra modes and to kill some software bugs. Sure, F1 2015 can be fun this year. But it'll be even better next year when they fix the issues and add more value to the game in terms of various ways to play. In the mean time, it does satisfy two things: your urge to compete and your need for speed.
F1 2015 Trailer

Inspire Leadership, Foster Values: Donate to Scouting
When you give to Scouting, you are making it possible for young people to have extraordinary opportunities that will allow them to embrace their true potential and become the remarkable individuals they are destined to be.
Donate Today