Read BL's Interview With the Designer of The Last Guardian
The Last Guardian is one of the most highly-anticipated games of 2016. In it, you'll explore mysterious temples with a young boy and Trico, a giant monster that's both delightful and ferocious. Plus, the emotional ending may make you cry (in a good way). The Games Guru recently had the chance to chat with Fumito Ueda, lead game designer. Here's what he had to say:
BL: As I looked around in your game, I saw the buildings had an ancient Asian beauty. The level with the temple looked a lot like AngkorWat, the legendary temple city in Cambodia created in the 12th century. Were you influenced by that architecture?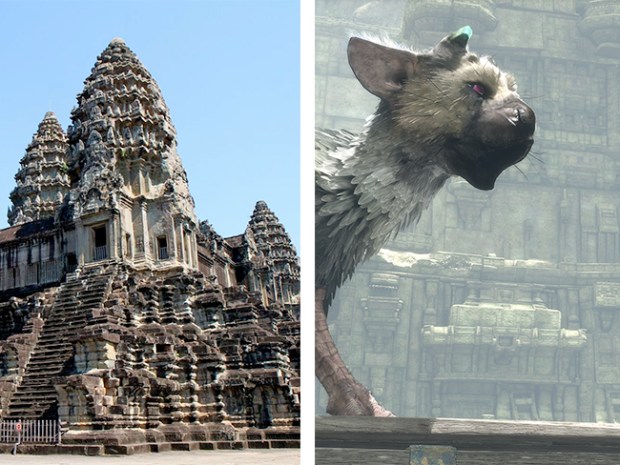 FU: We do actually have reference material from Angkor Wat. Whether it's the environment or the character, one thing we always focus on is that we don't want to extract too much of one element. We extract elements from many sources. So when you're there (playing), it will kind of feel familiar and feel real, but not exactly.
BL: So there's a dreamlike aspect to it.
FU: Right. That's what we always want to achieve.
BL: What other structures were you inspired by?
FU: We looked at Mayan architecture as well. And it kind of ties into the character of Trico. We've implemented various elements — animals — and the hybrid of these is this result.
BL: Trico isn't just charming. It's soulful, too. What did you want to convey with Trico?
FU: It's an interesting question. He is part dog, cat, bird, others. But we wanted him to be believable. We wanted you to feel like you could reach out and touch him.
BL: And what was the best way for you to accomplish that?
FU: Through textures. We looked at fur and different kinds of skin. After many experiments, we discovered that feathers offered the best believability. They also have a soothing quality.
BL: You do feel like you want to hug that thing at times! But you can see that it's powerful, almost feral in a way. Is it up to the boy to calm it down from time to time? Do they both act as a calming influence when one is in fear and the other is not?
FU: You're spot on. There's that fine balance between the two characters. But Trico is really a wild animal. Eventually in the game, you'll see how wild he can be.
BL: Work began on The Last Guardian in 2007? Why did it take so long to make?
FU: That would require a long answer. But there are always delays in a production schedule. There were some technological challenges we had. There were some challenges that were out of my control. We could go on and on making excuses. But we're really happy that it's being made — and being finished.
–The Games Guru
Inspire Leadership, Foster Values: Donate to Scouting
When you give to Scouting, you are making it possible for young people to have extraordinary opportunities that will allow them to embrace their true potential and become the remarkable individuals they are destined to be.
Donate Today