Touchdown! 7 Points About Madden NFL 17's Greatness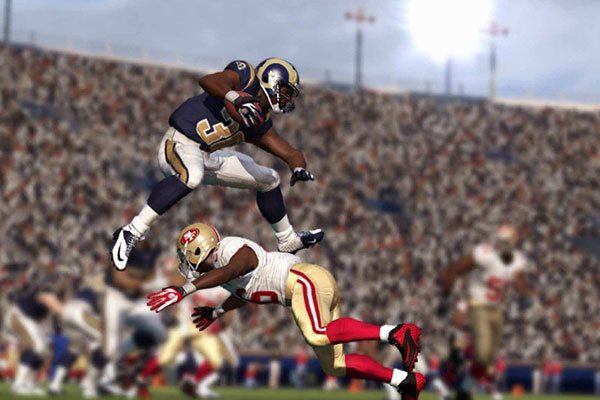 Madden has been around for a landmark 30 years, and it's always a decent game. But every few years, it becomes an amazing game. Here's why Madden NFL 17 is terrific.
A Fantastic Beginning
Madden NFL 17 starts with fast-paced plays during a fantasy game between the Los Angeles Rams and the Washington Redskins. Since the Rams just returned to L.A., it's fun to play as quarterback Jared Goff and running back Todd Gurley, the 2015 offensive rookie of the year. Plus, you get a taste of the new features.
New Features Make Madden More Real
If you played last year, Madden remembers your favorite team. With a couple controller clicks, you can leap over a defender. On defense, you can time your jump just right to block a kick. You watch for an onscreen prompt to give someone the stiff arm and run for more yards. You can predict your coach's wins for the year, and if he doesn't make the grade, he might be fired. Knowing your opponents' weaknesses, you choose the right practice drills. When gameday arrives, you're ready to capitalize on them. And that's just the beginning of a cornucopia of positive game play change.
Top Notch Presentation
The camera angles are close to perfect this year. In long shots, you see more of the field. Fans in the stands have real emotion. Cameramen with steadicams follow players into the end zone. You hear players talk on the field, even beyond the shouts of "Watch for the run!" Replays come so lightning fast, it's quicker than on TV. And they come from so many angles! Before every game, you hear those familiar words, "EA Sports. It's in the game." This year, they should change it to "It's ALL in the game." There's so much here.
New Announcers Are Super Fresh
Announcers haven't sounded this fresh since the days when Madden was still in the game. Charles Davis and Brandon Gaudin joke with each other. They seem interested in every aspect of football. In other words, they have a real rapport. And their banter is updated every week to keep it real.
Superstars Get Upset
Sure they get upset on the field. This year, you can see it in their eyes. But every year, NFL players wait to see what they're rated in Madden. This year, Cowboy Dez Bryant thinks his 90 player rating is too low. He took to Twitter to call the grade "an insult." 90 isn't a low rating, but players becoming upset speaks to the power of Madden beyond the gameplay. It's about pride.
Soundtrack Gets You In The Mood
It's simply one of the best compilations of 40 songs in a Madden game, ever.  From American Authors to Blake Shelton to Flo-Rida to Wyclef Jean, the variety assures you won't get bored.
For Beginners Or Pro Players
If you've never tried Madden before, the many features can be daunting. Just click the big "If You've Never Played" icon on the main menu and you'll be helped. If you've been playing for years, developers have listened to the community. Big Decisions make life in the NFL seem more crucial. When it's a critical game, for instance, you have to choose to play an injured runner or bench him. You have free agent bidding and a 10-man practice squad, too. And there's far less lag time in online play.
—The Games Guru
Inspire Leadership, Foster Values: Donate to Scouting
When you give to Scouting, you are making it possible for young people to have extraordinary opportunities that will allow them to embrace their true potential and become the remarkable individuals they are destined to be.
Donate Today