How BL's Games Guru Became A Real Skylander!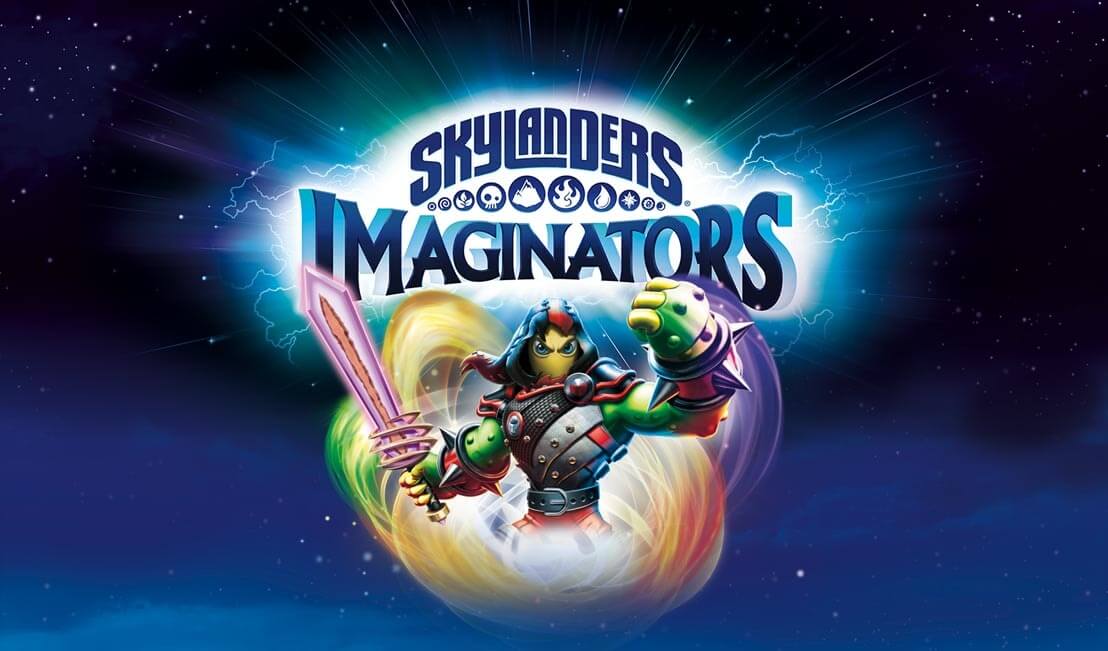 There's so much going in the world of Skylanders, including something that began as a mystery. Let's check it all out.
Why Did Activision Asked Me To Draw Something?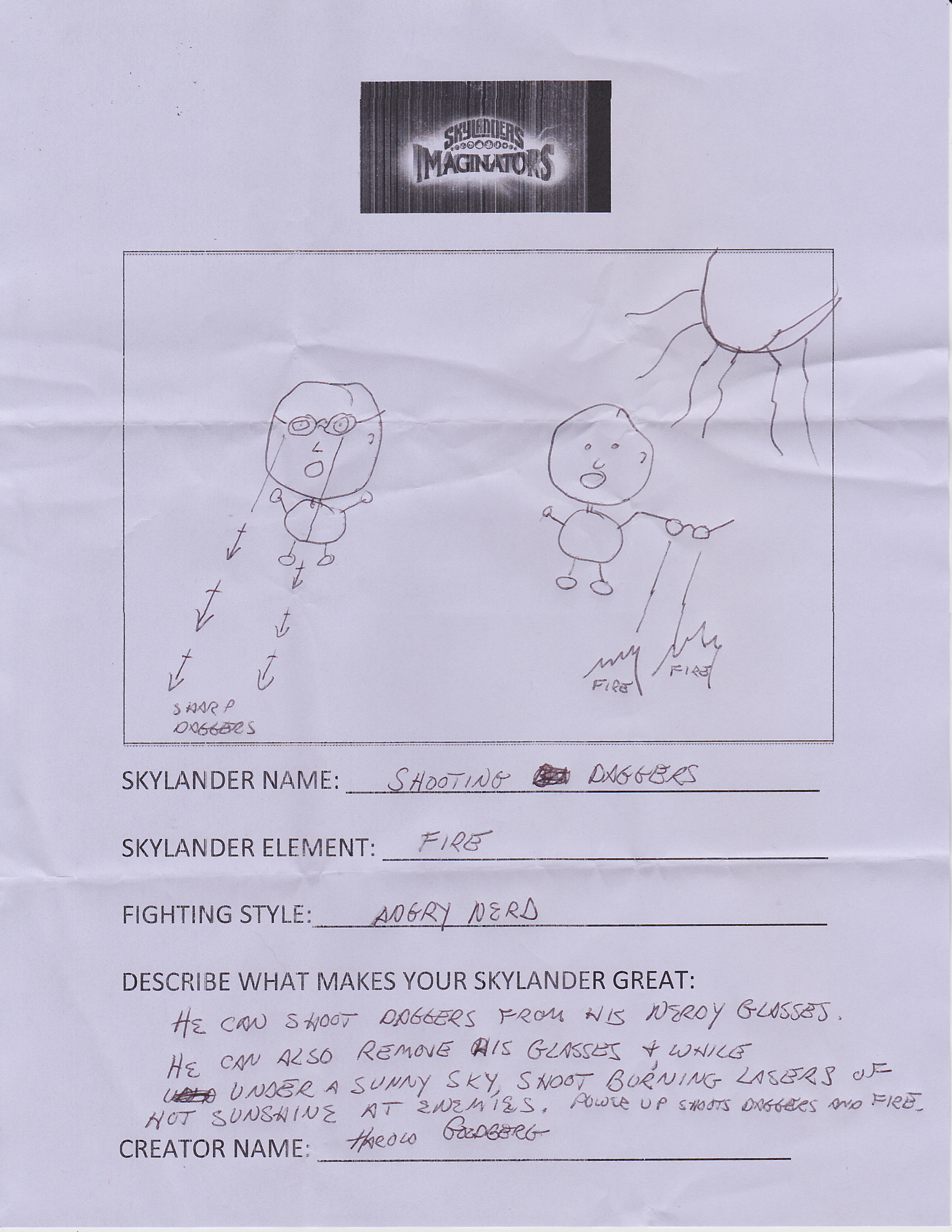 A month before the Imaginators' release, Activision sent me a form to fill out that would have to include my own artwork. Writing is my strong suit and I'm a really bad artist. Also, I wasn't sure what was going to happen. But I created the Skylander below and I christened him Shooting Daggers. His fighting style is Angry Nerd. Then, I sent it back to Activision.
Activision Actually Made My Skylander!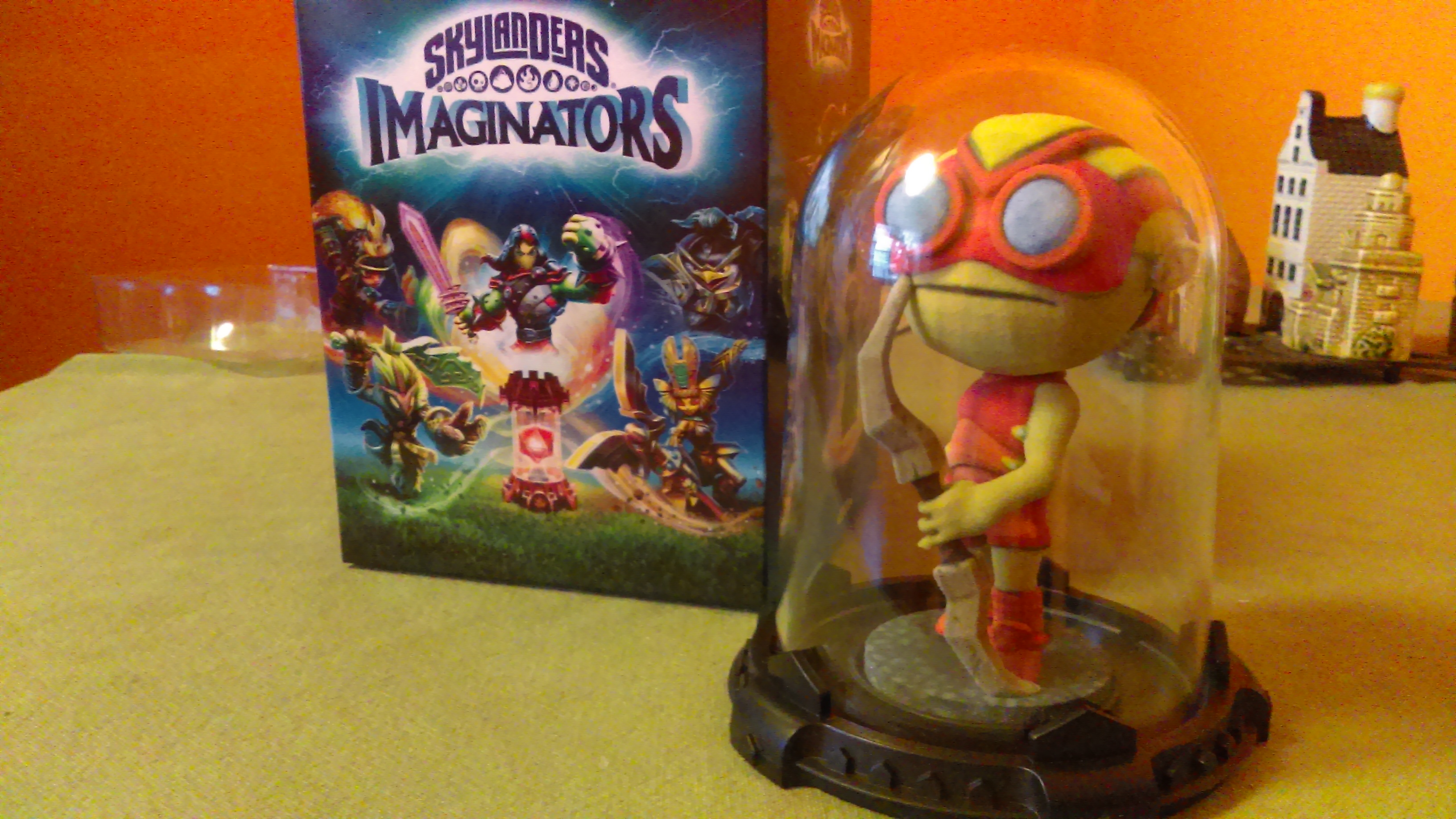 I think Toys For Bob, the gamemakers, used a 3D printer. Whatever the case, I can play as Shooting Daggers in Imaginators! I just put him on the Portal of Power like any other Skylander. Shooting Daggers doesn't shoot arrows from the eyes, as I suggested on the form. But it's now so much better. The googles. The crossbow. The nerdy but determined look. It really is crafted wonderfully.
Master Eon Sent Me A Personal Letter, Too.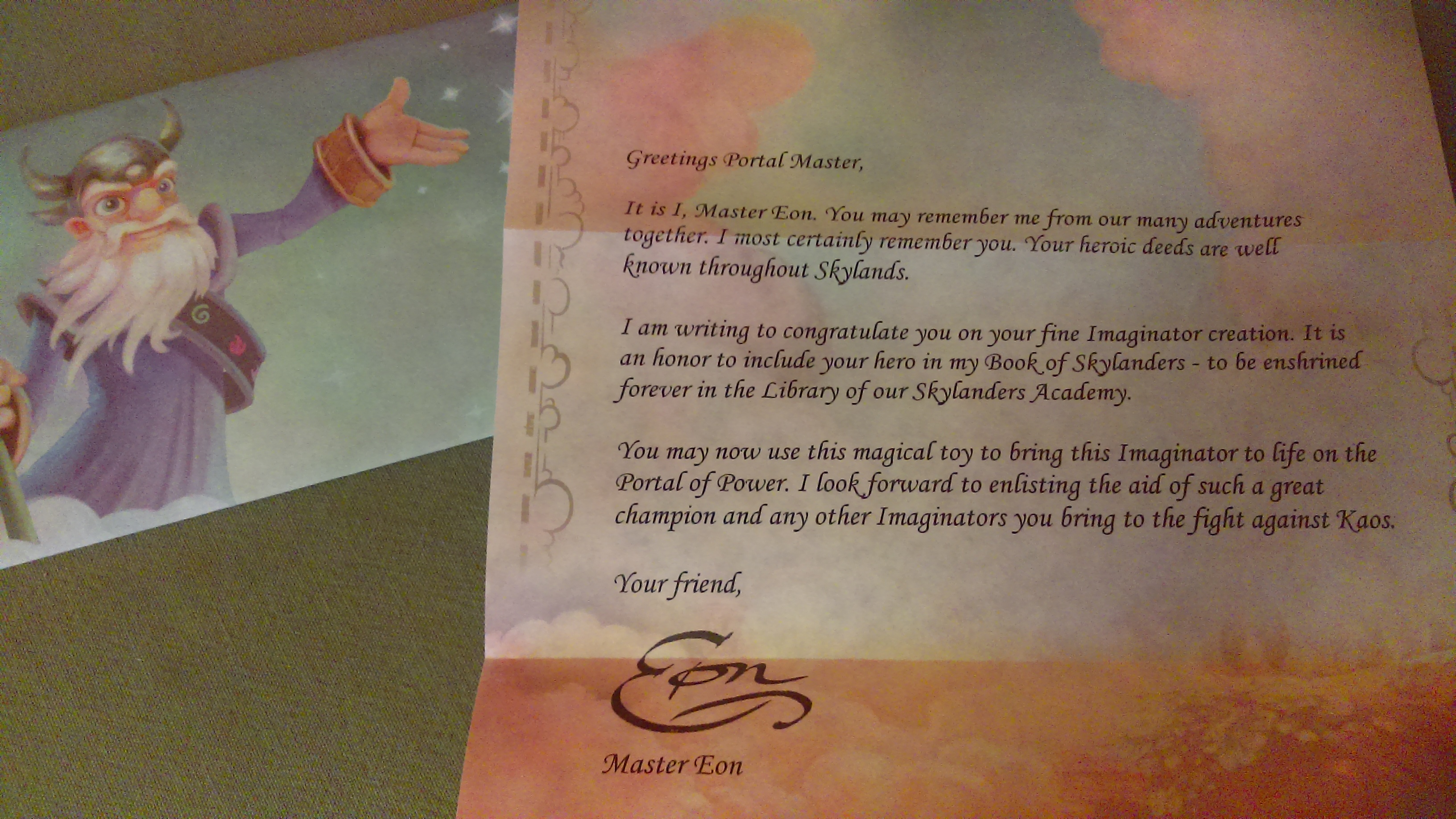 It's like getting a letter from a celebrity, the kind of thing that really pumps you up to play.
Whoa! I'm In The Game!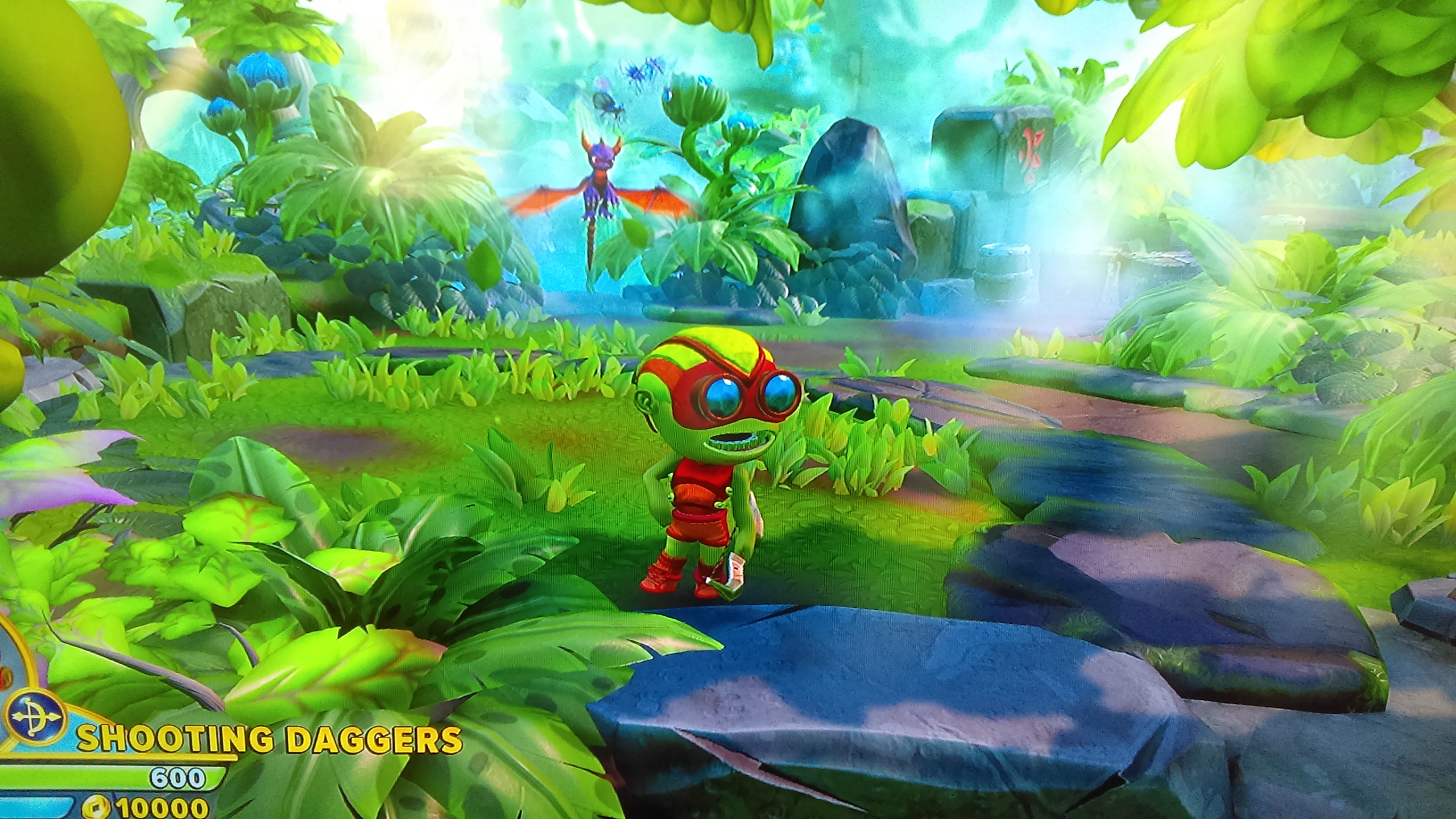 Here's a picture of Shooting Daggers, my Imaginators character, in the game itself. His voice is high and nerdy. And he moves quickly! Can you see the legendary Spyro The Dragon, who accompanies me on my journey, in the background?
Imaginators Is Intriguing and Intense!

It's pretty awesome. In fact, it's one of the two best Skylanders to date. I think the first one's the stand out because no one had attempted doing a toys-to-life experience prior to Activision. So the original was really surprising to play, a step forward in gaming. But with an included Imaginite Creation Crystal, Imaginators lets you make your own Skylander in the game, everything from the face to the powers to the witty catchphrase he or she says. The possibilities seem infinite. (You don't have to have a special Skylander like I do.) Powerful new Skylanders, about $15 each, are called sensei.
What's A Sensei?

Sensei is used in the world of martial arts to denote a teacher. But Japanese word actually translates to "person born before another." In Imaginators, you have 10 different master sensei battle classes. Hood Sickle, with his powerful scythe, and Barbella, with her barbell of stone, are really cool. Their catch phrases are "Any Last Words?" and "It's Crunch Time."
Wait. Who's This Crash Bandicoot Character?

Of the three different Skylanders starter packs, one includes Crash Bandicoot and his nemesis, Dr. Neo Cortex. The whirling Crash actually was kind of the mascot for the original PlayStation, like Mario is for Nintendo. And I bet Skylanders' egomaniacal Kaos is inspired by Dr. Neo Cortex.  But after a bunch of highly successful games, Crash went away. Now, he's back and starring in Skylanders. (Sony also hopes to remaster the old games. There's a rumor that there will eventually be new Crash games, too.) With four Skylanders, a Portal of Power and an Imaginite crystal, the Crash Edition for Sony's PS4 is the one to buy — even though it's $100.
What? There's A Skylanders TV Show?

It'll be on Netflix and it's called Skylanders Academy. The show premieres on October 28 and will run for at least two seasons. The comic adventure features the same silly, fun banter that you get in the game. While it's excellent to interact with Skylanders in the game, it's also exciting to see what the famed animators and script writers have come up with story-wise. The actors are well-known stars like Justin Long, too. These young Skylanders are spunky and inventive!
– The Games Guru
Inspire Leadership, Foster Values: Donate to Scouting
When you give to Scouting, you are making it possible for young people to have extraordinary opportunities that will allow them to embrace their true potential and become the remarkable individuals they are destined to be.
Donate Today