Videogame Review: Mario + Rabbids Kingdom Battle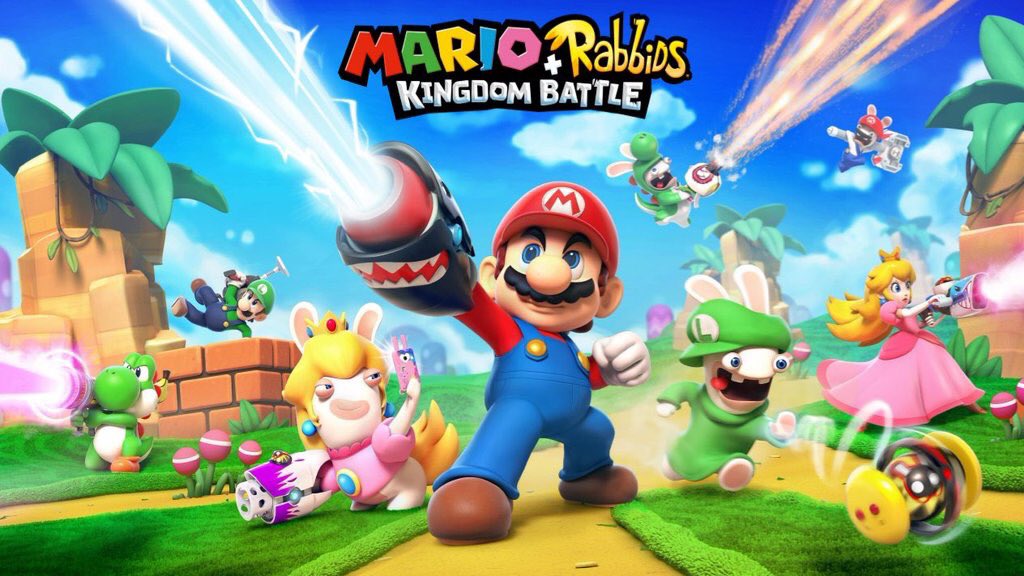 Mario + Rabbids: Kingdom Battle is the latest game for Nintendo's Switch. Why's this unique game a winner? Read on!
It came out of nowhere
Usually, the videogame hype machine let's you know about works in progress — years ahead of release. No one knew about this game until it premiered in June at the annual E3 convention when Mario creator Shigeru Miyamoto joined gamemakers from Ubisoft onstage.
It mixes Nintendo's Mario characters with Ubisoft's Rabbids characters
Most of the time, Nintendo doesn't let other companies license its iconic Mario. But Ubisoft had a terrific idea: Let the world of cheeky Rabbids meet the world of Mario. The game would be a strategy-oriented family game, something different for both companies. Nintendo trusted Ubisoft so much, they let them develop the game without constant oversight from Nintendo HQ in Japan.
How does Mario's gang meet the Rabbids?
The two worlds clash because of a special VR headset, a time machine, space time manipulation and dark matter. The SupaMerge headset brings the Rabbids into Mario's world – and they arrive via a washing machine. One Rabbid immediately takes a bath in a toilet and pulls a rubber duck out of his butt! Another Rabbid makes use of the SupaMerge and the result is evil Rabbids, good Rabbids who look like Mario characters and appearances by Peach, Mario and Luigi. So begins the first level, Unlikely Heroes.
It's a fine family game. But it's complex.
Younger kids might need an adult or older brother to help with the turn-based strategy — especially if they've never played Pokemon or Fire Emblem. Sure, you can collect coins and solve some puzzles for about a third of the time. You also battle, move around a grid and analyze your opponents' strengths. Put simply, you shoot and then the enemy shoots. This goes on until someone is vanquished. You battle two-thirds of the time and can work from behind, say, a stack of bricks for protection. You have to choose the most effective weapons and characters, though. Then, you'll win over enemy Hoppers, Smashers, Peek-A-Boos, even Bowser Jr.
Stick with it. The result is gloriously satisfying.
Before you traverse, say, the haunted Spooky Trails world, you pick a party of three characters. Check out your characters' stats and powers. Mario, of course, is the most well-balanced with his blaster and stomp ability. Rabbid Yoshi with his cockeyes and tongue hanging from his mouth is one crazy character, even nuttier than the rest of the Rabbids. But he's awesome on defense and has long range weapons.
There's a free weapons download, too.
Inside the game, you might get a code to download the Pixel Pack which unlocks eight weapons you can use in your adventure. These are best used early in the game to give you an edge. Later, you can get even more potent weapons as you level up. Also, you can use your Mario, Luigi, Peach and Yoshi amiibo and receive extra power with a new weapon.
Should you buy it?
If you're used to Nintendo platformers, this game has a serious learning curve. So it's not for everyone. But where else are you going to get Rabbids and Mario in the same experience? Be bold and check out something that feels really new: Mario + Rabbids Kingdom Battle. Along the way, you'll laugh so much.
Inspire Leadership, Foster Values: Donate to Scouting
When you give to Scouting, you are making it possible for young people to have extraordinary opportunities that will allow them to embrace their true potential and become the remarkable individuals they are destined to be.
Donate Today