When the original Grid was released five years ago, many reviewers considered it the year's best racing. The reason? It wasn't merely a racing simulation for TOCA, the British racing series.
GRID 2
(Codemasters for PS3, Xbox 360, PC)
Grid immersed you in a frantic, entertaining experience. You could be the driver. But you also held sway over a full racing team. And the online multiplayer options were varied and fun.
Judging from a preview disk I was given, Grid 2 – which hits stores on May 28 — is even bigger and better.
LOCATIONS! VEHICLES!
The locations span the globe. Race through Asia from Dubai to Hong Kong to Japan. It's almost like a free (well, $60 for the game) vacation to exotic locales.
See the Arch of Triumph and the Eiffel Tower of Paris, and maybe some fireworks, too, to celebrate your race. The race course on the California coast has beautiful vistas of the ocean below. But don't dawdle checking out the views; it's a constantly dangerous, twisting and turning road.
To sweeten the pie, the gamemakers added vehicles from more than four decades.
You'll drive everything from the usual (like the Ford Focus) to the Pagani Huarya, an Italian-engineered wonder, a million-dollar car with gull-wing doors and a name that means "god of the winds." Talk about fast and furious. This 231 mph speed demon is just that.
TECHNOLOGY! ROUTES!
Each car is made to handle like the real thing through technology called True Feel. Think you really know a course well? The gamemakers mix things up with another kind of technology called LiveRoutes. LiveRoutes changes the race course in real time so you're never quite sure what's around the next bend. And in Time Attack mode, you'll do whatever you need to do to make the finish line before the rest.
The cars race close, almost bumper to bumper at times. Early on, as you get used to the mechanics of driving through hairpin turns, you might want to use the Flashback feature. If you've plowed into a mountain, this feature lets you go back in time to the moments before the crash. Once you've mastered driving, you probably won't need Flashback very much.
COMPETITION!
In various real-life car races, there are winners in different categories. So who's the best? No one knows. What if, asked the gamemakers, you could have a kind of world series of racing, a mix to see who has the stuff to battle it out to the ultimate finish line?
With the World Series of Racing, Grid 2 is full of the fantasy of united competition. And it's quite realistic. From circuit racing to sprints to point-to-point racing, there's a diversity here, so you won't get bored. As you win races, you'll get new cars.
Then there are the game's stripped-down competitions, just two cars racing through forests or city streets. You'll find that each club you encounter has its own personality. Some race too close. Some like to bump you. Some just want to speed ahead and stay in first place throughout the race. It's up to you to stop them.
To create a sense of community online, competitions are held every week – with as many as 11 other racers. When you win, you'll get more followers because your rival's fans will go to you. And if you're feeling particularly good about a race, you can upload your latest race video for followers to see.
ACHIEVEMENTS! PROGRESS!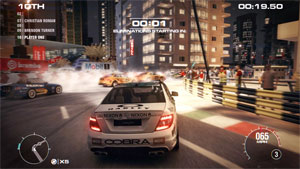 Even the achievements and trophies can be ingenious. If you amass more fans than Taylor Swift has Twitter followers (over 23 million when the game had its deadline), you get the "I'ma Let You Finish" Award.
When you're away from the game, you can look up your progress, challenges and competition with a mobile app. (This is probably for the more obsessive type of gamers.)
You never can tell about the finished product from a preview disk. Yet one thing is clear: There is bold imagination in Grid 2, and that's always a good sign. Hopefully, the gameplay will turn out to be even better than what I've seen.
Inspire Leadership, Foster Values: Donate to Scouting
When you give to Scouting, you are making it possible for young people to have extraordinary opportunities that will allow them to embrace their true potential and become the remarkable individuals they are destined to be.
Donate Today