Turbo: Super Stunt Squad game review
"Turbo" is one of the big movies this summer. Think "Cars" meets wacky terrestrial pulmonate gastropod mollusks: er, snails. It's a spin on the classic "slow and steady wins the race," except Turbo wants to be anything but slow.
TURBO: SUPER STUNT SQUAD
(D3 Publisher for PS3, Wii, Wii U, Xbox 360, 3DS)
XBox 360 version
Gameplay: 8.4
Graphics: 7.5
Music: 7.0
Replay Value: 8.0
Overall Score: 7.8
Pros: Tony Hawk-like tricks, very challenging, creative powerups
Cons: No online play, too challenging for younger kids, mediocre graphics
---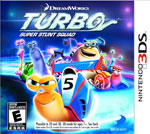 3DS version
Gameplay: 8.0
Graphics: 7.0
Music: 7.0
Replay Value: 8.0
Overall Score: 7.5
Pros: Mario Kart-like game, cool track design, cute characters
Cons: No online play, uninspired music, mediocre graphics
Turbo: Super Stunt Squad is the videogame very loosely based on the movie. There are actually two versions of the game.
LIKE TONY HAWK?
In the PS3 and Xbox 360 games, there's no racing; instead, it's more like a Tony Hawk skateboarding game – with snails. Each of four speeding snails has its own personality, humorous or cool. For instance, Turbo happily says, "Now, you're cookin'" when he does something right.
Both Turbo games are less expensive titles. They're not multimillion-dollar games, and the price is $20 less than games with big budgets. So you can't expect super-amazing graphics, even on the Xbox 360 version. In other words, you'll see jaggies. And the story is non-existent.
But is it a good game, design-wise?
LOTS AND LOTS TO DO
It kind of is! First, there's a lot to do. The world is pretty open, and there's no right way or wrong way or order to complete missions.
In the opening level in Dos Bros Tacos, you have to ride rails using the Y button to collect 25 tomatoes wedges and 200 checkered flags you see in the restaurant. In this Free Play Mode, some flags are pretty well hidden. So you have to look hard.
To obtain certain flags, use the two sticks on the controller to balance. Then you have to jump with the B button and hang on again using the Y button.
It all can be pretty complex, so I don't recommend Turbo for the 360 or PS3 to anyone under 8. The game is pretty difficult from the get-go.
In the Timed Mode, you have 77 various objectives in Dos Bros Tacos alone. At the start, it's suggested that you complete five of these missions in three minutes. But you don't have to complete them all at once. At first, I completed just one in the three minutes (getting 2,500 points). Then, I was able to return and complete the rest in three-minute intervals.
DO THE TUTORIAL – AND GO!
You definitely can't go into the game and play without the tutorial – especially since no instruction manual is included. So take the time to learn. It'll save you some confusion. I found myself learning to play for about an hour.
You start the game with four snails, including Turbo. Each snail is pretty close to Turbo in terms of speed, trick ability, jumping, handling and a special move. If you want a little more speed, try Whiplash, the no-nonsense snail with fins that gives him balance and speed. He likes to say, "My bad," when he falls off a rail.
I'm not sure the trick abilities do that much to help you complete objectives. For instance, while Skidmark's has a Nitro Boost that adds super-fast speed, you can usually find a similar speed powerup within a level. Then again, you can use that Nitro Boost where you want it, as opposed to the few stationary places the speed powerup stays.
As you progress, you can upgrade and unlock other characters from the film. You can also paint your shell and add stickers to customize your bad self.
As far as co-op play goes, you can add only one extra player, which seems a bit stingy. And there's no online play whatsoever.
Still, there's some very challenging gameplay here. It'll take you hours and hours to finish and accomplish everything.
LIKE KART RACING INSTEAD?
If you're a kart-racing fan, try the Wii or 3DS versions. The graphics still aren't that amazing. In fact, they sometimes look like something from the original DS era.
However, you'll have some creatively designed tracks to race. They're like riding a roller coaster at an amusement park and can be a lot of fun.
GO 3D
I suggest the 3DS game, and not only because you can take it with you on summer vacation.
Because the tracks are so twisting and turning, it helps to see the turns in 3D – so you don't bump into a guardrail and have to stop in your tracks. The worst part of crashing is seeing the rest of the snails pass you because you didn't see the coming turn. Sometimes they even make snide comments.
Like Mario Kart, you have powerups and can do stunts in the air. You can even drift. Unfortunately, there's no online play here, either.
Both the 360 and 3DS versions certainly have their flaws. But if you're a big fan of the movie with the never-say-die Turbo, you'll probably forgive the mistakes. After all, the price kind of makes up for the lack of extra functionality and polish.
And there is a pretty good game inside both, one for skateboard fans and one for kart-racing fans.
Inspire Leadership, Foster Values: Donate to Scouting
When you give to Scouting, you are making it possible for young people to have extraordinary opportunities that will allow them to embrace their true potential and become the remarkable individuals they are destined to be.
Donate Today