PlayStation 4 game console review
It's huge question: Should you buy the new PlayStation 4?
PLAYSTATION 4

Graphics: 8.5
Controller: 9.5
Sound: 8.0
Social Media Functions: 8.5
Overall Score:8.5Pros: Amazing controller; social media functions; better graphics.

Cons: Needs more exclusive, must-have games; won't play PS3 games.
The short answer: Yes, definitely. But maybe not quite yet.
Let's take a deeper look.
The PS4 is a more compact console than the towering PS3. It's Sony's best ever, full of thoughtful improvements.
But $400 is a lot of money to spend. And you probably need to fork over more than that, for the PlayStation Camera and for a few games.
When I opened the box, I was really glad not to see a heavy AC adaptor brick. Sony has put that inside of its console. It's the first console maker to do so. Less clutter is always a bonus.
I admire PS4's design. The console's edges are angled down, so it's easy to touch it to turn it on (if you don't want to use the controller). The back is angled down, too, and that helps to hide the wires.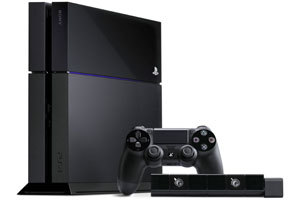 SETUP
The PS4 is really easy to set up. As it starts, there's a cool blue light that runs from the front to the back of the system. It's somehow comforting.
Initially, you must download an online patch. But it's quick. You won't be sitting around waiting like you did with the Nintendo Wii U update.
One thing: Have your PlayStation Network password ready to enter when the screen comes up. I forgot mine and had to scramble for it.
CAMERA
Like something out of a sci-fi movie, you'll be asked if you want to log in with facial recognition. If you do, you'll need a PlayStation Camera, which is an extra $60.
There are far better reasons to get a camera.
First, you'll have better access to The Playroom, which brings little robots into your living room via augmented reality. You can draw things on the controller's touchpad and they'll play with what you draw. There's also a fun hockey game for you to play with another person.
The camera lets you chat with pals. And it helps you record yourself and your voiceover when you want to put up your best game footage onto, say, Facebook. Or you can stream a tournament with your pals on UStream. You feel as if you own a TV station, broadcasting like a pro.
CONTROLLER
The latest Dual Shock controller is a real triumph. Yes, it's heavier than the PS3 controller. But you use its handy touchpad in games a lot. The motors inside are sensitive enough to handle the slightest movement or the biggest explosion.
The downside? The battery charge doesn't last as long as the PS3.
Then there's Share. Press this controller button to upload your game play to Facebook or to broadcast live. It's another really easy way to use your system.
GRAPHICS, ETC.
How great do games look? The PS4 has a single-chip, 8-core processor plus a Radeon graphics processor. That just means the graphics are surely better, but better is in the eye of the beholder. My guess is you'll see the best graphics for the system down the line (although NBA 2K14's player faces are amazing. See below.)
You can turn the system completely off. Or put it in an always-on state that supposedly takes little power and allows Sony to update your system while you sleep. That mode will let you charge you controller without turning on the system. I'm not sure how much energy all this takes, though. Sony didn't have a precise answer.
DOWNSIDE
But the PS4 has a couple of issues. Your PS3 games? You can't play them on this machine. It's a sad oversight that makes me keep two Sony consoles plugged in and ready to go. I guess Sony doesn't think people go back to their older games.
While there are a few really good games out for the PS4, there probably won't be a great variety until this time next year. Unless you're the kind of ardent gamer who needs the newest thing first (like me), you really don't have to get the PS4 right now.
Many games out for the new system are also out for a console you have. There are graphical enhancements, but not much game play that's new.
Overall, though, the PS4 is a very worthy addition to the PlayStation line. It's already sold out online.
---
BEST GAMES
Here's a quick look at the better games for the PS4. (Others are covered in the November BL print magazine.):
Knack (Sony): Legendary game maker Mark Cerny told me Knack's a combination of "Crash Bandicoot and Katamari Damacy." That means you get a generally thrilling adventure in which you control a small, brave robot who grows to a giant hero in each level.
NBA 2K14 (2K Sports): This excellent basketball game is one of the few sports offerings adding a lot of new content for the PS4. The faces of the superstar players are spot-on accurate.
Angry Birds Star Wars (Rovio): Yes, it's something you can get on your iPad or iPhone. But this is the first time they're offering co-op play. You'll get exclusive new levels, too. For Angry Birds nuts only.
Inspire Leadership, Foster Values: Donate to Scouting
When you give to Scouting, you are making it possible for young people to have extraordinary opportunities that will allow them to embrace their true potential and become the remarkable individuals they are destined to be.
Donate Today